SRS chairman Anil Jindal, 4 others arrested in Delhi for cheating investors
Apr 06, 2018 07:17 AM IST
Police had registered 22 cases of cheating and fraud against SRS chairman Anil Jindal and other promoters of his company.
The Faridabad police on Thursday arrested Anil Jindal, chairman and managing director of the SRS group of companies, along with his four associates, from a hotel in Delhi on charges of cheating, fraud and 'duping' innocent investors of their hard-earned money. They were sent to one-day judicial custody.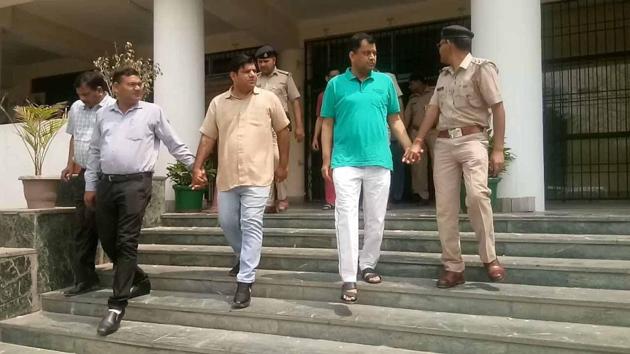 On March 4, police had registered 22 cases of cheating and fraud against Jindal and other promoters of his company at the Sector 31 police station in Faridabad. The cases were registered by investors, who claimed they were duped of crores by Jindal and his company by not delivering promised flats. Police said Jindal had taken loans from many banks and declared some of his projects as 'non-performing assets (NPAs)'.
The SRS group, according to the website, has interests in real estate, finance, hospitality, retail among others.
At a press conference on Thursday afternoon, deputy commissioner of police (headquarters) Vikram Kapoor confirmed that Jindal and his four associates — Nanak Chand Tayal, Bishen Bansal, Devender Adhana and Vinod Mama — were arrested from a hotel in Mahipalpur.
"We arrested the SRS group chairman and others for cheating and fraud to the tune of crores of rupees. They had committed the fraud in the name of giving flats to the investors. Neither the flats were allotted nor the money was returned," he said.
According to the complainants, the victims were promised flats in Greater Faridabad, Palwal and other parts of Haryana. The victims include those who had invested money in the SRS group in the hope of good returns. Police said the fraud runs into hundreds of crores but the exact amount will be known only after interrogation.
Till late Thursday night, there was no statement from the SRS group. The spokesperson's phone was switched off.
According to the police, after the cases were registered, the police had conducted raids at the houses of the promoters of the SRS in parts of Faridabad. Jindal had fled, police said.
"They were changing their hideouts," DCP Kapoor said, adding the Faridabad police would seek help from the income tax department and Enforcement Directorate to probe the allegations.
Police said Jindal's company has more than 100 cases against them at different police stations.
"We cannot comment on the past, but we received 22 fresh complaints recently and FIRs were registered in all such cases. We appeal all the aggrieved/victims of cheating and fraud to come forward and lodge complaints against this company or other companies that have indulged in cheating and fraud," the officer said.