Arunachal: Divorce, tale of revenge and greed behind theft of 900-yr-old statue
Hindustan Times, New Delhi |
Shiv Sunny
Jun 15, 2017 10:38 AM IST
A Tibetan couple's bid to sell a a 900-year-old idol of a highly revered Tibetan saint which they stole from Tawang, ended with their arrest in Delhi.
The Delhi Police on Sunday tracked down a 900-year-old idol of Tibetan saint Pema Lingpa to the capital's Majnu Ka Tilla area and arrested a couple suspected of stealing the statue from Arunachal Pradesh less than a week ago.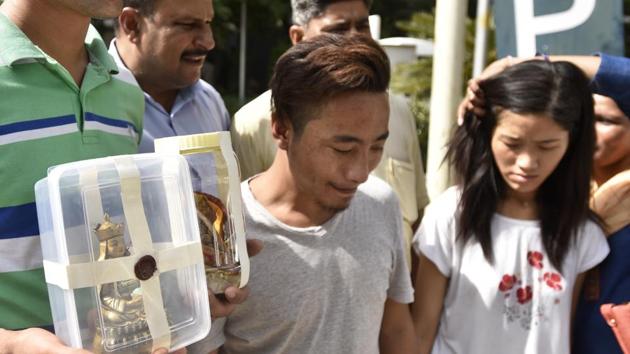 The idol was found in the possession of a Tibetan couple -- Ngawang Tsundue and Lobsang Gakey Sherpa. The duo was planning to sell it for not less than Rs 1.4 crore in Majnu Ka Tilla, which has a large population of Tibetans, said Madhur Verma, DCP (Crime).
Tsundue is the former son-in-law of the Head Cheepa (Head Lama) of Sangyeling Gompa, a monastery in Tawang in Arunachal Pradesh'. Police said Tsundue planned the theft to defame the Cheepa against whom he held a grudge following his divorce.
The ancient idol, which holds high religious value among Tibetans is usually kept at the sprawling residence of the Cheepa and is taken to the monastery only on auspicious occasions.
Since Tsundue had spent considerable time at the Cheepa's home in the past, he was aware of this fact. After his divorce from the Cheepa's daughter a few months ago, Tsundue realised that stealing the idol would not only defame its custodian, but could also fetch him a lot of money, said Verma.
"Tsundue and his live-in partner Sherpa planned to break into the house and steal the idol. They were aware that the Cheepa and his family would be visiting Kullu in the last week of May for a festival, leaving only an elderly woman at the house," said the officer.
The couple allegedly broke into the house on the night of May 31 and made away with two glass cases - one holding the idol and its attire - leaving Tawang facing a "religious unrest". They brought the stolen idol to Delhi and were looking for prospective customers in Majnu Ka Tilla.
One of their prospective customers turned out to be a staunch devotee of the saint and he tipped off the police, leading to the arrests and the seizure.