India's ugly rural sprawl is the outcome of lethargic planning
Easy to construct, ugly, standard small shops are a feature of the ribbon development, the rural sprawl, in the outstandingly beautiful Kangra Valley, as they are a feature of rural development throughout India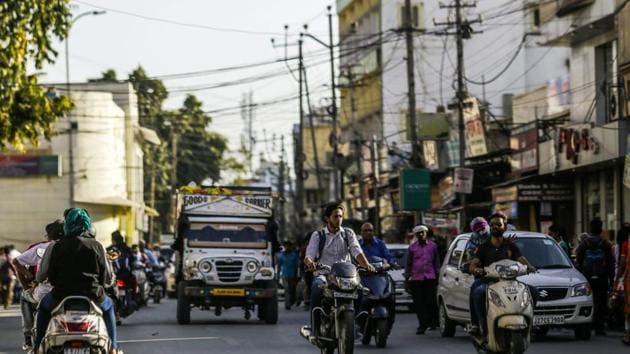 Updated on Mar 17, 2018 06:03 PM IST
My recent travels in rural India have led me to wonder why a nation with such a fine architectural tradition, a love of nature deeply embedded in its culture, and indeed the unique asset its natural beauty represents, allows so much ugliness to mar its countryside. Of course India has to develop – houses have to be built, roads and railways have to be constructed, there is a need for new towns, but surely those charged with regulating development should be concerned with the aesthetics of development as well as the economics.
Himachal Pradesh has a department of town and country planning; at the same time, it wants to capitalise on its natural beauty by developing its tourism industry. But why should planning always lose out to tourism? The interests of both can be met by insisting on well planned sites and architectural merit of their hotels. It is widely recognised that the hill stations of Himachal and other Himalayan states have been ruined by unplanned developments. Surely their fate should be a warning against allowing the surroundings of Kasauli, one of the few hill stations which have been protected by the Indian Army, to develop without any visible sign of planning. Driving there recently, I was saddened by the ribbon development alongside the road approaching the town.
Easy to construct, ugly, standard small shops are a feature of the ribbon development, the rural sprawl, in the outstandingly beautiful Kangra Valley, as they are a feature of rural development throughout India. Surely governments should insist that urbanising roadside villages should happen in an orderly manner and respectful of local architectural traditions. We must remember that those traditions developed because they took into account local climatic conditions.
In tribal villages of Hazaribagh, Jharkhand, I found housing development comprising building ugly standard brick and concrete boxes under government housing schemes. But at least there women were retaining the tradition of beautifying their houses by plastering the wall and painting pictures on them. They were repainting the walls every year. This tradition was being encouraged by an NGO.
On a visit to the Kumbhagarh fort in Rajasthan, I saw unplanned tourism development at its worst. Hotel after hotel lined the road approaching the fort. They were peppered with chattris to give their otherwise wholly undistinguished architecture a Rajasthani flavour. Standing on prominent sites, painted in garish colours, the hotels were indeed a blot on the landscape of the magnificent Aravalli mountains.
The Aravallis bring me back to a subject I have brought up in earlier columns – the deforestation that mars the beauty of so much of India. I saw how beautiful the Aravallis could be driving through the reserved forest to Ranakpur but for most of my journey, I saw bleak brown deforested mountains. In Hazaribagh, I saw the wound inflicted on the reserved forest by the construction of a highway. I was told that the renowned beauty spot, Tiger Pool, where I had picnicked as a child was now a stone-crushing site.
Visiting Auroville, the city built to fulfill the vision of Sri Aurobindo and The Mother for its 50th anniversary, I was reminded that the beautiful forest it is set in had been barren deforested land when the first Aurovileans arrived there. Auroville now has foresters and horticulturalists whose innovative methods could be applied to other areas of barren land. Auroville also has architects who have designed low-cost housing suitable for different areas of India.
Auroville isn't alone. I have written in this column about the NGO Development Alternative's successful forestry. The work of Laurie Baker, the architect of low-cost, sustainable housing built with local materials, is well known. But India's lethargic bureaucracy is content to build standard PWD housing, live with bare mountains, and take the easiest route to construct highways. The ugly rural sprawl so evident throughout India is the inevitable outcome of lethargic planning.
The views expressed are personal
Close Story