Narendra Modi's election campaign: what's working, what may not
Gujarat CM Narendra Modi has swamped the Indian media ever since his declaration as BJP election campaign chief in June 2013. With the D-Day (May 16) less than a month away, here's an analysis of what seems to be working for him or what could go wrong.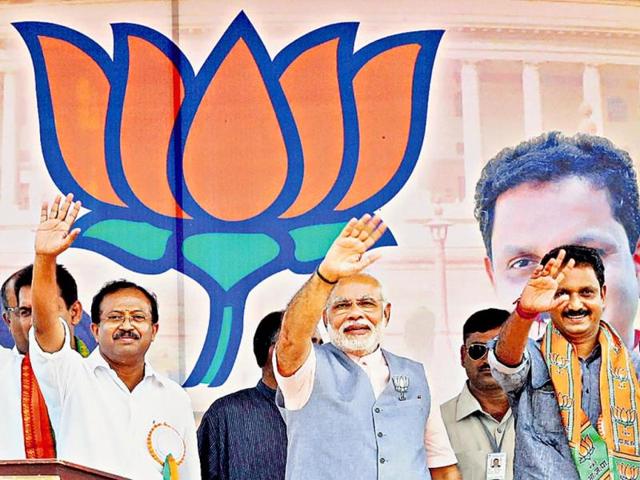 Updated on Apr 21, 2014 03:50 PM IST
Gujarat chief minister Narendra Modi has swamped the Indian media ever since his declaration as BJP election campaign chief in June 2013. With his announcement as BJP's prime ministerial candidate three months later, his TRPs soared. For the past 9 months or so he has been a constant across the media and inevitably occupies mind space.
Now, when more than 40% of the Lok Sabha seats have gone to polls and the D-Day (May 16) is less than a month away, here's an analysis of what seems to be working for him or what could go wrong.
What seems to be working
10 years of UPA rule
The Congress-led United Progressive Alliance (UPA) has ruled India for the past 10 years. There have been many corruption scams, persistent inflation and low job creation. Economic growth has slowed down to less than 5% in UPA II (though global factors were also partly responsible). The impression of weak leadership and talk of a parallel power centre in Congress chief Sonia Gandhi has not helped.
Prime Minister Manmohan Singh is no Jawaharlal Nehru. Sonia Gandhi and her son, Rahul Gandhi, do not exude the charisma of Indira Gandhi. All these mean there is a strong anti-incumbency wave. The Bharatiya Janata Party (BJP)-led National Democratic Alliance (NDA) and Modi are taking advantage.
Indians love personality cult politics
Mahatma Gandhi, Nehru, Jai Prakash Narayan, Indira, Rajiv, Sonia, Rahul, AB Vajpayee; they have all benefited from our love of big personality figures. The Indian voter likes towering leaders who have a larger than life image and are bigger than their parties. These leaders are charismatic. At the moment, Modi is filling this void for some. They believe all evils faced by India will vanish if Modi becomes PM.
Good orator
Modi speaks good Hindi, despite not being from north India. Hindi is the most popular language in the country and is understood in most parts of the country. Though not a Vajpayee, he is a good public speaker. He has the ability to hold big crowds with his speech wherein he attacks and mocks the opposition.
TINA factor
At this point, Modi has no competition. No other party has officially declared a PM nominee. AIADMK chief J Jayalalithaa has indicated her PM ambition, but is not a serious contender yet. The Third Front has crashed before take-off due to the abundance of PM aspirants. The Congress has shied away from naming a PM candidate, citing democratic principles. Arvind Kejriwal and his Aam Aadmi Party are challengers, but by political yardstick, not there yet. BJP is projecting "there is no alternative " to Modi and is confident that it is working.
Virtual capture of social media
Modi is the undisputed king of social media among Indian politicians. Nobody is near him. The other top contender, Rahul Gandhi, has little social media presence. Kejriwal is on Twitter and gathering 'followers', but trails Modi by a fair distance. Attention to detail and excellent public relations machinery, which ensures Modi's personalised messages reach out to his 'followers' and 'fans', are helping the BJP.
What could go wrong
BJP's internal fighting
The perceived one-man show is not going down well with everyone in the BJP. Senior leader LK Advani has shown his displeasure several times. No other leader is holding rallies as him, helping Modi (not that he seems to be too bothered). For the so-called anti-Modi camp, an opportunity may arise if he falls short of a majority on his own and needs allies. Some who would like to ally with the BJP might not necessarily be agreeable with Modi in charge and this is where Advani and other big leaders will have an opening.
2002 riots and polarisation of Muslim votes
The opposition and media glare is on post-Godhra riots. With the notion that Hindu votes get divided and Muslims vote en bloc, every party eyes the minority vote. No matter what the PR spin is, the minority community is unlikely to side with the BJP and Modi.
Poor selection of candidates
With opinion polls showing the BJP emerging as the single largest party, leaders from other parties are jumping on the Modi bandwagon. The BJP is embracing all-comers and also giving some of them tickets. This demoralises the local leadership and workers. Some alliances such as the one with N Chandrababu Naidu's TDP and Ram Vilas Paswan's LJP are being resented locally. Moreover, the party also has to contend with anti-incumbency against sitting MPs who have been re-nominated.
The BJP is fighting the general elections much in the manner of the US presidential polls. It believes that Modi will wave his hand to the crowds at rallies and people will vote for him and the BJP, no matter who the local candidate is. This style is being tried first time in Indian politics. May 16 will tell us if it succeeded or not.
Full Coverage: My India My Vote
(Views expressed by the author are personal)
Close Story