Afghanistan vs New Zealand, ICC World Cup 2019 Highlights at Taunton: Kane's unbeaten-79 seals NZ's 7-wicket win
Highlights: New Zealand skipper Kane Williamson led from the front in the 173-run chase against Afghanistan. The batsman scored a half century and ensured his side do not make a mess of the chase despite a poor start that saw Martin Guptill getting dismissed on the first ball. Kane remained unbeaten on 79 as the Kiwis won by 7 wickets with almost 18 overs to spare.
Follow Afghanistan vs New Zealand, ICC World Cup 2019 Highlights here: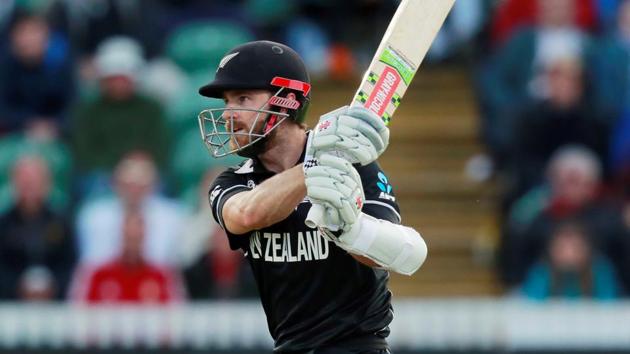 Updated on Jun 09, 2019 08:15 AM IST
00:53 hrs IST
Man of the match - Jimmy Neesham speaks
"Obviously pretty pleased with how the ball came out today. Afghanistan put us under a lot of pressure at the start of the game but we knew if we kept pushing hard and putting the ball in the right areas that we'd be able to get through and obviously we did a pretty clinical job chasing."
00:46 hrs IST
New Zealand win by 7 wickets
Game. Set. Match. New Zealand skipper led from the front to seal the game for his side. The Kiwi skipper remained unbeaten on 79 as Kiwis chased down the target in 32.1 overs.
00:35 hrs IST
150 up for NZ
Back to back boundaries from the Kiwi skipper as he takes his side past the 150-run mark. From here on, things are expected to be easy for New Zealand.
00:21 hrs IST
Cleaned up
Aftab Alam strikes again as Ross Taylor missed a slow, straight one. The ball completely missed the bat and went on to hit the stumps. NZ 130/3
00:15 hrs IST
50 for Kane
The skipper Kane Williamson leads from the front and brings up his half century in 77 balls. 25 overs gone, NZ 124/2
00:00 hrs IST
100 up for New Zealand
100 up for New Zealand! Williamson has entered the 40s and Ross Taylor is in mid-20s. The two are looking to bat through the innings.
23:48 hrs IST
Less than 100 needed
Kane and Taylor are are building a good partnership here. NZ have reached 75 and now less than 100 are needed with 8 wickets in hand. This could be a cruise from here on.
23:28 hrs IST
Taylor slams
Ross Taylor presented with a gift of a delivery - width outside off stump and he punched it hard towards mid-on for a boundary. Beautiful stroke. NZ need more of these to close this match quickly.
23:19 hrs IST
End of first powerplay
Kane Williamson and Ross Taylor are in the middle and New Zealand have crossed the 50-run mark. NZ are 52/2 after 10 overs and this marks the end of first powerplay.
23:11 hrs IST
Gulbadin wastes review
A huge caught behind appeal from Afghanistan after a ball flew past Kane. Gulbadin the bowler and he, being the skipper, was quick to call for a review. But there seemed to be no ultra edge. Afghanistan waste review.
23:06 hrs IST
Munro departs
Outside off stump, on the bounce and Munro slices it. Did not connect well and it is caught by Hamid at third man position. NZ 41/2
23:02 hrs IST
Vintage Williamson
Fantastic cover drive from Williamson. Slightly outside off stump from Naib, on the bounce and the ball races towards the ropes for a boundary.
22:55 hrs IST
Good bowling from Hassan
Hamid Hassan has bowled beautifully today. He has not allowed Kiwis any room so far and Kane and Munro are both struggling to get runs off him at the moment.
22:41 hrs IST
Partnership building
Kane and Munro are rebuilding the innings after Guptill's departure. Munro is going after the bowlers but Afghanistan bowlers are keepign a steady line.
22:28 hrs IST
Guptill gone first ball
What a first delivery that is - Guptill stunned by the pace on the ball - was in no position to play that one. Gets a leading edge. Flew straight to Zadran at backward point. NZ 0/1
22:00 hrs IST
Afghanistan 172 to all out
Shahidi's resistance comes to an end as Ferguson gets his fourth wicket of the day. A great catch at short of third man by Henry. He came running in from far away. Shahidi departs for 59. Afghanistan all out for 172. NZ need 173 to win
21:34 hrs IST
Hashmatullah scores 50!
Hashmatullah scored his half century in 85 balls. He has been the lone tiger in the team today. Afghanistan would want him to stay for as long as he can and keep the strike.
21:34 hrs IST
Aftab Alam gone
Back-to-back boundaries from Aftab Alam as he goes after Lockie Ferguson. Using brute strength, he hammered two good hits. Then he gave away a catch. He looked furious for no reason - and got out for no reason. Reminder of Arjan Singh from the movie Lagaan.
21:23 hrs IST
Cleaned up!
Rashid Khan has been cleaned up by a 150-kmph screamer from Lockie Ferguson. He tried to duck it but it hit his gloves and then knocked down the stumps. Khan was left stunned. AFG 131/8
21:20 hrs IST
Grandhomme strikes!
Colin de Grandhomme gets the wicket of Alikhil who has hit it straight to Guptill at backward point. Afghanistan are seven wickets down for 130.
21:06 hrs IST
End of Neesham's spell
Jimmy Neesham's remarkable spell comes to an end. He finished with figures of 31/5 in his 10 overs. Perhaps, he will now go and tweet about it, HOPEFULLY! Afghanistan 127/6
20:55 hrs IST
Neesham's record
Five-wicket hauls by New Zealand bowlers in World Cup:

Richard Hadlee v SL, 1983
Shane Bond v Aus, 2003
Tim Southee v Eng, 2015
Trent Boult v Aus, 2015@JimmyNeesh v Afg, 2019#NZvAFG #CWC19

— Bharath Seervi (@SeerviBharath) June 8, 2019
20:40 hrs IST
Neesham gets his fourth! and fifth!
A poor stroke from Nabi - he just hangs out his bat for a late cut, faileed to judge the bounce on the ball and a thin edge goes straight to Latham behind the stumps. AFG 105/5
And he gets another one - Neesham completes his maiden five-wicket haul. Najibullah Zadran flicks it to Latham. Afghanistan are 106/6
20:33 hrs IST
Play resumes
Shahidi and Nabi are out to bat. Boult will continue the attack. The umpires are taking a look at the ball and we could see a change in ball. Three balls later, 100 up for Afghanistan.
20:30 hrs IST
No overs lost
The play will resume in 5 minutes. No overs have been lost. The clouds have also cleared out.
20:20 hrs IST
Covers coming off
Espncricinfo reports that the covers are starting to come off. We could have a re-start soon. Hopefully, there are no more interruptions.
20:09 hrs IST
Rain begins again
And there is another interruption caused by rain - these must be passing showers, and this could be a brief interruption as well.
19:58 hrs IST
Play resumes
The players are back on the field - Shahidi and Nabi take the crease. Colin de Grandhomme has the ball. Play resumes.
19:45hrs IST
Update on rain
The sunlight is back on and the umpires are taking a stock of the pitch at the moment. We could have a start soon on our hands with the covers coming off.
19:36 hrs IST
Rain halts play
There is a heavy shower on the field and the players are going out of the field. The covers are off. There will be a delay on the cards.
19:29 hrs IST
Nabi, Shahidi rebuilding
Mohammad Nabi and Hashmatullah Shahidi are looking to rebuild Afghanistan. After a solid start, the side has lost four quick wickets. They now need a big partnership. The duo slowly working towards the same.
19:05 hrs IST
Skipper departs
Gulbadin Naib has supposedly edged a delivery to the keeper. The umpire signalled it as an out. Naib decided to review the call. The replays did not helped Afghanistan. AFG 70/4
18:57 hrs IST
Another one bites the dust
A leading edge of the bat from Rahmat Shah and the ball travels to Martin Guptill at cover. Shah went into the shot too early, misjudged the pace on the ball, and Neesham has his 2nd. AFG 66/3
18:50 hrs IST
Zadran is gone!
Lockie Ferguson gets another one - the delivery was straying down the leg side and Zadran, unnecessarily flicked it to the keeper. Easy catch for Latham behind the stumps. Afghanistan lose both openers in the blink of an eye. AFG 66/2
18:46 hrs IST
Neesham strikes!
A pretty needless shot from Zazai - a slow delivery, outside off stump, and the batsman wanted to glide it towards mid-off boundary. But a fielder is stationed there. Munro makes no mistake. AFG 66/1
18:34 hrs IST
BOOM!
How cool is Zazai! Matt Henry misses his length and the batsman has slogged it towards midwicket for a maximum. Superbly timed, and it crosses the boundary ropes. Two balls later, he slams a delivery outside off stump for a boundary towards mid-off. 50 up for Afghanistan in the 9th over.
18:26 hrs IST
Ali on fire
Sensational shot from Ali - fuller on the pads and he just flicks it strongly past mid-on for a boundary. It raced through to the ropes. He is now looking really confident in the middle.
18:19 hrs IST
Confusion, confusion
Hazaratullah is living dangerously - he slogged a ball towards midwicket and Colin de Grandhomme and James Neesham both could not reach there. Two balls later, he did the same, and this time, three players converged towards the ball, but neither of them committed to take the catch. Zazai survives.
18:16 hrs IST
Ali goes straight
A half volley from Matt Henry has been slammed straight down the ground for a boundary by Noor Ali. Fantastic shot and this will boost his confidence.
18:11 hrs IST
Santner on mark in field
Mitchell Santner can do anything - he can bowl, he showed he can keep his cool to bat through the innings and take his side to a win. And now, he showed his ability on the field. Allrounder player at his best. 3 overs gone, AFG 18/0
18:03 hrs IST
Solid start
Matt Henry started the proceedings for New Zealand and Afghanistan opener Hazratullah Zazai welcomed him with three consecutive boundaries. Afghanistan will be hoping for a good start and this was the perfect first over for the Kiwis. NZ 12/0
17:58 hrs IST
Kane Williamson
We are going to have a bowl. A fresh wicket and looks like a good wicket. Little bit of overhead as well. It is nice to have a couple of wins in front of us. But we have to adapt to what is in front of us - a new side, new ground and new surface. Those would be the important factors. It was (tough) but at the same time it was nice to get across the line and when you do, there are learnings from those experiences. We can build on that and bring them into this game. They are all (injured players) tracking really nicely but there are no changes for us today - Kane Williamson.
17:52 hrs IST
Gulbadin Naib
Honestly I would have batted first. It looks like a good wicket. The surface won't matter much, we have to play positive cricket at the end of the day. We have three changes - Dawlat is resting and Aftab comes in, Noor Ali plays his first game and I forgot the last change. We need to do nothing different. We have to get a good start and not give away wickets in the first 10 overs - Gulbadin Naib at the toss.
17:46 hrs IST
AFG Playing XI
Afghanistan (Playing XI): Hazratullah Zazai, Noor Ali Zadran, Rahmat Shah, Hashmatullah Shahidi, Mohammad Nabi, Gulbadin Naib(c), Najibullah Zadran, Ikram Alikhil(w), Rashid Khan, Aftab Alam, Hamid Hassan
17:40 hrs IST
NZ Playing XI
New Zealand (Playing XI): Martin Guptill, Colin Munro, Kane Williamson(c), Ross Taylor, Tom Latham(w), James Neesham, Colin de Grandhomme, Mitchell Santner, Matt Henry, Lockie Ferguson, Trent Boult
17:35 hrs IST
NZ opt to field
New Zealand have won the toss and skipper Kane Williamson has opted to field in their ICC World Cup 2019 encounter against Afghanistan.
17:28 hrs IST
Williamson vs Rashid
New Zealand captain Kane Williamson will struggle to read Indian Premier League (IPL) team mate Rashid Khan in Saturday's World Cup match, Afghanistan skipper Gulbadin Naib predicted on Friday.
Though not a great turner of the ball, Rashid's guile and accuracy make him a limited-overs asset especially sought after by Twenty20 franchises across the cricketing world.
Williamson has spent two seasons sharing the Sunrisers Hyderabad dressing room with the wily 20-year-old and Naib has no doubt Afghanistan's bowling talisman will prevail over the Kiwi batting mainstay at Taunton.
17:20 hrs IST
Shahzad injury
Afghanistan captain Gulbadin Naib admitted losing Mohammad Shahzad for the rest of the World Cup is a major blow to his side's hopes of upsetting the odds in the tournament.
Wicketkeeper-batsman Shahzad was ruled out on Thursday after suffering a recurrence of a nagging knee injury.
17:10 hrs IST
Afghanistan spin threat
New Zealand coach Gary Stead denied his batsmen are vulnerable to spin bowling and said the 2015 finalists are ready for a slow-bowling onslaught in Saturday's World Cup match against Afghanistan.
New Zealand lost each of their top six batsmen to a spinner in Thursday's win against Bangladesh before pulling off a tight chase for their second victory of the tournament.
Bangladesh's spinners sent down 28 of the 47 overs in the innings, a prospect Stead's side might face again against a spin-heavy Afghanistan.
17:00 hrs IST
Hello and welcome
Welcome to the live coverage of the ICC World Cup 2019 encounter between Afghanistan and New Zealand.
Kane Williamson's side is at the top of the standings as they have a better net run-rate than Australia after achieving two contrasting victories.
The Black Caps cruised to a 10-wicket victory over Sri Lanka in their opening game, but had to toil hard for a two-wicket victory against Bangladesh on Wednesday at The Oval in London.
In Afghanistan, they will find a side who have failed to show enough power in their batting.
Gulbadin Naib's side enter the match on Saturday having received a seven-wicket thrashing at the hands of Australia in Bristol before they were skittled out for 152 inside 33 overs chasing a victory target of 202 against Sri Lanka in Cardiff.
Close Story