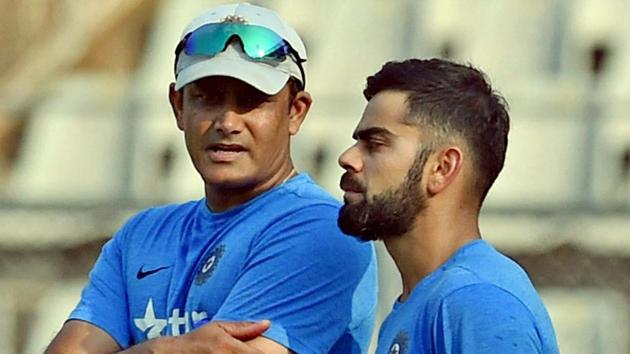 Anil Kumble's exit may keep Virat Kohli & Co waiting for bigger pay packet
Anil Kumble, who stepped down as coach after the ICC Champions Trophy, had discussed proposals for better remuneration for India players with the Committee of Administrators.
UPDATED ON JUN 22, 2017 11:59 PM IST
As Anil Kumble's coaching stint with the India team abruptly ended on Tuesday, the biggest loss in the captain-coach saga is not to the legendary leg spinner but Virat Kohli and Co.
It's a loss the Indian cricket team may have to bear on and off the field.
Off the field, India have lost the lone voice that showed gumption to fight for a fairer share for players from the Board of Control for Cricket in India (BCCI) kitty.
READ | India vs West Indies: Top 5 Windies players to watch out for
Despite just a one-year contract, he put his job on line to engage in discussion with the BCCI for a substantial hike in remuneration for the national team players and support staff. In the process, he upset a few BCCI officials.
Kumble's revised remuneration proposal had almost convinced the Committee of Administrators (CoA), it is learnt. "The finance team was looking into the actual figures the players get currently. They were also preparing the figures proposed by Kumble vis-a-vis the revenue BCCI would earn after the revised ICC model," a source told HT.
READ | India vs West Indies: Top five Indian players to watch out for
However, all that has now gone down the drain with Kumble stepping down. "The COA was all for the implementation of the proposed fee structure. It made sense to have separate central contracts for Test specialists. It's difficult to imagine whether the new coach will take the risk of bargaining with the BCCI over players' remuneration. Someone only of Kumble's stature would have made it possible," the source said.
Considering that there is no formal players' association in India, Kohli and Co may have wasted a glorious opportunity to get a better pay packet. Kumble also had the best combination to combat the BCCI with his experience of also having headed the Karnataka State Cricket Association (KSCA), besides his credentials as a player.
READ | 'Anil Kumble - Virat Kohli communication had stopped six months ago'
With Kumble having stepped down citing an 'untenable' relationship with Kohli, there are chances the ambitious plan could be put on the backburner.
On the field, Kumble's astute planning and strategising would be missed when India will embark on important tours to South Africa later this year and to England early next year. "He was a master strategist. His planning was thorough and the net sessions were well-planned and organised. He always believed in planning well and had clarity in his approach," said a source, who witnessed Kumble's functioning from close quarters.
Close