BCCI directive on player fitness puts onus on NCA, IPL teams
Jan 02, 2023 10:13 PM IST
BCCI makes its National Cricket Academy answerable for injury management while aiming to address IPL workload as well
Barring Test specialists, the medical management of all BCCI-contracted cricketers is done by the India team support staff for 10 months and IPL personnel for the other two. Irrespective of where they get injured, players must report to the National Cricket Academy (NCA) in Bengaluru for rehabilitation. There always existed formal and informal channels of communication that apprised stakeholders of the status of players, be it at NCA or IPL.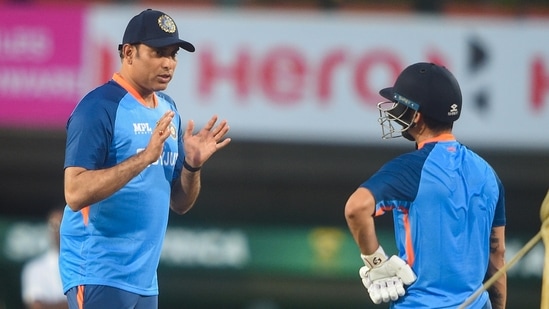 But in publicly directing the NCA to "work in tandem" with IPL franchises to "monitor the targeted Indian players participating in the IPL 2023," BCCI has essentially spelt out two clear objectives—make NCA accountable for every fitness-related decision and wield more control over India players featuring in IPL.
Thanks to an inconsiderate calendar that accommodates a 10-team IPL, an ICC event and several bilateral tours, not just in the October-March home season but also eating into the previously free July-August-September window, players' burnout is real. A more serious concern was recently flagged by skipper Rohit Sharma last month in Bangladesh, purportedly triggered by the breakdown of fast bowler Deepak Chahar, who had spent most of the year in rehab.
"We need to try and get to the bottom of it. Maybe they're playing too much cricket. We need to try and monitor those guys," Sharma said after the second ODI defeat. "We've to sit with our team back home at the NCA as well and try and monitor their workload. We can't afford guys coming in here half-fit and representing the country." He was furious with the players but no one missed the dig at the NCA for clearing Chahar for the series.
It was not the first time NCA was in the dock for declaring a player fit perhaps too early. Initially withdrawn from the Asia Cup, Jasprit Bumrah spent four weeks at NCA for rehab before being deemed fit for the home T20I series against Australia and South Africa. He missed the first game against Australia, but returned for the next two before missing the opening game against South Africa due to what was described by Sharma as a "niggle" and "back pain" in a BCCI statement after the toss. Next day, Bumrah returned to NCA and was ultimately ruled out of the T20 World Cup in October-November.
Four years ago, 'keeper Wriddhiman Saha was sent to NCA in January to treat a hamstring injury but was also laid low by a shoulder injury, aggravated by two falls during IPL a few months later which BCCI didn't make public till it became so painful he had to undergo surgery and miss almost the entire year. IPL is so lucrative that Indian players—their demand is going up every year—are ready to take risks despite its pitfalls. "Every year after IPL, we used to have a number of players reporting for injury rehabilitation. It was no doubt a trigger," said a domestic coach previously associated with NCA.
There have been sporadic complaints from NCA of not getting enough feedback from IPL franchises, but John Gloster, head physio and medical coordinator at Rajasthan Royals, disagrees. "I think this watch list has been there for a number of years," he said from Mumbai. "Maybe this year they are more particular about what parameters they want us to be looking at.
They may extend their list of requirements in terms of data they want on these individuals, to have a greater understanding of the player. You have to remember, once the tournament starts, the responsibility for those players lies with the franchise. So, it's very important we have a clear communication channel with NCA and a clear picture of what lies beyond the tournament and therefore are adequately prepared for those targeted individuals for whatever they are playing after IPL."
From sleep patterns to night-time resting heart rates, temperature fluctuations to breathing rates, the type of data sharing varies from franchise to franchise. Gloster, who was India team physio as well, says RR have been updating NCA for years. "We have given them regular updates in terms of injury concerns, playing load concerns. We upload the training data, open the data routes for them to get a feel of what the loads are. This year, all the contracted players from NCA will have access to the GPS individually so that they can start collecting more data."
Despite constant monitoring and the rotation of players in place for years, injuries seem to be on the rise. Currently, around 10 India players are in rehabilitation. Gloster says it shouldn't set off alarm bells. "The number of players coming into the system is higher because the net's being cast much wider. There are going to be more injuries. More players are in focus. If you look at the raw hard data, I'm sure the numbers are probably very similar. It's just now it's happening to the guys in the spotlight.