Boxer Sarita Devi wants to win on pro debut, dedicate it to son
Updated on Jan 26, 2017 08:17 PM IST
The world and Asian champion, L Sarita Devi's Hungarian rival, Zsofia Bedo, is vastly experienced and younger, but the Indian's professional debut will be before her passionate home crowd.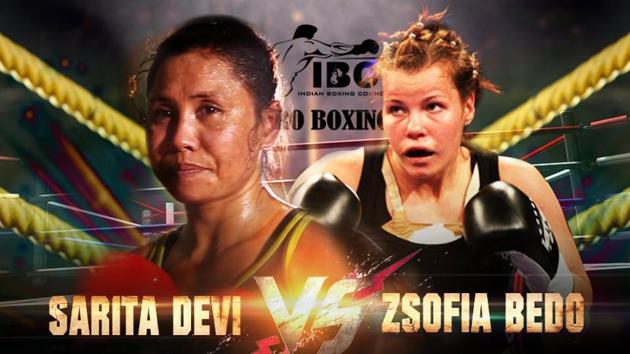 L Sarita Devi has seen highs and lows as an amateur boxer, but is confident of making a mark on professional debut against Hungary's seasoned Zsofia Bedo in her hometown Imphal on Sunday.
Sarita Devi, 31, a former world and Asian champion, showed no signs of nerves ahead of the January 29 bout in the lightweight division, though her 29-year-old rival has fought 59 bouts in the pro ranks, with 19 wins.
"I believe in my capabilities. My training has been on expected lines. It gives me confidence to face anyone in the ring," she said after her training session in Rohtak, Haryana.
Sarita, who will be the first Indian woman boxer to enter the professional ranks, has been sweating it out under reputed American trainer, Joe Clough for a fortnight. The Manipur boxer said the bout being held in her backyard is a big motivation. "It will be one big opportunity to show my people that sport is the gateway to success."
Zsofia has taunted Sarita as a novice, promising to score a one-sided win. "Tears are likely to roll down within the opening round of the contest," she had said, perhaps referring to the 2014 Incheon Asian Games controversy.
Sarita Devi, regarded only next to MC Mary Kom among Indian women boxers, won silver at the 2014 Glasgow Commonwealth Games, but her bronze medal at Incheon descended into chaos.
The Indian, upset over refeering in her semifinal after her Korean opponent was awarded the bout, refused to accept the bronze medal. Sarita was slapped a one-year suspension by the world boxing body, AIBA, on disciplinary grounds.
Sarita though preferred to focus on the positives. "I have more than 15 years experience (as amateur). I was declared the best boxer at the Asian level in 2004," said the mother of a three-and-half year-old boy.
Sarita says if she wins, she will dedicate it to her son.