Can women's IPL rights make it a big pay day for BCCI?
Jan 15, 2023 08:33 PM IST
The much-awaited Women's IPL will kick off in March with the media rights tender to be opened on Monday in Mumbai
Harmanpreet Kaur and Smriti Mandhana are the new poster girls of Indian sport. They are on the latest cover of Elle and Vogue. In another month, once the Women's IPL player salaries are finalised, their on-field prizemoney will soar. You may want to know by how much. You might be equally keen to find out who's going to own the teams in the Women's T20 league, as it's likely to be called. Also, when and where the matches would be played. There's a good chance you wouldn't be too keen to know who's going to broadcast these matches.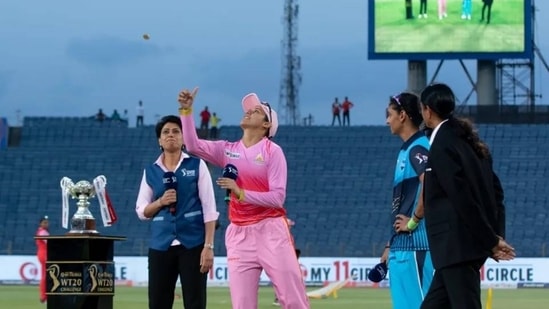 But any study of the economics of sport would tell you that it's the broadcasters who bankroll major tournaments. As a matter of course, BCCI is going to the market first, seeking media rights holders (2023-27). Once broadcast partners are found via closed bidding following scrutiny in Mumbai on Monday, the franchise ownership tender will follow, and then the player auction.
"Interest to both the tenders – media rights as well as franchise ownership – has been phenomenal," Arun Dhumal, IPL Chairman, said. "Most of the broadcasters and almost every existing franchise, and a few others, have picked up the tender document. We are confident of a very good response."
Main broadcasters in fray
The familiar names will all be there. For Disney Star, who hold the IPL TV rights, and Viacom 18, IPL's digital rights holders, it makes perfect sense to expand the scope of their coverage, with the existing franchises likely to own teams. It would also help them in cross-promotions.
"Zee and Sony, despite their merger in the works, cannot engage as a consortium, according to the tender stipulations. Zee has recently come back to cricket with ICC and ILT20 rights and Sony has been airing matches involving the Indian women's team on tours to England and Australia.
BCCI is not under the notion that Women's T20 league will make a huge contribution to their coffers. But the recent packed houses for India-Australia matches in Mumbai with entry made free raises hope that women's cricket can draw crowds.
For now though, there aren't enough cricketers with mass appeal other than Kaur and Mandhana, following the retirements of Mithali Raj and Jhulan Goswami. That's why the condition in the tender that the broadcaster with the best bid, and not necessarily the highest financial bid, will get the rights.
All eyes on valuation
It would be a big thumbs up for the tournament if the winning media rights bid hits ₹1,000 crore (5 years). That would leave the broadcaster to recover over ₹7.5 crore per match – 22 matches in the first three editions and 34 in the next two – numbers unheard of in the women's game.
A more realistic expectation would be halving that value – ₹100 crore per year. Some market estimates are even more conservative. "For now, ₹1-2 crore per match would be fair value. That's all the recovery the market can offer," said one market player who's not going to bid. "Women's cricket will grow. But it will take much longer for it to become a mass sport; it requires a lot of nurturing."
"IPL wasn't such a risky property, even 15 years back. The concept was new, but cricket was already a religion and there was a fan following," said N Santosh, who does valuation analysis for D&P Advisory. "But not all cricket fans watch women's cricket. From that perspective, even though things are changing, Women's IPL is significantly riskier."
The counter view to that is for broadcasters ready to splurge big cash in marquee men's cricket ( ₹9,678 crore per year for IPL and over ₹6,000 crore per year for ICC events) some cash burnt to build a new fan base would be a smart business ploy.
Topics