'Need to figure out ways to counter them': Pujara on facing AUS bowlers ahead of Border-Gavaskar Trophy showdown
Feb 05, 2023 05:02 PM IST
Cheteshwar Pujara has been one of the most dreaded batters for Australia to face in recent times
India host Australia in a highly anticipated Test series starting on February 8. The series is the first between the two sides to be played in India since the dramatic 2016/17 series that India had won 2-1. In the years since, India have faced Australia twice in Test series away from home and incredibly beat them on both occassions.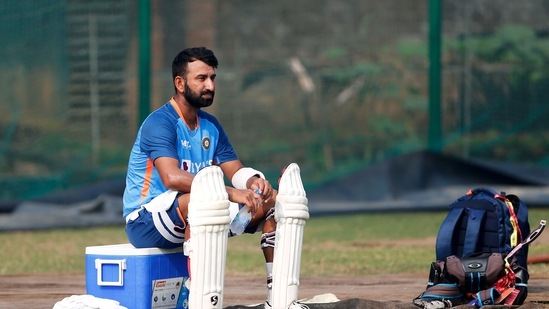 Cheteshwar Pujara has been one of the most important aspects of India's recent success against Australia at home and away. Pujara has said that the hosts are aware of the fact that Australia are a dangerous team, having had a stellar 2022 in which they steamrolled England and West Indies at home and beat Pakistan 1-0 away from home. They also came home unbeaten from a tour of Sri Lanka, where the Test series was drawn 1-1.
"They have experience. They understand their strengths very well. The main battle against them is always in Australia. Not to forget they are great and have equally done well in India, but my important battles against them have always been in Australia. That's something you need to do a lot of preparation for, as a batsman, you need to figure out your ways to counter them," Pujara told the Times of India.
Australia had stunned India in the first Test in the 2016/17 series with spinners Nathan Lyon and Steve O'Keefe weaving a web around the Indian batters. Pujara's patient knocks played an important role in India coming back. He had scored 92 off 221 balls in the second Test on a tricky Bengaluru pitch. It is an innings that he had earlier said was the best of his career. India won that game by 75 runs. Pujara then scored an epic 525-ball 202 in the third Test that helped India go past Australia's mammoth first innings total of 451. That match ended in a draw and India won the final Test to take the series 2-1.
Pujara was then player of the series during India's succesfull tour of Australia in 2018/19. They were the first Asian team to win a Test series Down Under and then repeated that feat in 2020/21, even becoming the first team in over three decades to beat Australia in a Test match the Gabba. While Pujara was not as prolific as he was in earlier series, he held up one end by taking in a number of blows from the Australian pacers.
"There are times you are batting well and runs start flowing and there are times you going through a difficult phase in your career. So, you've to take time before playing your shots. It has happened when you consume some balls. The important thing in Test cricket is if you're at the crease, you will eventually score runs. If you look at my career and seen some of my innings in domestic cricket, I have the capability to accelarate when it's needed," he said.
Pujara said that Australia captain Pat Cummins is the best bowler he has faced in those conditions. "In 2013-14, I faced Steyn and Morkel at their peak. They were challenging, especially in South Africa. It's been a challenge to face Anderson in England. Similarly, Cummins in Australia, is the best I've faced in those conditions," he said.