CSK vs KXIP, IPL 2019 Highlights: Chennai Super Kings beat Kings XI Punjab by 22 runs
Highlights: KL Rahul and Sarfaraz Khan scored half centuries but it was all in vain as Chennai Super Kings defeated Kings XI Punjab by 22 runs. Scott Kuggeleijn and Harbhajan Singh took two wickets each.Earlier in the match, Faf du Plessis hit a fine half-century up the order while skipper MS Dhoni and Ambati Rayudu provided the late flourish to help Chennai Super Kings post a competitive 160 for three against Kings XI Punjab . Ravichandran Ashwin took all the three wickets for Kings XI Punjab. Chennai Super Kings won the toss and decided to bat first against Kings XI Punjab in Chennai. (SCORECARD)
Follow CSK vs KXIP, IPL 2019 Highlights here -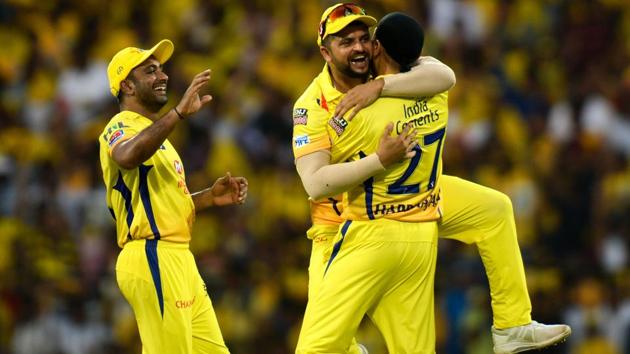 Updated on Apr 06, 2019 08:13 PM IST
19:38 hrs IST
CSK victorious
A brilliant final over from Scott Kuggeleijn and Chennai Super Kings won the match by 22 runs. The Kings XI Punjab were unable to hit the big shots at the end and CSK are back at the top of the table!
19:32 hrs IST
Chahar strikes
This was the most significant over in the run chase and looks like CSK have won the battle. Chahar was able to restrict the batsmen and with his final ball, he took the wicket of David Miller! KXIP need 26 to win from the last over.
19:27 hrs IST
Killer Miller
Kuggeleijn gets his maiden IPL wicket by dismissing KL Rahul and also breaks the 110 runs stand for the 3rd wicket. But David Miller is here and he can be dangerous with the bat in his hand. 12 balls left and KXIP need 30 to win.
19:21 hrs IST
Rahul departs
Scott Kuggeleijn strikes for Chennai Super Kings and it is the huge wicket of KL Rahul. With the required run rate creeping over 15, he went for the big shot but was caught in the deep! KXIP 118/3
19:15 hrs IST
Fifty for KL Rahul
KL Rahul's fifty
12th IPL fifty
1st vs CSK
2nd in IPL 2019
106* runs stand between S Khan and KL Rahul is the 2nd best 3rd wicket stand in IPL 2019.
19:12 hrs IST
Stat Attack: Sarfaraz Khan
Sarfaraz Khan's maiden IPL fifty
Top-three score are as follow:
50* vs CSK, today
46 vs RR, 2019
45 vs RR,2015
19:10 hrs IST
Fifty for Sarfaraz
Fifty for Sarfaraz Khan and it has been a good innings from the youngster under pressure. He has played some good shots and along with KL Rahul, he has taken KXIP to a great position in this run chase. Kings XI Punjab need 56 runs in 30 balls.
19:06 hrs IST
100 up for KXIP
100 comes up for Kings XI Punjab in 14 overs. The partnership between Sarfaraz Khan and KL Rahul is going great guns and KXIP need 61 runs in 36 balls to win this encounter.
19:01 hrs IST
Huge relief for Rahul
Now that is a new one! KL Rahul was short of his crease and MS Dhoni flicked the ball towards the stumps. The ball touched the stumps but the bails did not fall. Replays clearly showed that Rahul would have out but the bails were still there and a huge relief for Kings XI Punjab fans. KXIP 94/2
18:56 hrs IST
Stat Attack: Partnership
68* stand between Sarfaraz Khan and KL Rahul is the third best stand for KXIP in IPL 2019
18:52 hrs IST
Sarfaraz scoop
Sarfaraz Khan plays his version of the Dil Scoop once again and he is also in his 30s along with KL Rahul. This partnership has worked out well for Kings XI Punjab and they are 81/2 in 11.2 overs.
18:47 hrs IST
CSK on top
Powerplay comparison
CSK:54/0 after 6 over (RR 9.00)
KXIP:46/2 after 6 overs (RR 7.66)
CSK were ahead during the powerplay but KL Rahul is still there at the crease and he can be the deciding factor for Kings XI Punjab. Rahul is 13 runs away from his fifty as KXIP are 73 for the loss of two wickets.
18:38 hrs IST
Tahir misses it
It was a googly from Imran Tahir and he was sure that Sarfaraz Khan was LBW when the ball crashed into his pads. However, MS Dhoni was not convinced and he was proven wrong by the replays as Khan was actually out. Will this turn out to be a significant moment in the match? CSK 60/2
18:30 hrs IST
Scott Kuggeleijn
Scott Kuggeleijn is introduced into the attack and KL Rahul welcomed him with a six off the very first ball. However, the rest of the over was comparatively peaceful and after six overs, Kings XI Punjab are 46/2.
18:25 hrs IST
KL Rahul in form
Two boundaries and a six - KL Rahul has taken a lot of runs from the Deepak Chahar over and this will help Kings XI Punjab after they lost two early wickets. 5 overs gone and KXIP are 35 for the loss of two wickets.
18:20 hrs IST
KL Rahul key
Kings XI Punjab will need a big innings from KL Rahul if they want to win this match. But, it is not going to be easy. Rahul has not firing for Kings XI Punjab. He has struggled to score runs in this edition and in the 4 innings, he has managed to score only 91 runs. Barring his knock of 71* (57) vs Mumbai Indians, in his remaining three innings his scores are 4 (4), 1 (5) and 15 (11).
18:12 hrs IST
KXIP two down
Harbhajan Singh strikes once again and this time, his victim is Mayank Agarwal. It was a loose shot from the batsman and Faf du Plessis completed a brilliant catch at the boundary line. Brilliant stuff from Faf and Harbhajan Singh! A double wicket maiden and KXIP are 7/2 afrer 2 overs.
18:09 hrs IST
Harbhajan strikes
Huge wicket for Kings XI Punjab! It was flighted delivery from Harbhajan Singh and Chris Gayle ended up edging it to MS Dhoni behind the stumps. This is exactly what CSK wanted and KXIP are 7 for the loss of one wicket.
18:06 hrs IST
Gayle, Rahul at the crease
Chris Gayle and KL Rahul are the openers for Kings XI Punjab and Gayle has started proceedings with a boundary off Deepak Chahar. This can become a tough chase for KXIP and they will need their openers to fire. KXIP 7/0
17:50 hrs IST
Stat Attack: Chennai Super Kings
60* runs stand between MSD and Rayudu helped CSK post 160 runs on the board
The 60 runs stand is the 2nd best partnership for CSK in this season.
MSD remains unbeaten yet again.
17:45 hrs IST
CSK 160/3
MS Dhoni scored 37 while Ambati Rayudu contributed 21 runs as Chennai Super Kings posted 160/3 in 20 overs. This can be a good score at Chepauk as the pitch was quite sluggish and the KXIP batsmen may find it problematic to get going against the CSK spinners.
17:39 hrs IST
18 runs off the over
Two fours and one six from the Sam Curran over and CSK are 146/3 after 19 overs. MS Dhoni attacked the youngster well and the result is that the hosts are looking at a competitive total.
17:33 hrs IST
Poor DRS call
Ravichandran Ashwin went for a DRS review and the ball was miles away from the bat and it was quite clear from the fact that both the bowler and keeper KL Rahul were not interested in appealing. MS Dhoni made Sam Curran pay on the very next ball as he slammed the ball for a six over square leg. CSK 134/3
17:26 hrs IST
Dhoni, Rayudu key
With CSK losing two wickets in quick succession, both Ambati Rayudu and MS Dhoni are new at the crease and they will need some time to get accustomed to the pace and bounce of the pitch. However, this partnership is very important for the hosts and they will need to take them to a big total. CSK 116/3
17:20 hrs IST
Super Ashwin
Best IPL figures for R Ashwin:
4/34 RPS v KXIP, Vizag, 2016
3/16 CSK v RCB, Chennai, 2011
3/16 CSK v KKR, Chennai, 2010
3/23 CSK v DD, Chennai, 2012
3/23 KXIP v CSK, Chennai, 2019*
3/30 CSK v MI, Mumbai WS, 2014
17:16 hrs IST
Ashwin's milestone
Ravichandran Ashwin completes 50 T20 wickets at Chepauk Stadium and it was thanks to the dismissal of Faf Du Plessis. It has been a brilliant show from the skipper and if KXIP can bowl well, they will be able to restrict CSK to a total of less than 150. CSK 108/3
17:10 hrs IST
Another wicket!
Ravichandran Ashwin castles Suresh Raina and what a comeback by the Kings XI Punjab skipper. It was a straight one from him and Raina made an absolute mess of it. CSK 101/3
17:06 hrs IST
Du Plessis departs
What a breakthrough! Ravichandran Ashwin strikes again for Kings XI Punjab and it is the huge wicket of Faf Du Plessis. He was looking in good touch and with this dismissal, there are two new batsmen at the crease. CSK 100.2
17:03 hrs IST
Stat Attack: Faf Du Plessis
10th IPL fifty
3rd vs KXIP
His fifty are as follow :
67 in 2016
52 in 2014
51* in 2019
16:58 hrs IST
Fifty for Faf
A six straight down the ground and another one through mid-wicket brings up the fifty for Faf Du Plessis. This was the first game for Faf this season and he is looking in supreme form. Fifty off just 33 balls as CSK are 94/1
16:51 hrs IST
Murugan Ashwin
Murugan Ashwin is the perfect bowler for this slow Chennai pitch and he has performed quite well till now. With just five runs conceded in two overs, he has contained the batsmen well and a wicket does not look far away for the spinner. CSK 72/1
16:45 hrs IST
Stat Attack: Shane Watson
Watson in IPL 2019 -
Shane Watson misses out yet another opportunity
0 vs RCB
44 vs DC
13 vs RR
5 vs MI
26 vs KXIP
16:40 hrs IST
Watson departs
Ravichandran Ashwin have provided the first breakthrough for Kings XI Punjab. Shane Watson wanted to play another huge shot but the ball did not clear the boundary and was caught perfectly by Sam Curran. CSK 57/1
16:37 hrs IST
Stat Attack: Powerplay
First time in IPL 2019, CSK have not lost a wicket in the powerplay
54/0 vs KXIP
34/3 vs MI
45/3 vs RR
58/1 vs DC
16/1 vs RCB
16:33 hrs IST
50 stand for the openers
First fifty runs opening stand for CSK in IPL 2019. This has been a good stand for them after struggling in the first four games and this is the perfect foundation for the hosts to accelerate in the later overs.
16:30 hrs IST
50 up for CSK
A painful ordeal for Sam Curran as Shane Watson slammed the ball straight back to the all-rounder and it was hit on his chest. Not a big deal but it will surely be quite painful. On the other hand, he was able to stop the flow of runs as he conceded just seven runs in the over. CSK 54/0 after 6 overs.
16:24 hrs IST
Du Plessis, Watson on fire
This was a successful over for Chennai Super Kings! Shane Watson started the over with a boundary and then followed it up with a six over long off. Du Plessis also joined the party and Andrew Tye ended up conceding runs in the over! CSK 47 for no loss in 5 overs.
16:19 hrs IST
Curran into the attack
Sam Curran was handed the ball for the third over of the innings and he is bowling beautifully at the moment. He has attacked the openers quite well with a short line and he will be quite important to KXIP's plas. CSK 29/0
16:14 hrs IST
Faf Attack
This is the first game for Faf du Plessis in this year's Indian Premier League and he is already looking in good touch. Two back-to-back fours off Mohammed Shami and CSK are 26 for no loss after three overs.
16:11 hrs IST
First boundary
Ravichandran Ashwin opened the bowling along with Mohammed Shami and Shane Watson was able to sweep the spinner for the first boundary of the innings. This is an extremely slow pitch and it will be interesting to see how the batsman look to play against the spinners. CSK 12/0
16:04 hrs IST
Slow start
Shane Watson and Faf Du Plessis started proceedings for Chennai Super Kings and the ball is no carrying to the wicket keeper properly. This is a sluggish pitch and the batsmen will have difficulties in playing strokes on this pitch. CSK 4/0
15:57 hrs IST
Ashwin at the toss
"We were looking to bat first as well. It looks really hard and hope it remains the same throughout the 40 overs. It's quite emotional to be honest. I am very happy to be back playing here in Chennai and looking forward to it. I'm looking for the crowd to back us, which I guess is not going to happen." - Ravichandran Ashwin.
15:48 hrs IST
A lot of changes
Changes galore for both teams!

Here are the playing XIs for #CSKvKXIP pic.twitter.com/PdVxcNoMjH

— IndianPremierLeague (@IPL) April 6, 2019
15:45 hrs IST
'Important to keep backing your strengths'
"We will bat first. The wicket looks good to bat on initially, it's hard on the top. The wickets that we played on mostly were on the slower side. It's important to keep backing your strengths, irrespective of how many runs you're putting on the board. Lots of changes for us. Mohit, Shardul and Bravo are out. Scott Kuggeleijn, Harbhajan and Faf come into the XI," Dhoni said at the toss.
15:39 hrs IST
CSK Playing XI
Chennai Super Kings (Playing XI): Shane Watson, Faf du Plessis, Suresh Raina, Ambati Rayudu, Kedar Jadhav, MS Dhoni(w/c), Ravindra Jadeja, Deepak Chahar, Scott Kuggeleijn, Harbhajan Singh, Imran Tahir
15:36 hrs IST
KXIP Playing XI
Kings XI Punjab (Playing XI): Lokesh Rahul(w), Chris Gayle, Mayank Agarwal, Sarfaraz Khan, David Miller, Mandeep Singh, Sam Curran, Ravichandran Ashwin(c), Andrew Tye, Murugan Ashwin, Mohammed Shami
15:32 hrs IST
CSK opt to bat
Chennai Super Kings have won the toss and MS Dhoni decided to bat first. Chris Gayle is back for KXIP as Mujeeb Ur Rahman missed out. For CSK, the hosts have gone for three changes!
15:26 hrs IST
KXIP Predicted XI
Kings XI Punjab may have won their last game against Delhi Capitals but it does not mean that they will not be making any changes to the playing XI. With Chris Gayle coming back from injury, there have a problem of plenty and they can also opt for more spinners keeping the Chennai wicket in mind. Read our predictions here.
15:21 hrs IST
Pitch Report
"Hot conditions, very warm out here. This wicket looks like a new-ball one. Spinners will have their work cut-out. There are plenty of runs on offer." - Brett Lee's match report from Chennai.
15:19 hrs IST
Player Battles
It will be a battle of leadership styles of Mahendra Singh Dhoni and Ravichandran Ashwin when Chennai Super Kings clash with Kings XI Punjab an IPL match. Here's a look at the top five player battles to look out for in the match between Chennai Super Kings and Kings XI Punjab. Read the full analysis done by Hindustan Times here.
15:16 hrs IST
CSK's big problem
Chennai lacked a death over specialist against Mumbai as the bowlers leaked 48 runs in just the last two overs and the team management will have to look for a solution. Dhoni made a change in his team against Mumbai and is likely to revert back to their original playing eleven, which was fruitful for Chennai in the first three games. Will that change today? Let's wait and watch!
15:11 hrs IST
CSK Predicted XI
With Dwayne Bravo missing out due to injury, there will be some changes to the CSK playing XI and we can even see a debut for the reigning champions. Here's our Predicted XI for Chennai Super Kings.
14:59 hrs IST
Sayan - MS Dhoni and his record
5 half-centuries in 19 innings, MS Dhoni favour KXIP and he will take guard in front of a raucous crowd. After the loss against Mumbai Indians, the captain will be keen to right the wrongs and he will take charge of settling the ship again!
14:55 hrs IST
Manish - Ashwin returns home
Well, it is called Dhoni land, but the original local boy comes back home. R Ashwin will know the ground and conditions much better than most of the players on the park today. And he does not mind experimenting, so there will be few tricks up his sleeve which will catch CSK off guard!
14:46 hrs IST
Sayan: The Chahar effect
Deepak Chahar has been an asset for Chennai Super Kings this season and the plan to bowl him out in the first eight overs has been an absolute masterstroke! Chahar has bowled 84.65% of his overs in the powerplay and his dot ball percentage is the best in powerplay. All his IPL wickets have come in the powerplay and his economy is slightly better in the non-powerplay overs than in powerplay. If we consider this IPL, he has the joint 2nd best economy in the powerplay (min. 5 overs). Jofra Archer also has an economy of 5.00 in the powerplay.
.
14:27 hrs IST
Manish: Gayle is back!
All that is fine but do not forget - Chris Gayle is back for Kings XI Punjab! The Universe Boss has achieved his fitness after recovering from a back injury which kept him away from the last game against Delhi Capitals and it was confirmed by Kings XI Punjab batsman Mayank Agarwal. Gayle, who has been in good form, had missed their last match but it didn't affect their game as his replacement Sam Curran claimed four wickets, which included a hat-trick, to help the team register a 14-run win.
14:22 hrs IST
Sayan: Scott Kuggeleijn
Scott Kuggeleijn will most probably take the place of Dwayne Bravo in the team and he will be a great addition to the team. Kuggeleijn, a bowling all-rounder who has played two one-day internationals and four Twenty20s for the Kiwis so far, is set to make his maiden appearance in the world's most popular T20 league.
14:14 hrs IST
Manish: No Dwayne Bravo
Chennai Super Kings will dearly miss the services of star all-rounder Dwayne Bravo who will be out of action for two weeks owing to a grade 1 hamstring strain. The Trinidad cricketer, who suffered the injury during the team's loss to Mumbai Indians, has been a key player for the defending champions, but went for runs in that game. He was an important player in the CSK team and his absence will surely be a big advantage for KXIP.
14:10 hrs IST
Sayan: The KL Rahul problem
Talking of bad forms, KL Rahul has not firing for Kings XI Punjab. He has struggled to score runs in this edition and in the 4 innings, he has managed to score only 91 runs. Barring his knock of 71* (57) vs Mumbai Indians, in his remaining three innings his scores are 4 (4), 1 (5) and 15 (11). This total of 91 runs is his 2nd least in a season if we consider his first 4 matches each season. His strike rate of 118.18 is also the 2nd least.
14:06 hrs IST
Manish: CSK's opener woes
With names like Shane Watson and Ambati Rayudu, you would expect CSK to get good starts every match but that has not been the case at all. CSK openers have struggled to put on runs on the board and if we consider the opening partnership of all teams in this IPL, CSK's tally of just 31 runs from 4 innings which is the least. Watson and Rayudu have opened for CSK in all their matches so far and they have scored only 96 runs in this IPL so far.
14:03 hrs IST
Sayan: CSK's supremacy
KXIP may have a good record at Chennai but a look at the total head-to-head shows that CSK have a clear advantage. 19 matches played and 11 wins! MS Dhoni & Co have been one of the most consistent teams in the Indian Premier League and they will surely bounce back after their loss against Mumbai Indians.
14:00 hrs IST
Manish: KXIP's impressive record
It is not an easy thing to beat CSK at their home ground but KXIP has achieved it quite a number of times. This is the 20th encounter between KXIP and CSK in the IPL. KXIP has faced CSK at Chennai only 5 times and out of the 5 games that KXIP has played at Chennai, they have won 2 times.One of them was a tied match (2010) which went to the super over. KXIP also has the 2nd best win percentage at Chennai among current IPL teams.
13:56 hrs IST
Hello and welcome
Welcome to the live coverage of the IPL 2019 encounter between Chennai Super Kings and Kings XI Punjab. CSK were handed their first loss of the tournament in their last game against Mumbai Indians while KXIP are quite confident after winning a thriller against Delhi Capitals. My name is Sayan Ghosh and I think that it will be CSK's day at their home ground while my colleague Manish Pathak is sure that it will be KXIP all the way.
Close Story