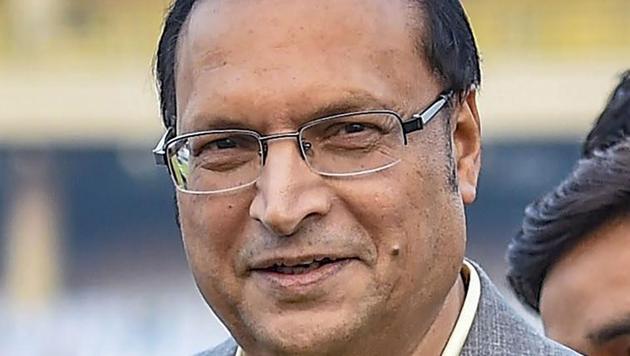 Hope my resignation as DDCA president set the alarm bells ringing: Rajat Sharma
The senior journalist, who was elected as DDCA president in July last year, said he tried his best to run the controversy-ridden association in a transparent manner.
UPDATED ON NOV 17, 2019 08:32 AM IST
Several members of the Delhi & Districts Cricket Association (DDCA) including its president Rajat Sharma resigned on Saturday, with the senior journalist citing his inability to continue in his post amid "various pulls and pressures" within the body. Sharma was elected the DDCA president in June last year and appointments of the chief executive officer (CEO), chief financial officer (CFO) and general manager (cricket operations) were subsequently made. All these members and the two-member Cricket Advisory Committee comprising 1983 World Cup winners Yashpal Sharma and Sunil Valson quit on Saturday, it was announced at a press conference in New Delhi.
"I wanted the real face of DDCA to get exposed with this resignation. Even today, there are people who, for their private gain, contracts, tenders, nepotism in selection, they are alive and want to throttle honesty. We have been trying hard to stop them and with this, there will be alarm bell. The stakeholders – the Supreme Court, media, cricketers, BCCI, they should all know that such people exist and we need to stop them," said Rajat Sharma.
"The cricket administration here is full of pulls and pressures all the time. I feel that vested interests are always actively working against the interest of cricket," he said in a statement. "Whenever there is a match, tenders, contracts, selections, these things come up. There have been [such] attempts. They want to use these to apply pressure. We didn't let it happen…," he added.
Shortly after Rajat Sharma turned in his resignation, CEO Ravi Chopra also resigned.
Also read: Virat Kohli & Co. to stay in Indore for nets under lights
The move came after nine of the 16 elected directors of the body voted for a resolution curtailing the powers of the president, a person aware of the developments said, asking not to be named.
Rajat Sharma has in the past had public differences with the suspended general secretary of the organisation, Vinod Tihara. Tihara was removed by the executive committee on disciplinary grounds, a move that he later challenged in court.
Tihara said on Saturday the directors of the DDCA were left powerless lately.
"The directors were looking like employees of Sharma & Co. They had no power of their own. The CEO, CFO and others were taking decisions unilaterally, without taking advice. It was like dictatorship. Without the permission of Sharma's unelected close aides, even a band-aid wouldn't be given to cricketers. They would dictate everything. In which organisation, you disallow making accreditation cards of the elected director or secretary (two directors and Tihara himself were not given accreditation in various matches). I worked hard to get them together and pressurised them into ending this," he said.
Also read: 'Must be becoming India's best ever skipper' - Former England captain hails Virat Kohli
Shortly after his resignation, Rajat Sharma said the DDCA remains a hotbed of petty corruption and through his resignation, he wanted to send out a strong warning to the stakeholders.
"This [resignation] should set the alarm bells ringing and all stakeholders including Supreme Court, cricketers and BCCI, come to know that such vested interests are still very much at play in the DDCA and it is for them to decide the future course of action," he said.
Topics
Close