I see Virender Sehwag as Kings XI Punjab mentor: Mayank Dagar, on his uncle
Mayank Dagar will play for Kings XI Punjab in the 2018 Indian Premier League (IPL) , a team mentored by Virender Sehwag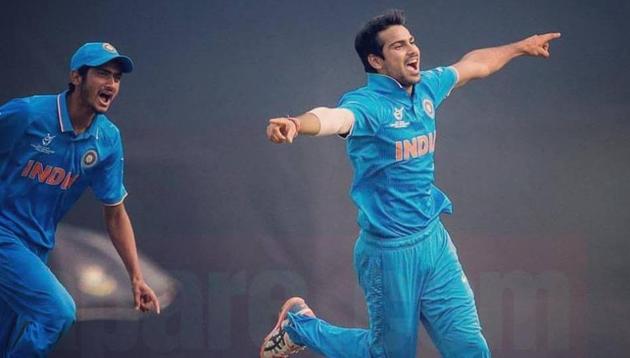 Published on Feb 25, 2018 04:58 PM IST
Mayank Dagar is no Indian cricket superstar, not yet. However, that hasn't stopped the 21-year-old Himachal Pradesh cricketer from sharing screen space with Rahul Dravid in a TV commercial for an IT giant.
However, Dagar's connection with Dravid in not just limited to ads. The spinner was part of Dravid-coached U-19 cricket team that finished runners-up at the 2016 World Cup. Dagar's tryst with Indian cricket greats doesn't stop there as he is the nephew of Virender Sehwag, Kings XI Punjab's mentor and director of cricket operations.
READ | Kings XI Punjab's early bird tactics net them big gains in IPL player auction
Dagar will play for Kings XI Punjab in the 2018 Indian Premier League (IPL) but says his family connection will not play a role if he has to progress.
"I would like to see Virender Sehwag as Kings XI Punjab's director of cricket operations. Sir was tremendous during his playing career. I am looking forward to working with him," Dagar said in an interview.
Kings XI Punjab have assembled a star-studded team with Ravichandran Ashwin and Axar Patel being the other top two spinners. "Ashwin is a senior player and I am hoping to learn a few tricks from him. I also know Axar well. We have spent a lot of time together in cricket meets. It would be nice working with him," Dagar said.
Dagar recently played in the Vijay Hazare Trophy for Himachal Pradesh. He said the experience at the U-19 level helped him cope with the pressure at the senior level.
READ | Kings XI Punjab's Manzoor Dar says IPL contract 'beginning of a better life'
"For any youngster, it's big playing for the country. I have always wanted to play at the junior level as it opens a way to play at the senior level. I was lucky to work with Rahul Dravid for a year in the U-19 team. He advised us to be mentally prepared for the next level. Mental strength is what differentiates a junior cricketer and top cricketer," he said.
"After playing the U-19 World Cup, I got a chance in the U-23 team and also got to play the Duleep Trophy. Now, I am looking forward to IPL."
Close Story