'If he had gotten out to that shot...': Karthik points out major issue in Suryakumar Yadav's batting after 31-ball 26
Jan 30, 2023 07:06 PM IST
Suryakumar Yadav stayed till the end and hit the winning runs for India in the second T20I but he had a tough time finding his characteristic fluency.
The second T20I between India and New Zealand was as low scoring a thriller as it gets. On a pitch that heavily favoured spin bowlers, India managed to restrict New Zealand to a score of 99/8. However, the Kiwis ensured that it would be anything but a straightforward chase for the hosts, with Suryakumar Yadav's four off the second last ball of the match being the shot that took India over the line.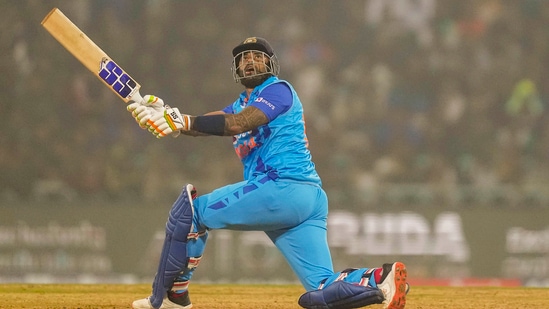 It was a match in which no batter could hit a six and the likes of Finn Allen, Glenn Phillips, Hardik Pandya and Suryakumar Yadav, who are known to be big hitters, had to bide their time. It was Pandya and Suryakumar who took India over the line in the end with an unbeaten 31-run partnership that came in 32 balls. Suryakumar, whose career strike rate was close to 180 in 45 innings before this knock, was unbeaten on 26 off 31 balls, thus showing a different facet to his batting.
ALSO READ | 'You can compare my fitness with a 25-year-old': Pakistan veteran says he is 'not even thinking about retirement'
However, veteran wicketkeeper-batter Dinesh Karthik feels that the 32-year-old's problems with shot selection could be seen during this innings.
"His choice of shots was interesting. I think he was trying throughout the innings to be the speedboat that he is. For example, he went for that massive sweep on a big ground even though all four fielders were back on the leg side and that was not the best option for me. That is an area he needs to keep improving on. To get those boundaries in these chases and try and be very effective at it," said Karthik on Cricbuzz.
"If he had gotten out to that shot, he would have looked back and said that is probably the toughest shot to get a six. The wicket is slow, the bowler is not bowling very fast and you are trying to clear deep square leg on a big boundary. The odds are stacked heavily against you and that is why I say that while it wasn't his most fluent innings, tactically it wasn't his best either. The good thing is that he stayed till the end and made it happen and that was nice," he said.
Suryakumar managed to lift the second last ball from Tickner over the infield when India needed three to win off two deliveries. India have thus levelled the three-match series 1-1 and the decisive third T20I will be played in Ahmedabad on Wednesday.