India v England: Anil Kumble quashes Virat Kohli's ball tampering allegation
India coach Anil Kumble said the ball tampering allegations against Virat Kohli was "like making a mountain out of a mole hill".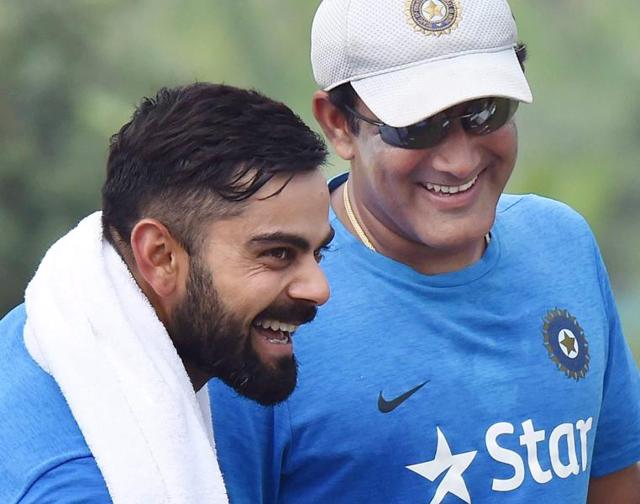 Updated on Nov 24, 2016 11:41 PM IST
The controversy over the ball-tampering allegations against Virat Kohli in the Rajkot Test might still be playing, but on Thursday, India coach Anil Kumble and the England team steered clear of the issue.
While Kumble dismissed the allegations, England all-rounder Chris Woakes chose not to name the India skipper. The India coach was more vocal, saying "it's like making a mountain out of a mole hill".
India v England: English media 'invades' Mohali pitch
"First of all, I don't want to react to any report in the media. As far as I am concerned, umpires as well as the match referee never ever came to us talking about it. For someone like Faf du Plessis --- South Africa played exceptional cricket to beat Australia, to be told about ball tampering is silly. There is nothing to worry about, people can allege and write whatever they want. As far as we are concerned, none of our players were part of it," said Kumble.
The controversy started when video footage of Kohli from the first Test in Rajkot emerged. It showed the India skipper rubbing his fingers in the mouth and seemed to shine one side of the ball. It came close to Du Plessis' controversy, wherein the South Africa skipper was docked his match fee for ball tampering in the Hobart Test.
In Kohli's case, no inquiry will be initiated as the mandatory five-day window for investigation had passed by the time the footage emerged.
Woakes also did not comment on the issue but demanded clarity from the ICC.
"I think they have said that everyone tries to shine the ball in this fashion. The fact that Faf du Plessis has been fined by the ICC and the South Africans trying to make stands on that, but there is grey area to this. Hashim Amla has said about him chewing gum in his mouth whole day. I am not sure if it is deemed wrong.
"During drink breaks we would take a mint or any sweet to re-energise. But nothing from that is allowed or supposed to go on the ball. Sometimes we take an energy drink like Gatarode and then shine the ball by perhaps licking it, I am not sure how much sugar we carry in the mouth, it is a grey area," he said.
Close Story