India vs Afghanistan, World Cup 2019 highlights: Shami's last-over hat-trick fires India to 11-run win
Highlights: Mohammed Shami becomes the second Indian to take a World Cup hat-trick and in doing so, he has fired India to an 11-run victory. He scalped the wickets of Nabi, Alam and Mujeeb off successive deliveries and defended 16 runs off the last over. India remain unbeaten in the tournament. Earlier, Afghanistan bowlers restricted India to 224/8 in 50 overs. Mohammad Nabi and Gulbadin Naib scalped two wickets each. Virat Kohli and Kedar Jadhav slammed respective fifties but rest of the batsmen weren't up to the mark.
Follow India vs Afghanistan World Cup match highlights here: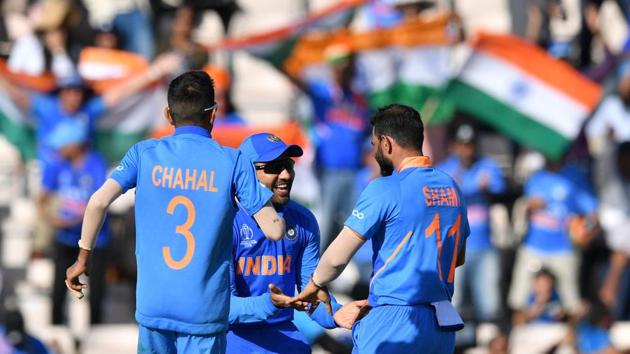 Updated on Jun 23, 2019 08:46 AM IST
23:05 hrs IST
Milestone for India
India became the third country after Australia and New Zealand to win 50 World Cup matches. Australia (67 wins) New Zealand (52 wins) are two other teams to this milestone.
23:00 hrs IST
Hat-trick for Shami
Mohammed Shami becomes the second Indian to take a World Cup hat-trick and in doing so, he has fired India to an 11-run victory. He scalped the wickets of Nabi, Alam and Mujeeb off successive deliveries and defended 16 runs off the last over. India remain unbeaten in the tournament.
22:57 hrs IST
Four and out and out
Mohammad Nabi hit a boundary of the first ball off the last over to make it 12 from 5. Then the second ball was a dot ball. Shami then scalped the wickets of Mohammad Nabi and Aftab Alam off successive deliveries to pull the match back in India's corner. Afghanistan now need 12 runs off 2 balls.
22:54 hrs IST
Excellent over from Bumrah
Jasprit Bumrah bowls a good penultimate over as he concedes just 5 runs off it. The onus is now on Mohammed Shami to defend 16 runs in the last over.
22:48 hrs IST
Tidy over from Shami
Shami gives away just three runs from his over and this means Afghanistan now need 21 runs off 12 deliveries. Jasprit Bumrah will bowl the penultimate over of the innings now.
22:44 hrs IST
DRS saves Nabi
Mohammed Shami though he got the prized wicket of Mohammad Nabi as the umpire adjudged him LBW. But the batsmen went for the DRS and replays showed that the impact was outside the off stump. Nabi survives as Afghanistan are still in the match.
22:39 hrs IST
200 up for Afghanistan
There was run-out chance but Hardik Pandya missed the stumps from close range and Nabi survived. The, he hit Jasprit Bumrah for a huge six over mid wicket to take the team's score past 200. The match is not over till the time Nabi is out in the middle. Afg neeed 24 off 18 and it is going to be a thrilling ride.
22:34 hrs IST
Timely wicket for India
Chahal does the trick once again for India as he gets rid of Rashid Khan for 14. The right hander came out of the crease to hit the ball but missed it completely and Dhoni took off the bails in no time. Afghanistan are seven down in chase now.
22:30 hrs IST
Expensive over from Shami
Against the run of play, Nabi and Rashid manage to score 9 runs from Shami's over. Nabi hit a boundary over mid-off on the first deliveries and five runs followed in three singles and one double. Match is heading for a close finish and the fans are getting restless.
22:25 hrs IST
Run out chance
There was a chance for Yuzvendra Chahal to affect a run out at the non striker's end but he missed the stumps and Mohammad Nabi survived. Four runs from the over from Bumrah as Afghanistan somehow keep themselves alive in the match.
22:20 hrs IST
Chahal on the money
Yuzvendra Chahal is not letting the batsmen hit him and bowls another good over to keep the pressure on both Nabi and Rashid. He gives away just three runs and the onus is not the fast bowlers to take India closer to victory.
22:15 hrs IST
Pandya strikes
Hardik Pandya has done the trick for India in his last over of the innings as he gets rid of Najibullah Zadran for 21. The southpaw gave away an easy catch to Yuzvendra Chahal at short mid wicket. Afghanistan are six down now.
22:10 hrs IST
Shami leaking runs
Najibullah Zadran hit Mohammed Shami for a boundary off the first ball and then he bowled couple of wides. In total, he gave away 8 runs in the over as Afghanistan are keeping India on their toes. Hardik Pandya to bowl his last over now.
22:05 hrs IST
Scoreboard moving along nicely
Mohammad Nabi and Najibullah Zadran are batting well at the moment as they are relying on singles and double with an occasional boundary. 6 runs from the over from Pandya as the partnership between these two batsmen is starting to frustrate India.
22:00 hrs IST
150 up for Afghanistan
Shami pitches the ball up and Najibullah hits the ball over mid-off fielder's head for a boundary. 8 runs came from the over of Shami as Afghanistan have now crossed the 150-run mark in 39th over.
21:55 hrs IST
Kuldeep's spell ends
Kuldeep Yadav finishes his full quote of 10 overs and he ends with figures of 0/39. Although he kept things tight, he failed to take a single wicket. Nonetheless, his contribution cannot be ignored as he helped in creating pressure by not giving away many scoring deliveries.
21:50 hrs IST
Tidy over from Shami
Mohammed Shami returned into the attack and bowled a three-run over to keep the pressure on the batsmen.Shami has bowled five overs thus far and conceded 9 runs and picked one wicket.
21:43 hrs IST
Chahal strikes
Asghar Afghan went for the slog hit but missed the line of the Chahal delivery and the ball crashed into his stumps. Afghanistan are five down now and in big trouble. Indian bowlers have hit back strongly into the match in the last 10 overs and so.
21:38 hrs IST
Tidy over from Pandya
Hardik Pandya gives away 4 singles from his over as he continues to keep things tight. He has now bowled 8 overs and gives 31 runs and also picked up a wicket. Now the next objective for India is to end this partnership between these two experienced stars.
21:33 hrs IST
Poor delivery duly hit for four
Yuzvendra Chahal returned into the attack and bowled short and wide and Mohammad Nabi cut it past the point fielder for his first four of the innings. The two batsmen have now added 15 runs off 24 deliveries. Afghanistan need 104 to win and their required rate has gone upwards of 6 now.
21:28 hrs IST
Top-edge but safe
Mohammad Nabi hit a Hardik Pandya delivery high in the air but the ball landed in between two fielders near deep point region. Vijay Shankar and KL Rahul converged but none of the two went for the catch. Virat Kohli and Hardik Pandya are not looking happy and are letting the fielders know that.
21:23 hrs IST
Pandya, Bumrah on point
The two India bowlers are bowling well in tandem and their pace is really creating problems for the batsmen. Afghan and Nabi have faced 13 deliveries so far and scored just 5 runs. One would feel Shami is about to be reintroduced into the attack.
21:17 hrs IST
Two former skippers in the middle
Asghar Afghan and Mohammad Nabi are in the middle now as two news batsmen look to reignite the Afghanistan chase. Bumrah has answered Kohli's prayers and scalped couple of wickets to pull the match once again in India's favour.
21:11 hrs IST
Bumrah strikes again
Jasprit Bumrah has scalped his second wicket of the over as he dismisses Hasmatullah Shahidi in the over as well. He produces a leading edge off the southpaw's bat and takes the catch himself. Afghanistan are four down now and the match has been turned on its head.
21:08 hrs IST
Bumrah strikes
Jasprit Bumrah scalps his first wicket of the day as he gets rid of Rahmat Shah for 36. The right hander top edged the delivery towards square leg, where Yuzvendra Chahal took good diving catch. Afghanistan have lost their third wicket.
21:05 hrs IST
Sloppy from Shankar
Hashmatullah went for the sweep shot off Kuldeep Yadav but top edged it and it landed in front of Vijay Shankar, who came inside from mid wicket. He was slow in picking and throwing the ball towards the keeper and the batsmen ran two. 2 runs from the over from Kuldeep.
21:01 hrs IST
Edge but short
Afghanistan were almost three down but the edge that Jasprit Bumrah produced off Rahmat Shah fell short of MS Dhoni. Six runs off the over from Bumrah as Afghanistan cross the 100-run mark. India need to pick couple of quick wickets soon.
20:56 hrs IST
Poor delivery from Kuldeep
Kuldeep Yadav has been guilty of occasionally bowling short which has been taken to runs. Same thing happened now as Rahmat Shah hit the short ball from Kuldeep towards deep mid wicket for a boundary. 7 runs came from the over from Kuldeep as Afghanistan need 127 more to win.
20:51 hrs IST
Stumping chance
Yuzvendra Chahal bowled a turning delivery which bounced as well after hitting the pads of Hashmatullah Shahidi. Dhoni caught hold of the ball and took off the bails. The stumping chance was referred to the third man and replays showed that the southpaw had his leg inside the crease.
20:46 hrs IST
No wickets for Chahal so far
Yuzvendra Chahal has now bowled 5 overs and he has conceded just 11 runs. However, he hasn't picked up a wicket so far and that remains a cause of concern for India. Virat Kohli would want his premier spinners to scalp few wickets and peg back Afghanistan in these middle overs.
20:42 hrs IST
Another boundary
Kuldeep Yadav dropped the ball short and Hashmatullah Shahid pulled it for a boundary towards mid wicket. Dhoni was heard saying 'Nahi Nahi' from behind the wicket right after Kuldeep pitched the ball there. Seven runs came from that over Kuldeep.
20:38 hrs IST
Glorious boundary
Hardik Pandya bowls a length delivery and Rahmat Shah comes dancing down the track and hits the ball towards extra cover for a boundary. Hardik concedes five runs from the over as Afghanistan look to make a move on in the innings.
20:33 hrs IST
Afghanistan need a partnership
Kuldeep Yadav bowls another good over and concedes just four singles in the over. Hashmatullah Shahidi needs to hold the innings and stich a good partnership with Rahman Shah, who has looked good on the other end.
20:28 hrs IST
Maiden over
Hardik Pandya keeps things tight and bowls a maiden over now. After picking up the wicket of Naib in the previous over, Pandya has his tail up now and he is looking to further dent the Afghanistan chase.
20:23 hrs IST
Good over from Kuldeep
Kuldeep Yadav continues to keep things tight from the other end and bowls a one-run over now. The Chinaman has bowled 3 overs and conceded 6 runs without picking a wicket so far.
20:17 hrs IST
Pandya strikes
Hardik Pandya has done the trick for India as he gets rid of skipper Gulbadin Naib. The right-hander top edged a Pandya delivery and Vijay Shankar took a decent catch at square leg. Afghanistan are two down now.
20:10 hrs IST
Kul-Cha on show
Kuldeep Yadav and Yuzvendra Chahal are bowling in tandem now and expect something to happen. Rahmat Shah and Gulbadin Naib have already put together a 37-run stand and Kohli will want to end this partnership soon.
20:05 hrs IST
Kohli hits Shah
Rahmat Shah hit a Yuzvendra Chahal delivery straight at Virat Kohli in the covers and the Indian skipper went for the run-out at the striker's end. Unfortunately for the Afghan batsman, the ball hit him on his back. Kohli straight away said sorry and all the players were pictured smiling after this odd run of play. 1 run from the over from Chahal,
20:00 hrs IST
AFG cross 50
Gulbadin Naib hits back to back boundaries of Hardik Pandya towards cow corner and with that, Afghnaistan have crossed the 50-run mark in the 12th over.The skipper leading from the front as the pressure is on Indian bowlers now.
19:55 hrs IST
First four for Rahmat
Rahmat Shah comes down the track and hits Yuzvendra Chahal for a boundary towards mid-on. Kuldeep Yadav tried his best to stop the ball but when he touched the ball, his body was touching the ropes.
19:51 hrs IST
Expensive over from Pandya
Hardik Pandya went for the short delivery and it even went over MS Dhoni's head for five wides. The fast-bowler concedes 8 runs from the over as Afghanistan are moving along nicely at the moment.
19:46 hrs IST
Chahal starts steady
Yuzvendra Chahal bowls good first over as he concedes just three singles off his first over of the innings. Indian bowlers have done well to keep the scoring rate under control. Hardik Pandya will now come to bowl his first over of the innings.
19:41 hrs IST
Good over from Burmah
Jasprit Bumrah continues to pile on the pressure on the batsmen as keeps things tight and bowls a four-run over. On the last ball, Rahmat Shah tried to duck a short delivery but it hit his shoulders. The batsmen are just trying to abide their time in the middle and see off Bumrah's over.
19:35 hrs IST
Zazai departs
Mohammed Shami came from around the wicket and bowled a fast delivery, which was missed by Hazratullah Zazai as he went for the slog. The ball cashed into the stumps as Afghanistan lose their first wicket for 20.
19:31 hrs IST
Half-chance
Jasprit Bumrah dropped the ball short and Gulbadin Naib ducked at first but then poked at the delivery. The ball took a leading edge and just evaded Bumrah's outstretched hands at the non-striker's end. The Afghanistan skipper survives a close call.
19:26 hrs IST
Five overs bowled
Afghanistan will be happy with the way their openers have started the chase. 5 overs have been bowled and they have score 16 runs without losing a wicket. They just need to see off the new ball and then take the attack to the Indian bowlers.
19:21 hrs IST
Edge and four
Jasprit Bumrah produces an egde off Hazratullah Zazai's bat but the ball evaded Virat Kohli at second slip and went for a boundayr. Bumrah has concedes two unlucky boundaries now. Four overs have been bowled and the Afghanistan openers have somehow negated the pacers' effect early on in the innings.
19:16 hrs IST
India lose their review
Shami had trapped Zazai in front of the wicket but the umpire turned down the LBW call and adjudged it as not out. Kohli opted for the DRS after Shami insisted but replays showed that the ball was pitching outside the leg stump and Aleem Dar's call was retained. A maiden over from Shami.
19:11 hrs IST
Error and boundary
Jasprit Bumrah beat the batsman with his pace and swing and even MS Dhoni couldn't catch hold of the delivery as it goes for a boundary behind the wicket-keeping. First boundary of the innings for Afghanistan as Bumrah concedes 5 runs in the over.
19:06 hrs IST
Good first over from Shami
Mohammed Shami keeps things tight early on as he bowled a one-run over to begin proceedings. India need to pick early wickets to peg back their Asian rivals in the chase. Jasprit Bumrah to bowl the second over of the innings now.
19:00 hrs IST
Match resumes
The players are back in the middle and we are about to get underway with the Afghanistan chase. Hazratullah Zazai and Gulbadin Nair are opening the innings while Mohammed Shami has the new ball in his hands.
18:40 hrs IST
SOS to Indian bowlers
Indian bowlers will now have to come up with a spectacular performance to stop Afghanistan from reaching the target. The onus will be on pacers Mohammed Shami and Jasprit Bumrah to get India off to a flyer in the innings.
18:34 hrs IST
Innings over
Kedar Jadhav also loses his wicket in the last over as India are restricted to 224/8 in 50 overs. Mohammad Nabi and Gulbadin Naib scalped two wickets each as Indian batsmen never got going in the match. Virat Kohli and Kedar Jadhav slammed respective fifties but rest of the batsmen weren't up to the mark.
18:30 hrs IST
Shami falls
Mohammed Shami fails to read a slow delivery from Gulbadin Naib and the ball crashes into the leg stump. India lose their seventh wicket with three balls left in the innings. Afghanistan are finishing the innings on a high.
18:26 hrs IST
50 for Jadhav
Kedar Jadhav hits a Gulbadin Naib delivery towards mid on and Rashid Khan went for the diving catch a the ropes. He saved a sure shot boundary but hut himself in the process. Jadhav runs two and completes his well-deserved half-century.
18:22 hrs IST
Pandya dismissed
Aftab Alam picks his first wicket of the day as he gets rid of Hardik Pandya for 7. The right-hander went for the upper cut but edged the ball into the hands of keeper Ikram Ali Khil. India lose their sixth wicket with one over left to be bowled.
18:18 hrs IST
Tidy over from Naib
Skipper Gulbadin Naib bowls a good over as concedes just 7 runs from the 48th over. Nothing is happening for India at the moment as they haven't scored a boundary in the last two overs. Pandya and Jadhav are trying but India keep dealing in singles and doubles.
18:12 hrs IST
DRS saves Jadhav
Rashid Khan thought he picked his second wicket of the innings when he trapped Kedar Jadhav LBW and he was adjudged out by the umpire. Hardik Pandya insisted that he should take the DRS and replays showed that the ball was missing the leg stump. Jadhav survives. 1 runs from the Rashid over as India have three overs to take their score closer to 250.
18:07 hrs IST
200 up for India
Kedar Jadhav hits a boundary and six off Aftab Alam as India pick up 11 runs from the 46th over. With that, India have crossed the 200-run mark as well. Four overs left in the innings for Jadhav and Pandya to score some quick runs.
18:01 hrs IST
Dhoni departs
MS Dhoni comes dancing down the track but fails to read a Rashid Khan delivery and is stumped comprehensively by wicket-keeper Ikram. Dhoni departs for 52-ball 28 as India lose their fifth wicket. Hardik Pandya joins Kedar Jadhav in the middle.
17:57 hrs IST
Mujeeb bowls another tight over
Only 2 runs from the 44th over. This is turning out to be a a great bowling effort from the Afghanistan spinners. Onus now on Dhoni and Jadhav to give India a big finish.
17:54 hrs IST
Good over for India
So the idea is pretty clear, the moment Afghanistan bowl a seamer, Dhoni and Jadhav will attack. 11 runs including 2 fours coming from Aftab's over and India have just started to get a move on or so we think.
17:49 hrs IST
Message from the dressing room
Another over that yields only 2 runs. A message comes out from the dressing. With only 8 overs to go, surely both of them have to go now. They can't waste Hardik Pandya
17:45 hrs IST
Only 2 from the 41st
Dhoni and Jadhav have clearly decided that they are not gonna take Rashid on and the result? Only 2 runs from the 41st over. He still has two overs remaining. How will they continue with the same tactic?
17:40 hrs IST
Dhoni getting into act
Pace on the ball can do wonders on this track and Dhoni is proving it. A very good pull shot for a boundary. Gulbadin Naib decided to take off and bring himself on and he has conceded 9 runs. Just the kind of over that can get Dhoni going.
17:30 hrs IST
Dhoni, Jadhav look to break free
Two boundaries - first from Jadhav and then from Dhoni. India need a move on now, they have been stuck in the middle for quite some time now.
17:20 hrs IST
How close was that?
An appeal but not given! Afghanistan wanted to review it but they have exhausted their only review. Mujeeb bowls this down the leg side, Dhoni looks to flick. It goes off the something to the keeper. Both, the bowler and the keeper appeal but nothing from the umpire. He has not given it as a wide though so there might be something, the umpire feels pad. Replays have not been shown yet. They now have been shown and it shows there was nothing and the sound was of the bat hitting the ground.
17:02 hrs IST
Kohli goes, body blow for India
OUT! Virat Kohli departs for 67. Huge huge wicket for Afghanistan. Short and wide, it was there to cut but Kohli's decision to go too hard at brings his downfall, he gets a thickish outside edge which loops to the short thirdman fielder, who takes a good low catch. Nabi gets his second, India four down and in some trouble.
16:52 hrs IST
Good over from Rashid
Rashid Khan slowly getting into a rhythm here, only 1-run coming from this over and five consecutive dot balls to Dhoni. He won't be concerned though, this is how plays at the start of his innings.
16:46 hrs IST
Shankar departs
OUT! Umpire's call and Vijay Shankar has to go! He can't make use of the start he got. A good decision in the end by Aleem Dar. The idea to continue with Shah has paid off. He lands this around the leg stump and gets it to straighten. Shankar looks to sweep but misses to get hit on the pads. The umpire has his finger up immediately as the bowler appeals. Shankar reviews after a chat with his partner. Replays roll in and they show the ball to be clipping the leg pole. Another timely wicket for Afghanistan as this partnership was starting to flourish. They are keeping India in check.
MS Dhoni comes out to bat
16:32 hrs IST
Terrific from Shankar
FOUR! Vijay Shankar brings up India's 100 with a delightful cover drive off Rahman Shah's first ball. Good stride forward to get to the pitch of the ball and just caresses it through the covers. Even a despairing dive from the long-off fielder could not prevent it from going for a four.
16:27 hrs IST
Hat-trick of fifties for Kohli
Virat Kohli's fifty:
52nd fifty in ODIs
1st vs Afghanistan
6th fifty+ score in World Cup.
He becomes the 8th Indian batsman to score 6 or more fifty+ scores in World Cup.
He joins Navjot Sidhu and Rohit Sharma on 6 fifty+ scores in World Cup.
16:19 hrs IST
Welcome Rashid!
Kohli welcomes Rashid Khan with a superb cover drive for a four. The long off fielder had no chance of cutting that one off. Not the ideal start for Afghan leggie, he has had an ordinary tournament so far.
16:10 hrs IST
Drinks break
Afghanistan are really tightening screws. The pitch too has aided them. It has been a slow, sluggish track and run scoring has been difficult. But that doesn't mean Mujeeb ur Rahman and Mohammad Nabi don't deserve credit, they have been brilliant with the ball so far. Virat Kohli needs to play a big one and Vijay Shankar too has an opportunity to cement his place at No. 4
15:57 hrs IST
Rahul throws it away
No no no! What have you done Rahul? He was looking so good till the time he was out there, looked good for a big one but throws it away by attempting a reverse paddle off Mohammad Nabi. He gets only a top edge to the short thirdman fielder, who makes no mistake.
Vijay Shankar comes in at No. 4
15:50 hrs IST
Fifty partnership
Fifty partnership between Kohli and Rahul.
1st fifty run stand for the 2nd wicket for India vs AFG in ODIs.
1st fifty run stand between the pair in ODIs
The partnership is currently on 46 runs.
15:43 hrs IST
Rare loosener from Mujeeb
FOUR! That's the first poor delivery from Mujeeb in six overs. Tries to cramp Kohli for room but ends up straying it down the leg side and Kohli just puts bat to ball to get it past the short fine-leg fielder for a four.
15:39 hrs IST
Gulbadin's first over goes for 5
Not the ideal start for the Afghanistan captain, he went for 5 runs in his firs three balls but comes back well to finish the over without conceding another run. The Powerplay ends, India 41/1
15:32 hrs IST
Kohli finds his touch
Wrong length, wrong line and Kohli takes full advantage of it. That's bread and butter for Kohli, a floating delivery on the leg side and Kohli flicks it to the boundary. And then Aftab overcompensates, bowls it short and wide. Kohli punches it between point and cover, back-to-back boundaries for the Indian captain.
15:27 hrs IST
Top stuff from Mujeeb
Mujeeb had both Virat Kohli and KL Rahul in some trouble in this over. He mixed his pace and length brilliantly . We have a contest on our hands.
15:23 hrs IST
Where's the slip?
Edged and goes between the diving keeper and second slip. Why would you move your first slip wide in the sixth over the match? Afghanistan should have got both the Indian openers out but it wasn't to be. KL Rahul survives. Aftab has settled into a very good rhythm here.
15:21 hrs IST
Rahul with the first four
Shot! Just a tad short from Aftab and that was enough for Rahul to transfer his weight to the backfoot and time it past the point fielder for the first boundary of the match. Gee he looks good when he gets it right.
15:16 hrs IST
Mujeeb gets Rohit
BOWLED! Wow what a delivery by Mujeeb. Rohit had not clue there. The pressure was building, one could sense something happening and it did. Mujeeb pushes it through with his fingers, doesn't turn but goes straight through and that brings the downfall of Rohit, who plays inside the line of that one. India 1 down for 7.
15:14 hrs IST
Maiden from Aftab
Aftab backs up his first over with a maiden in the second one. A very good start by Afghanistan with the new ball.
15:10 hrs IST
Good start by Aftab
A very good first over by Aftab, gives away only 3 runs. He was spot on with his line and length. But there was no movement either in the air or off the pitch, clear indications that this might turn out to be a high-scoring match.
15:03 hrs IST
Knock and run
Three quick singles in the first over. That's the difference between India and other teams. Despite their being 7 fielders in the ring, Rohit and Rahul manage to sneak three singles in Mujeeb's first over.
15:00 hrs IST
Mujeeb with the 1st over
Mujeeb Ur Rahman to start the proceedings for Afghanistan. KL to face him, we are all set.
14:50 hrs IST
What the captains said at toss
Virat Kohli, India captain:Looks like a really good wicket. Nice and hard. Beautiful day to play cricket. Whether we're playing a team which is very strong or a team coming up the ranks, our mindset is the same. Can't take Afghanistan lightly. Dangerous side when they get in the groove. Can't take any team lightly in the World Cup. Focus is within our group, what we want to do.
Gulbadin Naib, Afghanistan captain:Wanted to bat first. It will be a long day, looking forward to the end of the day. Noor Ali not playing, Hazrat in the side.Happy with batting performance against England, playing the fifty overs.
14:40 hrs IST
Playing XI
India (Playing XI): Lokesh Rahul, Rohit Sharma, Virat Kohli(c), Vijay Shankar, MS Dhoni(w), Hardik Pandya, Kedar Jadhav, Kuldeep Yadav, Mohammed Shami, Yuzvendra Chahal, Jasprit Bumrah
Afghanistan (Playing XI): Hazratullah Zazai, Gulbadin Naib(c), Rahmat Shah, Hashmatullah Shahidi, Asghar Afghan, Mohammad Nabi, Ikram Ali Khil(w), Najibullah Zadran, Rashid Khan, Aftab Alam, Mujeeb Ur Rahman
14:35 hrs IST
Team news
India have made only change. Mohammed Shami comes in for the injured Bhuvneshwar Kumar so that means no Rishabh Pant, Vijay Shankar keeps his place.
14:33 hrs IST
The toss
India captain Virat Kohli wins the toss and opts to bat first against Afghanistan.
14:28 hrs IST
What's the ideal score?
"It's a big ground. Bowling from the Pavilion End, the straight hit is 80 meters. Square boundaries are relatively shorter. It's an even longer straight hit from the other end. In essence, it's about trying to ensure you're protecting the short boundaries. This is a beauty. Gets your pads on. If you're from the subcontinent, you'll love the brown shade. See off the first five overs and then bat and bat well," is what Ramiz Raja and Pommie Mbangwa make of the pitch and conditions.
14:04 hrs IST
First look of the pitch
Canvas for the day #TeamIndia #CWC19.

Win the toss and ? pic.twitter.com/6IuRBeRjmb

— BCCI (@BCCI) June 22, 2019
13:59 hrs IST
The countdown begins
🏏 India v Afghanistan
🕰️ 10:30 BST
📍 Southampton
#️⃣ #INDvAFG#TeamIndia or #AfghanAtalan – Whose day will it be in #CWC19 today? pic.twitter.com/yBPSNUVhXU

— Cricket World Cup (@cricketworldcup) June 22, 2019
13:47 hrs IST
Another Kohli world record?
Virat Kohli is on the verge of becoming the fastest to 20,000 ODI runs. He needs 104 runs to beat Sachin Tendulkar and Brian Lara for the record (Here's the complete stat and story)
13:35 hrs IST
Player battles
Rohit Sharma vs Mujeeb ur Rahman
KL Rahul vs Gulbadin Naib
Virat Kohli vs Rashid Khan
Noor Ali Zadran vs Jasprit Bumrah
Hashmatullah Shahidi vs Kuldeep Yadav (Read full story here)
13:20 hrs IST
Predicted XIs
India Predicted XI: Rohit Sharma, KL Rahul, Virat Kohli, Rishabh Pant, MS Dhoni, Kedar Jadhav, Hardik Pandya, Kuldeep Yadav, Yuzvendra Chahal, Jasprit Bumrah, Mohammed Shami
Afghanistan predicted XI: Hazratullah Zazai, Noor Ali Zadran, Rahmat Shah, Hashmatullah Shahidi, Asghar Afghan, Mohammad Nabi, Gulbadin Naib, Ikram Ali Khil (wk), Rashid Khan, Mujeeb ur Rahman, Dawlat Zadran
13:05 hrs IST
In the news
Vijay Shankar: Shankar took a short fitness test in which he was made to do some running and also bowled a few balls under the supervision of physio Patrick Farhart and trainer Shankar Basu. It couldn't be ascertained whether the physio and the trainer were happy with his progress.
Rishabh Pant: If Shankar is not a 100% fit then Rishabh Pant is certain to make his World Cup debut. He has been included in the Indian side in place of Shikhar Dhawan, who was ruled out of the tournament with a fractured thumb.
12:55 hrs IST
Who said what
Gulbadin Naib, Afghanistan captain: We want to improve our experience, so we should play against the good teams like India, Australia, South Africa, Pakistan. If you're targeting the top five or top six teams, we should play a lot with them. If we play with them, maybe Afghanistan will be losing the matches, or we will be struggling, but one day Afghanistan will be different.
Rishabh Pant, India: When I didn't get selected, I thought may be I didn't do something right, so I became more positive and focussed on how to improve myself. Then I did well in IPL. Then I kept practising
12:42 hrs IST
How's the weather?
There was a bit of rain in Southampton in the lead-up to the India vs Afghanistan game, which even cut short India's practice session on Thursday. But thankfully, the weather at Southampton for Saturday will mostly be sunny. The met department says there are no chances of rain, making it one of rarest days in this tournament. Clouds may hover around towards the afternoon local time but they won't pose any threat to the game.
12:30 hrs IST
Pant set for debut?
Rishabh Pant, who was drafted into the Indian as an official replacement of the injured Shikhar Dhawan, looks set to make his World Cup debut today against Afghanistan. There is an injury concern with Vijay Shankar and the Indian team management would want to take this opportunity to have a loot at Pant.
12:18 hrs IST
Venue insights
Highest team total: 373/3 by England vs Pakistan in 2019
Lowest team total: 65 by U.S.A. vs Australia in 2004
Highest individual score: 189* by Martin Guptill (NZ) vs England in 2013
Best bowling figures: 5/29 by Mervyn Dillon (WI) vs Bangladesh in 2004
Biggest partnership: 206 between Ross Taylor and Kane Williamson (NZ) vs England for the 3rd wicket in 2015
12:01 hrs IST
What happened last time
India and Afghanistan have so far played only 2 ODIs. While India won the first one comfortably by 8 wickets back in 2014, their last match in the Asia Cup against Afghanistan ended up in a thrilling tie.
Afghanistan scored 252/8 on the back of Mohammad Shahzad's 124 and useful contributions from Mohammad Nabi (64) and Najibullah Zadran (20). In response, India also managed the same total (252 all out), despite the KL Rahul and Ambati Rayudu putting on 110 runs for the opening stand.The wickets were shared around with Aftab Alam (2/53), Mohammad Nabi (2/40) and Rashid Khan (2/41) all chipping in.
11:48 hrs IST
Afghanistan desperate for a win
Afghanistan are staring down the barrel. They are the only side yet to get off the mark in World Cup 2019 points table. Having already lost 5 of their matches, there is no realistic of them making to the semis but Gulbadin Naib's men will look to end the tournament on a high. And there cannot be a bigger moment than upsetting favourites India.
11:40 hrs IST
Battle of unequals
Hello and welcome to the live coverage of the India vs Afghanistan World Cup match at Rose Bowl Southampton. This is a match that can once again pepper the record books. Afghanistan, pitted as equals before the tournament, have not been able to bring their A game to the table and India, on the other hand, have been as ruthless.
Close Story