India vs Australia Highlights, 3rd Test, Day 1: Pucovski, Labuschagne fifties take Australia to 166/2
Updated on Jan 07, 2021 02:08 PM IST
India vs Australia third Test Day 1 highlights: Australia finished Day 1 of the Sydney Test on 166/2. A total of 55 overs were bowled in the day with rain washing out more than three hours of play. Marnus Labuschagne (67*) scored a half-century and remained unbeaten along with Steve Smith (31*), their partnership reading 60 off 125 balls. For India, debutant Navdeep Saini dismissed fellow debutant Will Pucovski to pick up his maiden Test wicket for India, but not before the Australian opening batsmen scored a brilliant half-century playing his first Test. India had a couple of chances let go by Rishabh Pant, who, twice in two overs, dropped Pucovski. He and Labuschagne added a 100-run partnership. Early lunch was taken after just 7.1 overs in which Australia scored 21 runs and lost the wicket of David Warner. Australia opted to bat first after winning the toss in the third Test against India. Bio-bubble breach investigations, reports of India's unwillingness to travel to Brisbane if stricter quarantine rules are forced on them, former Australian cricketers and media throwing jibes, we've had everything that could spice-up the proceedings in the third Test at the Sydney Cricket Ground. Both India and Australia have landed a punch each and just like the third day - the moving day of a Test - this third Test at Sydney has all the ingredients to be the decisive one of the four-match series. Rohit Sharma returns to the playing XI for India, young Saini makes his debut. Australia, on the other hand, will have a new opening pair with David Warner and Will Puvocski both regaining fitness and playing.Follow India vs Australia highlights Day 1 3rd Test in Sydney: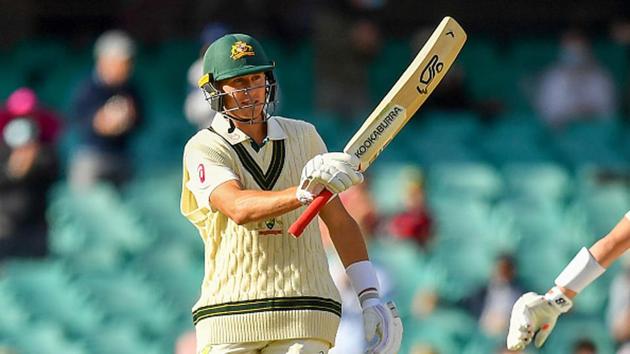 Hindustan Times, New Delhi |
hindustantimes.com
13:26 hrs IST
Smith's had a start and he is looking forward to it
"I'm good, nice to spend a bit of time out there, nice to stitch in a partnership with Marnus. I wanted to put him (Ashwin) under a little bit of pressure which I haven't done this series. Was just trying to hold the grip a bit tighter, I've been struggling, so I was getting into good positions today. Was good to get a couple of boundaries early. Marnus played well, hopefully we go along well tomorrow," Smith said after the end of the day's play.
13:18 hrs IST
STUMPS! Australia 166/2 at the end of Day 1
A mighty pleasing effort this from Australia. Finally, the hosts have delivered with the bat and are on their way to going past 200, their highest score in the series so far. So there we have it. A wicketless afternoon session followed by just one wicket in the evening. India with not one of their best day on the field on a surface that is beginning to slow down and one without much support for the bowlers.
13:12 hrs IST
Saini to bowl the final over of the day
So as it turns out, 55 overs have been bowled in the day. We're 35 short but not much could have been done once rain washed away more than three hours of play. He comes steaming in and sends down two bouncers.
13:08 hrs IST
Jadeja darting them in
Jadeja is doing what he does best, firing those balls in. Couple that speed with turn and he's giving the Australian batsmen some nervy moments close to the end of the day. The one thing Australia don't want here is to have a run out or lose a wicket in any form this close to stumps. Two overs remain, Ashwin to bowl the penultimate one of the day
13:04 hrs IST
Steve Smith and his award-winning leaves
Rare.#AUSvIND pic.twitter.com/GAiP4qdfsO

— cricket.com.au (@cricketcomau) January 7, 2021
13:00 hrs IST
Huge appeal! Not out
Big appeal for bat pad, but umpire Wilson nodded his head. The players around the batsmen tried to convince Rahane to take the review, but the India captain rightfully decided against it. There was absolutely nothing there as the ball went up off the pad.
12:58 hrs IST
Ravindra Jadeja given the ball
With the final seven overs to go, Ajinkya Rahane has handed the ball over to Ravindra Jadeja, hoping to pick up a wicket here. He starts with a maiden, Australia 159/2 after 49 overs.
12:56 hrs IST
Ashwin to Labuschagne: FOUR
More authority being displayed here by Labuschagne. He comes down the wicket and lofts the ball over the in-field for a one-bounce boundary. With that, the fifty partnership comes up between him and Smith for the third wicket. Australia marching on.
12:52 hrs IST
Eight overs remain in the day
If Australia can go through these final few over unscathed, they will be pretty happy with the way the day would have fared. On the other hand, if India can pick up one more wicket here, it will be an evenly-shared session.
12:48 hrs IST
India with a strong leg-side field
Australia batsmen are trying to work a lot of deliveries on the leg side but a solid field placement on the leg, inside the circle has not allowed them to get away with many.
12:45 hrs IST
There's turn and rip alright
A very good over from Ashwin, kept Labuschagne and Smith on their toes. A couple of lovely, loopy deliveries, which Smith tried to get away with but the turn denied him. Australia 154/2 in 46 overs. Another 15 minutes left in the day.
12:40 hrs IST
Ah, close!
Siraj gets a ball to move in after pitching. It snuck between the bat and pad. Labuschagne lucky the ball did not clip the stumps along the way. The partnership is 46 off 62 balls and beginning to look threatening for India.
12:28 hrs IST
Fifty for Labuschagne
There it is. After two 40-plus scores earlier in the series, Marnus Labuschagne finally has a half-century, his first against India in Tests. He follows it with another boundary two balls later. 12 from Siraj's over as Australia get to 148/2 in 43 overs.
12:24 hrs IST
Ashwin to Smith - FOUR more
Second boundary for Smith off the bowling of Ashwin. Comes down the wicket and lifts the ball over mid on. This is a different Smith that has turned up at the SCG as compared to Adelaide and MCG. Australia 136/2 after 42 overs.
12:20 hrs IST
Ashwin to Smith: FOUR
There you go, the battle is underway. There was a very marginal gap available on the leg side but Smith being the master has found it and flicked Ashwin for his third boundary. Smith 19* off 20 already. Australia 130/2 in 40 overs.
12:16 hrs IST
If there's Smith, there has to be Ashwin
R Ashwin is back. He had to given Steve Smith is out in the middle. He's knocked him over twice in the series already but this one will be a real test between the two. Both are equally determined not to let the other dictate terms. Smith beginning to move in his crease.
12:12 hrs IST
Absolutely
That moment when you get your maiden Test wicket.#AUSvIND pic.twitter.com/dTOhHsCjd6

— BCCI (@BCCI) January 7, 2021
12:04 hrs IST
Saini to Smith: FOUR, DOT, FOUR
BANG! Another full-blooded drive from the former Australian captain. Steve Smith has come out with a lot of intentions here. Two balls later, Smith flicks and even though the fielder at leg gully - Hanuma Vihari - had a chance, the ball had enough to hit the boundary. Australia 121/2 after 37 overs.
12:00 hrs IST
First FOUR for Smith in the series
First boundary for Steve Smith in this series. Fuller ball from Jasprit Bumrah and Smith brought out the drive which goes racing past mid off towards the boundary. It's taken him three Test matches to finally score his first four. Those are the sort of things that can happen to the best.
11:50 hrs IST
OUT! Maiden Test wicket for Saini
There you go, Navdeep Saini has his moment under the sun. The happiness of playing your maiden Test followed by the joy of picking up first Test wicket. And it's the wicket he and India wanted - Will Pucovski out for 62. Australia 106/2
11: 46 hrs IST
Australia have come out with intent
Pucovski and Labuschagne have just run three runs for the fourth time in this partnership. The debutant has moved to 60, while Labuschagne is batting on 38. More importantly, Australia have come out with intent in this session.
11:44 hrs IST
Navdeep Saini back
His first over in Test cricket went for 9 nine, including two fours. But can Navdeep Saini calm those nerves and be the wicket-taking bowler that he has for Delhi for the last many years? He isn't steaming in. It's more of a regular medium-pacer-like run-up.
11:40 hrs IST
Wonder what Punter has to say about this tweet
Is there a bit of Ponting in this Pucovski pull?

The shot that brought up 50 for the Victorian! #AUSvIND pic.twitter.com/mykOyBtSPr

— cricket.com.au (@cricketcomau) January 7, 2021
11:34 hrs IST
Covers off, play set to resume
The Indian team in a huddle, planning their course of action for what lies ahead, the final session of the opening day. India need a wicket. Although only 64 overs will be bowled in the day, India should look to get more wickets by stumps today.
11:28 hrs IST
And here comes the rain again...
So while the players went in their rooms to enjoy a nice, warm cup of team, the rain decided, 'Well, there is no play any way, so why don't we come have a go once more.' Yes, it's raining again at the SCG and the groundsmen are rushing to get the covers on. Although it's not heavy at the moment.
11:20 hrs IST
A session dominated by Australia
It's been a while since one of the bars reflected a yellow bar, but Australia finally have a session they should be proud of. They ruled this one with Pucovski and Labuschagne battling the Indian attack on a surface that is appearing slow at the moment. Full credit to the youngster playing his maiden Test match, but Labuschagne has been equally good for 34* off 78 balls.
11:12 hrs IST
Tea on Day 1, Australia 93/1
A wicketless session for India, that. Pucovski and Labuschagne have batted brilliantly to ensure that Australia did not lose a single wicket in that session. India had their chances but they were a bit sloppy to say the least. The Rishabh Pant drop and then the missed run-out chance. These are pretty similar concerns for India which are beginning to emerge early in the Sydney Test.
11:08 hrs IST
Fifty for Pucovski on debut
Two fours in a row and Will Pucovski has a half-century on debut. Navdeep Saini's first two balls in Test cricket get hit for four, but the bigger picture in Pucovski. Australia needed an opener to stay on the wicket and this man right here has done it. Great stuff from the youngster.
11:06 hrs IST
And finally, it's Navdeep Saini
It's taken 30 overs but Navdeep Saini is finally in the attack, but the occasion has been spoiled a little by Pucovski, who greets him with a boundary first ball.
11:04 hrs IST
Ashwin to Labuschagne: FOUR
Too short from Ashwin once again and Labuschagne gets a powerful cut shot for four. The turning short ball isn't working for India, with Labuschagne and Pucovski appearing in control of their shots.14 off the last two overs take Australia to 84/1. This will probably the final over before the tea break.
11:00 hrs IST
Run Out chance goes begging
It's all happening now. Another chance for India, this time a run out opportunity. Pucovski pushed for a third while Labuschagne cleary didn't want it. Jasprit Bumrah who was chasing the ball, slipped and seemed to have hurt himself. Threw the ball back underarm with Pucovski more than half way down the pitch. Had it been a more powerful throw, it was a run out for sure. Australia 75/1 in 29 overs.
10:56 hrs IST
Consecutive boundaries for Labuschagne
On either side of the wicket. The first one was punched through extra cover off Ashwin and off the very next ball, Labuschagne flicked the ball fine. Jasprit Bumrah tried to stop it with his foot but the ball rolls over the rope anyway. Not the best 15 minutes or so for Ashwin. Australia 68/1 after 28.
10:52 hrs IST
Here's what Simon Taufel has to say about Pant's second drop
"The third umpire is looking for conclusive evidence to say the ball has bounced ... and in this particular case the fingers weren't underneath the ball from the keeper." - Simon Taufel #AUSvIND pic.twitter.com/zhroJTRu53

— 7Cricket (@7Cricket) January 7, 2021
10:45 hrs IST
Tough chance, but Pant lets another one slip through
Twice in two overs has Rishabh Pant dropped Will Pucovski. After the Ashwin chance, this time it's Siraj who comes perilously close to removing the Australia opener. Short ball from him which Pucovski tried to pull. He got his gloves and as the ball went in the air, Pant ran back to take the catch. As he tried to dive, the ball came off his gloves and even though he seemed to have taken it on the second attempt, it just wasn't conclusive enough to rule the batsman out. The gloves weren't completely underneath the ball.
10:40 hrs IST
Here's the Pant drop catch
Pant gives Puc a life! #AUSvIND pic.twitter.com/PwhpHuJI4D

— cricket.com.au (@cricketcomau) January 7, 2021
10:36 hrs IST
Ashwin to Pucovski: FOUR
Once again, Ashwin drops it a bit too short and even though there is turn, Pucovski rocks onto the backfoot and pierces the off-side field for his second four. With that, the FIFTY comes up for Australia as well. On a slow surface, these two batsmen have batted remarkably well.
10:34 hrs IST
18 consecutive dot balls for Labuschagne
India have stuck to their guns and kept Labuschagne quiet, in fact to an extent that the batsman hasn't scored a run in his last 18 balls.
10:30 hrs IST
DROPPED!
Oh no! Rishabh Pant puts one down. Ashwin tempts Pucovski into the drive and as he lost his balance following the shot, he offered an edge. Unfortunately for India though, Pant could not hang on. Australia 49/1 after 22
10:28 hrs IST
Ashwin attacking the leg-stump line
Judging by his success against Australian batsmen down leg, the off-spinner is targeting the same on Pucovski and Labuschagne. Pucovski not exactly comfortable against Ashwin; he's having to move awkwardly in the crease at times.
10:24 hrs IST
Ricky Ponting weighs in...
"Looks like a great wicket, this. This looks like the sort of wicket where you get a start, lock yourself in and you make sure you score big runs. Both these guys have got off to good starts, they look comfortable, they really have to capitalise now."

- Ricky Ponting #AUSvIND pic.twitter.com/pYlTwCegEf

— 7Cricket (@7Cricket) January 7, 2021
10:18 hrs IST
CLOSE...
But not enough. Ashwin slips in a back of a length delivery which Pucovski tries to cut. Doesn't get any bat on it with the ball missing the bat by a whisker to thud into Pant's gloves. Another maiden for India, Australia 46/1
10:15 hrs IST
Maiden from Bumrah
India's pacer spearhead has bowled an extended spell and it is likely that he'll be taken off for a breather. Surprised to not see Navdeep Saini yet. Australia 46/1 after 19.
10:12 hrs IST
IND vs AUS, Live updates: Turn for Ashwin
And there's plenty of it. The off-spinner is dropping the ball slightly short, forcing Pucovski to go on the backfoot. He bowls the next one fuller which Labuschagne drives for a couple of runs. Ashwin's bowling a lot closer to the stumps. India have a leg slip in place. Australia 46/1 after 18.
10:05 hrs IST
Pucovski, Labuschagne build on
Australia were 6/1 but from there onward, Marnus Labuschagne and debutant Will Pucovski have batted steadily, countering the rain break and added 37 runs off 77 balls at the moment. This Australia batting order looks a lot more assured and with limited swing on offer, this is a golden opportunity to banish their batting demons.
10:02 hrs IST
Bumrah to Labuschagne: FOUR
The perfect reply. Slightly overpitched but Labuschagne connects the on drive well. The fielder at mid-on puts in the dive but the ball beats him and runs to the boundary rope. Australia 41/1 in 15 overs.
10:00 hrs IST
EDGED, but falls short
Bumrah creates a chance for India as Labuschagne nearly edges the ball to first slip, but it falls short of Cheteshwar Pujara. Beats him outside off the next ball. As expected, Bumrah bowling with a considerably shorter run up, and yet he's able to clock 140 kph.
9:56 hrs IST
Bowling change, in comes R Ashwin
First sign of spin in the Sydney Test as India introduce R Ashwin, perhaps hoping that the off-spinner can continue his success against Labuschagne. He has dismissed him twice in the series already. Gives just one runs as Australia reach 37/1 after 14 overs.
9:50 hrs IST
No swing for India quicks
It was believed that Indian quicks had a chance to get on top of Australia but so far, there has been very limited swing, on and off the pitch. Not much bounce either and the batsmen so far aren't looking too troubled either.
9:48 hrs IST
Siraj to Pucovski: Flicked for 3
Australia beginning to get a move on with their scoring. And how good has debutant Pucovski looked here? He's 20 off 42. Gets on top of his toes and flicks the ball towards deep midwicket for three runs. The outfield is pretty quick despite all the rain we witnessed.
9:44 hrs IST
Bumrah to Labuschagne: FOUR
Short ball from Bumrah and Labuschagne does really well to get on top of the ball and pull it along the ground to get himself a boundary. Brilliant from him. Bumrah follows it with a typical fast bowler's response: a quick bouncer. Australia 31/1 after 11 overs.
9:40 hrs IST
10 overs gone, Australia 27/1
Jasprit Bumrah and Mohammed Siraj bowl back-to-back maidens for India. Will Pucovski looking in control of his innings, as is Labuschagne. India have kept a tight leash on Australia's scoring by employing an attacking off-side field. Hardly any singles on offer.
9:34 hrs IST
Siraj to Labuschagne: Two more down the ground
Another fuller delivery and this time is Marnus Labuschagne who collects three runs. Navdeep Saini does the chase on both occasions. That should warm him up for ahead of his first spell in Test cricket. Australia 27/1 after 8 overs
9:30 hrs IST
First ball after resumption: Siraj to Pucovski
A nice little swinging delivery outside off from Siraj to Pucovski to kick things off after the delay. Follows it with an LBW appeal before Pucovski drives down the ground for three runs.
9:28 hrs IST
Here are the revised timings
Tea will take place at 4.40pm (11.10 IST). 57 overs to be bowled for the day. Scheduled close of play will be extended to 6.30pm (1pm IST) with extra 30 mins permitted to ensure minimum overs.
9:18 hrs IST
The SCG is unrecognisable
Yes, that's how significantly things have changed. The sun is out and the good news is that we're all set for resumption. The official word is that play will resume in 12 minutes from now, which is 9:30 am IST. Brace up, some Test match action finally coming our way.
9:10 hrs IST
Former Australia cricketers slam David Warner's early dismissal
"He was running through, he's certainly labouring a little bit and it's not the David Warner we are used to seeing. He certainly is not even close to 100 per cent fit. It's not a great sign," Mike Hussey said of David Warner after his early dismissal," Michael Hussey said of David Warner's dismissal for 5.
9:00 hrs IST
Will the rain break help India's bowlers?
There will be moisture on the pitch and overcast conditions. If you're an India bowler, you should be licking your chops at the possibility. The last bit of play we had was more than three hours ago and that's enough to break the concentration Labuschagne and Pucovski were working towards attaining.
8:50 hrs IST
This is the best news we've received in a bit
In approximately 10 minutes, the umpires will inspect the field and hopefully provide an update. At the moment, the sun has come out in Sydney, out of nowhere, and the ropes are being used to dry the outfield. There are people walking on the field, indicating not much harm has been done to the ground. Let's hope for some good news.
8:42 hrs IST
UPDATE
The cat and mouse game continues. The latest is that the rain has stopped at the SCG and the covers have come off again, to a loud cheer from the crowd. The umpires are out inspecting the ground. Although we would suggest fans not to get carried away here. After all, it's been that sort of a day.
8:35 hrs IST
Ponting is worried for Warner
Ponting on Channel Seven: "I think everyone knew that he probably wasn't going to be 100% coming into the Test match. The only thing I hope is that he hasn't tweaked it again, doing something more there. It was pretty much from that moment on that those loose shots started. So hopefully it wasn't playing on his mind, hopefully he's okay and hopefully we can just say that that's the way David Warner plays a shot like that early on in a Test match."
8:28 hrs IST
What umpires Reiffel and Wilson had to say
"We were about to start at 1:40 and now it has started to rain again. So, we're covering up. Normally been about 15-20 minutes (turnaround once the dry up happens). If we get more rain and more water, it's going to get a little bit longer."
8:20 hrs IST
Let's hope it doesn't come down to this...
 "Play remains suspended due to rain. Scheduled close of play will now be 6.30pm with an additional 30 mins of permitted extra time allowed to ensure minimum overs are bowled," the BCCI has tweeted. 6.30pm local time means 1.30pm India time.
Play remains suspended due to rain.

Scheduled close of play will now be 6.30pm with an additional 30 mins of permitted extra time allowed to ensure minimum overs are bowled.

— BCCI (@BCCI) January 7, 2021
8:14 hrs IST
No play for another 30 minutes at least
The latest scenes emerge from the SCG, and they suggest that the light drizzle continues to come down. Glenn McGrath is confident that there will be some play at some point but we don't know when. Meanwhile, the covers stay on and the wait extends.
8:06 hrs IST
BOOM! It's raining again
And the frustration continues. Just when it seemed that things were falling back on track, we have some bad news. It's started to rain against at the SCG and the covers are back on. Hear this out...
A quick update from the umps on @FoxCricket - but the umbrella-less Blocker Wilson wasn't too keen to chat! #AUSvIND pic.twitter.com/MGJt56NpNk

— cricket.com.au (@cricketcomau) January 7, 2021
7:52 hrs IST
Inspection in a few minutes
Umpires will inspect the field at 1.30pm.

Updates on any resumption of play will follow that inspection.

So keep those fingers crossed #AUSvIND

— cricket.com.au (@cricketcomau) January 7, 2021
7:40 hrs IST
The covers come off again...
The covers have been taken off but as soon as that was done, a huge puddle of water was seen right next to one of the pitches. However, the SCG is believed to have a terrific drainage system so not much should be read into it. Still waiting for an official word but we should get play soon given it doesn't start pouring down again.
7:25 hrs IST
Rain relents, umpires walk out
Some positive news. The umpires walked out in the middle to check the condition of the ground and the possible damage that spell of rain could have done. There seem to be no serious puddles at the moment. More importantly, the rain has relented. Fingers crossed.
7:18 hrs IST
Still no respite
The latest visuals from Sydney is that it's still raining in the city. And it's happening at a constant pace. Pretty Irritating if you've set up your 4.30 alarms today morning. Then again, like Brendon Julian pointed out, it's that time of the year when it does rain a bit in Sydney.
7:12 hrs IST
Brendon Julian doesn't foresee play for another hour at least
Not the greatest of news this. Brendon Julian provides some update on the weather in Sydney. The former left-arm quick feels it's going to take another hour at least before play resumes. He says the rain has settled in at the moment and the minimum it's going to take from here on is at least an hour or even more. Julian also informs that there is a 40 percent chance of rain in the day.
7:06 hrs IST
What a throwback!
A very young Will Pucovski with Ricky Ponting back in the day 😍 pic.twitter.com/pzFnDzQBJM

— 7Cricket (@7Cricket) January 7, 2021
7:02 hrs IST
India in Tests at the Sydney Cricket Ground
India have won only one Test of the 12 played at the SCG, their only win coming at the venue in 1978. They have lost five and drawn six.
6:54 hrs IST
Early lunch taken at SCG
Well, it was always on the cards. Early lunch has been taken in Sydney with Australia on 21/1 on Day 1. Only 7/1 overs of play was possible.
Lunch has been taken (12.20pm local). Earliest play may resume is 1.00pm pending rain.

Scorecard: https://t.co/xdDaedY10F#AUSvIND pic.twitter.com/bU7I67XU1a

— cricket.com.au (@cricketcomau) January 7, 2021
6:44 hrs IST
Pucovski showing shades of Cullinan?
Are we the only ones to have noticed it? Or have you too? There's something about young Will Pucovski that reminds of former South Africa batsman Daryll Cullinan. The stance is so similar and even the face inside the helmet. If R Ashwin was to somehow sense it, what are the odds he'll turn to leg spin?
6:37 hrs IST
Rain gets heavier
The drizzle has just got heavier at the SCG and we're afraid an early lunch might be called now. The big covers have been rolled in and the it has gone really dark.
6:26 hrs IST
The first session extended
The first session has been extended by half and hour and the close of play by 20 minutes but if play doesn't start soon we can expect changes in that too.
6:17 hrs IST
The main covers are still on
Spoke to soon, the drizzle is back again, forcing the groundstaff to keep the main hessian cloth is still on.And looks like they are calling the main covers back again, that kind of a day. We'll wait for further updates before jumping the gun
6:13 hrs IST
The covers are coming off
The covers are coming off at the SCG and hopefully this time it stays away for long. Things have improved to be honest, the dark cloud cover has given way to some light, still can't quite call it sun shine but it is definitely looking good. As far as the update, we should be starting play in 6:15 am IST, but it does look like we'll have to wait for a few more minutes
6:08 hrs IST
That's how much it means to Mohammed Siraj
✊ #AUSvIND pic.twitter.com/4NK95mVYLN

— cricket.com.au (@cricketcomau) January 6, 2021
6:05 hrs IST
UPDATE
 No overs have been lost so far, confirms Cricket Australia.
If there is no further rain, play will commence at 11.45am local time. Scheduled close of play will be extended to 6.10pm. No overs have been lost #AUSvIND

— cricket.com.au (@cricketcomau) January 7, 2021
5:55 hrs IST
Scratch the previous update
The covers are back on as it is has started to rain again. It is overcast at the SCG, so this might take a bit longer than what we had expected at the beginning. The Indian cricketers are in the dressing room now.
5:51 hrs IST
GOOD NEWS!
Looks like it has stopped raining at the SCG, we see a bit of sun peeping out and a couple of umbrellas being closed. Hopefully, the umpires will instruct the groundstaff to take the covers off too. And Yes, the covers are now being taken off, so we should start soon.
5:44 hrs IST
Still raining
The umpires are out their in the middle with their umbrellas. It is raining at the SCG at the moment. While it is not heavy but it is enough to keep the covers on and the players away from the field.
5:35 hrs IST
Rain interruption
Uh oh! The players are going off now. The covers are being rushed in. So we have a rain delay very early into the Test match. The rain does not look that heavy to be honest. This shouldn't be a long delay. Australia 21/1 after 7.1 overs.
5:29 hrs IST
First boundary for Australia
Streaky. That could have gone anywhere. Siraj tested the debutant with a bouncer. He Went for the pull shot, got it at the upper half of his bat and it flew over. Thankfully for Pucovski and Australia, it landed away from the fine leg fielder and reached the fence. Australia 15/1
5:25 hrs IST
Pucovski flicks
...And flicks it well. Bumrah has got his hands on his head. He was trying to trap Pucovski leg before but the debutant has got good enough bat on thine one, three runs to Australia.
5:19 hrs IST
Siraj removes Warner
EDGED and TAKEN! What a big wicket for India that is. Pitched up from Siraj, it went away further with the angle, Warner with no real feet movement tries to play the expansive drive, ends up getting and outside and Pujara at first slip takes a sharp catch. Australia are 6 for 1
5:16 hrs IST
Early readings of the pitch
Sanjay Manjrekar in the commentary box says "This is a flat pitch" and we agree with him. The first three overs have shown that this could turn out to be paradise for the batsmen. No real movement off the pitch so far.
5:10 hrs IST
First runs in Test cricket for Pucovski
Siraj strays down the pads and Pucovski just flicks it to fine leg for a single - first runs for the young man in Test cricket, a moment he will perhaps never forget. Australia 5/0 after 2 overs.
5:08 hrs IST
Warner off the mark
Mohammed Siraj runs in for the second over and David Warner is away. That's why you need someone like him kin the side. A little bit of width and he punches off the back foot to get off the mark with a couple.
5:06 hrs IST
A maiden to start the third Test
What a brilliant first over there from Jasprit Bumrah. He got the beautiful shape going away and also tested the debutant with a bouncer, who for his part, did not looked to be overawed by the occasion.
5:00 hrs IST
The players out in the middle
David Warner and Will Pucovski have walked out to bat for Australia. Looks like Pucovski will take the strike. Jasprit Bumrah has the new ball in hand for India. We are all set for live action.
4:59 hrs IST
The n numbers to keep an eye on in the Sydney Test
This is the 1st instance since 1989 when India's Test captain (Ajinkya Rahane) and vice-captain (Rohit Sharma) are both from Mumbai Ranji Team.
- India have won only one Test at SCG out of the 12 Tests played here, they have lost 5 and drawn 6. The only win came in 1978
- Nathan Lyon needs 6 wickets to complete 400 Test wickets, he will be the 3rd AUS to reach this landmark after Shane Warne 708 and Glenn McGrath 563.
- C Pujara needs 97 runs to complete 6000 Test runs, he will be the 11th IND to reach this landmark and 5th quickest IND in terms of innings batted after S Gavaskar -117, V Kohli -119, S Tendulkar -120 and Rahul Dravid -125
4:57 hrs IST
The teams line-up for the anthems
India and Australia have lined up for their respective national anthems starting with the visitors' one first then followed by Australia's.
4:51 hrs IST
Warner and Pucovski will be up against Bumrah
Australia have a new opening pair of David Warner and debutant Will Pucovski. They will up against Jasprit Bumrah, who is most experienced seamer in the Indian attack with 16 Test caps. The other two - Mohammed Siraj (2nd Test) and Navdeep Saini (debut) - are newcomers.
4:45 hrs IST
The pink Test
This is also the Pink Test for the Jane McGrath foundation - wife of Glenn McGrath - to spread awareness about breast cancer. India legend Sachin Tendulkar donated his 200th Test shirt to the McGrath foundation for charity.
4:40 hrs IST
Big moment for young Navdeep Saini
Third debutant - second fast bowler - for India in two Test matches. This time the privileged man is young right-arm fast bowler Navdeep Saini. He got his Test cap from India's spearhead Jasprit Bumrah.
Congratulations @navdeepsaini96. He realises his dream of playing Test cricket for #TeamIndia today. A proud holder of 🧢 299 and he receives it from @Jaspritbumrah93. #AUSvIND pic.twitter.com/zxa5LGJEen

— BCCI (@BCCI) January 6, 2021
4:37 hrs IST
Australia Playing for 3rd Test
David Warner, Will Pucovski, Marnus Labuschagne, Steven Smith, Matthew Wade, Cameron Green, Tim Paine(w/c), Pat Cummins, Mitchell Starc, Nathan Lyon, Josh Hazlewood
4:36 hrs IST
India Playing XI for 3rd Test
Rohit Sharma, Shubman Gill, Cheteshwar Pujara, Ajinkya Rahane(c), Hanuma Vihari, Rishabh Pant(w), Ravindra Jadeja, Ravichandran Ashwin, Jasprit Bumrah, Mohammed Siraj, Navdeep Saini
4:35 hrs IST
CONFIRMED: Warner in and Pucovski makes his debut
Tim Paine has confirmed that David Warner and Will Pucovski will open the batting for Australia today. What a moment for young Pucovski who got his Baggy Green just a while ago.
4:32 hrs IST
India vs Australia 3rd Test: Toss update
Australia captain Tim Paine has won the toss and he has no hesitation in opting to bat first at the Sydney Cricket Ground.
Australia have won the toss and opted to bat first in the 3rd Border-Gavaskar Test. #AUSvIND pic.twitter.com/J4HIYiCqzu

— BCCI (@BCCI) January 6, 2021
4:25 hrs IST
India vs Australia live score, 3rd Test Day 1 pitch
'Even covering of grass and hard but if you win the toss, you are likely to bat': Here's the pitch at SCG for the Indua-Australia third Test
🗣 "It's a very even coverage, as the game goes on that will wear."@copes9 has a look at the SCG pitch #AUSvIND pic.twitter.com/RTkeoucDLU

— 7Cricket (@7Cricket) January 6, 2021
4:20 hrs IST
New opening pair for Australia?
There might be a couple of changes in the Australian rank too. Both openers David Warner and Will Pucovski have regained fitness and they are set to open the batting in the third Test against India. Warner's inclusion is significant while Pucovski is set to receive his Test cap.
4:15 hrs IST
Rohit Sharma and Navdeep Saini in
If there was news off the field in the first few days of the New Year, there was plenty of it from the field too with India announcing their playing XI on the eve of the Ind vs Aus 3rd Test. Rohit Sharma has returned to the Test XI and Navdeep Saini will make his debut today. Rohit came in for Mayank Agarwal while Saini replaced an injured Umesh Yadav.
4:10 hrs IST
Lot of chatter
As if the series being locked at 1-1 wasn't enough to bring the best the best out of both India and Australia. The rapidly escalating developments in the New Year have given this India vs Australia third Test at Sydney a different colour. Australia captain Tim Paine agreed that there is some 'tension' and 'uncertainty' after some 'unnamed sources' said talked about India's unwillingness to travel to Brisbane almost after five of their players were being investigated for a possible bio-bubble breach. India stand-in captain Ajinkya Rahane, however, has said they are not at all 'annoyed' and are focused on the job in hand.
4:05 hrs IST
India vs Australia 3rd Test Day 1 live score
Boy does it feel great to once again wake up way before sunrise in India and write about India-Australia Test cricket. Hello and welcome to live coverage of the Ind vs Aus third Test Day 1 at the Sydney Cricket Ground. The series is locked at 1-1 after Australia won in Adelaide and India staged a stunning comeback in Melbourne.
Personalise your news feed. Follow trending topics