India vs Australia 4th Test Day 2 in Sydney, as it happened: Australia end on on 24/0 after India declare at 622/7
As it happened: Kuldeep on the money, he might be the difference tomorrow. Australia survive the tricky period, they are at 24 when the umpires draw the bails. Pant scored a belligerent hundred but then grassed a simple chance off Usman Khawaja. They will back tomorrow for the grind. (FULL COVERAGE AND SCORECARD)
Follow Ind vs Aus Live Cricket Score and Updates here -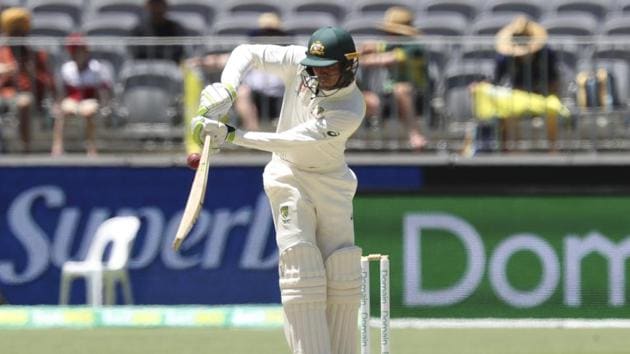 Updated on Jan 04, 2019 12:36 PM IST
12:21 hrs IST
Stumps
Kuldeep on the money, he might be the difference tomorrow. Australia survive the tricky period, they are at 24 when the umpires draw the bails
12:12 hrs IST
Spin introduced
Jadeja and then Kuldeep. Both the spinners introduced, this promises to be fascinating. This pitch is not turning big, but it has assistance
11:54 hrs IST
Pant drops Khawaja
Healthy edge, Pant dives across, the ball hits his wrists and pops up. Lovely ball, but no reward. Test cricket is a great leveller
11:42 hrs IST
We are back
Out walk the Aussie openers. Shami with the new ball, he will start from around the wicket. Wow, this promises to be such an interesting passage of play. 3 slips in play
11:36 hrs IST
Kohli has declared
Jadeja comes down the track, tries to slog Lyon, he misses it and is castled. Kohli has seen enough, calls them in. Australia go off the field. Stunning innings by Pant who finishes unbeaten on 159. 622/7 declared on a pitch which looks good for batting.
11:28 hrs IST
150 for Pant
Short ball, slammed away. 150 up for the young man. This has been some innings. He has grown in stature, most certainly. These two have added 200 runs for the 7th wicket and it seems it will carry on for some time now
11:15 hrs IST
Jadeja explodes
Short ball, smacked away, full ball, belted away. Jadeja plunders 16 off Pat Cummins. India roar past 600, Australia looking all over the shop
11:05 hrs IST
Kohli is in his training kit
Weary Australian fielders and bowlers might not like this sight, but the Indian captain is in his training kit and looks like there is no declaration coming any time soon!
10:52 hrs IST
50 for Jadeja
A very assured innings by the all-rounder and out comes that sword. India are rubbing it in. Australia look hapless. WHo will blame them?
It's a 50 for Jadeja! https://t.co/CaiEbSjKbT #AUSvIND pic.twitter.com/wVypilRlOw

— cricket.com.au (@cricketcomau) January 4, 2019
10:39 hrs IST
Accolades coming in
Bravo @RishabPant777 & @cheteshwar1 showing everyone what you need to do score runs away from home. Impressive to watch #AUSvIND pic.twitter.com/smnyvowfhj

— Lisa Sthalekar (@sthalekar93) January 4, 2019
10:33 hrs IST
When will Kohli declare?
Pant has exploded, Jadeja is turning the strike over. India motoring along and Tim Paine is only waiting for the declaration to come. Aussies are buried right now
10:19 hrs IST
Pant gets his 2nd ton
Slog swept a full ball towards deep mid-wicket and he exults. Take a bow, Pant, 2nd Test century and he has looked very assured today
10:09 hrs IST
Pant's record
Since Rishabh Pant his debut, nobody has made more 90+ scores in Test cricket. #AUSvIND

— The Cricket Prof. (@CricProf) January 4, 2019
10:03 hrs IST
Back after the break
Pant and Jadeja are out in the centre. Another session of crash, bang, wallop expected with declaration seeming to be imminent
9:43 hrs IST
Tea
Another session dominated by India, 101 runs in 29 overs, with the loss of Pujara's wicket. Australia continue to toil, India continue to boss proceedings
9:37 hrs IST
It ain't stopping
Maybe Rishab misunderstood Babysit and now Paine has to sit behind him longer than expected !

— shishir hattangadi (@shishhattangadi) January 4, 2019
9:23 hrs IST
Opening the shoulders
Well, both the lefties are now looking to blast off. Taking on the bowlers and tonking them. This will be a fun session.
9:01 hrs IST
Pant looking for his strokes
After reaching his 50, the young man is looking to play more freely. It could be an entertaining session if his strokes come off. Jadeja is looking good at the other end
8:49 hrs IST
How will Jadeja respond?
It has been a watchful start by the all-rounder, but how will this inning shape up. India should look to go upwards 500 in this first innings.
8:37 hrs IST
50 for Pant
Assured, calm and very controlled. Good innings by Rishabh Pant, gets to his 3rd 50 in Test career. He can bat all day today.
8:27 hrs IST
Pujara dismissed
Lyon gets him, tossed up ball, Pujara came down looking to drive it away, the ball gripped and stopped and all he could do was offer a return catch to Nathan Lyon. End of a marathon. Take a bow, Pujara!
8:18 hrs IST
Lyon continues to wheel away
Pant has looked more in control in this innings. However, Nathan Lyon has consistently bowled in the right areas asking questions. So far, it has been a restrained approach by the young wicket-keeper batsman.
8:10 hrs IST
Khawaja drops a tough chance
Well, the ball was short, Pujara went for the cut, got the outside edge and the ball flew to Usman Khawaja at first slip who dived, but could not latch on to the catch. Tough chance, but a chance indeed
07:57 hrs IST
400 for India
Rishabh Pant goes for a big one and the ball drops just ahead of Pat Cummins in long-on. This was probably the first rash shot that the youngster played and he was lucky to survive. On the other end, Pujara is 16 runs away from his double hundred and he is taking any chances. India 400/5
07:50 hrs IST
More records for Pujara
Cheteshwar Pujara has batted 1200-plus deliveries thus far in the four matches, the most for an Indian batsman against Australia in a Test series, ahead of Dravid's 1203 balls faced in 2003-04. Read full story here.
07:42 hrs IST
Second session
Time for the lunch session and Nathan Lyon to start proceedings for the hosts. Cheteshwar Pujara continued to pile on the runs, taking India to 389 for 5 at lunch.
07:21 hrs IST
Pitch Report
A relentless Cheteshwar Pujara ground his way to 181 not out Friday as India turned the screws on Australia who are slowly seeing their hopes of saving the four-Test series evaporate.
At lunch on day two of the final Test in Sydney, India were 389 for five with the authoritative Pujara unmovable and Rishabh Pant on 27.
They added 86 runs to their overnight 303 for four with the loss of Hanuma Vihari, who was caught by Marnus Labuschagne off Nathan Lyon for 42.
07:10 hrs IST
Australia ODI Squad
Australia squad for ODI series against India -
Aaron Finch (c), Usman Khawaja, Shaun Marsh, Peter Handscomb, Glenn Maxwell, Marcus Stoinis, Mitch Marsh (vc), Alex Carey (vc), Jhye Richardson, Billy Stanlake, Jason Behrendorff, Peter Siddle, Nathan Lyon, Adam Zampa
07:05 hrs IST
Lunch on Day 2
Cheteshwar Pujara remains unbeaten on 181 as India are 389/5 at lunch on Day 2. He was well supported by Rishabh Pant after the dismissal of Hanuma Vihari and Pujara will be looking to complete his double century in the second session!
06:59 hrs IST
Pant-Pujara partnership
50-run partnership between Pujara-Pant
· 1st instance of a 50-run partnership for this pair
· 2nd time in the last 3 innings has India put up a 50-run stand for the 6th wicket
06:53 hrs IST
Stat Attack: Pujara 500
Pujara now has scored 500 runs in this series, the first such instance for him in a series. Third Indian batsman to do so in Australia after Rahul Dravid and Virat Kohli. India 378/5
06:46 hrs IST
Pujara's record
Cheteshwar Pujara became the ninth Indian to score 150+ runs in an innings in Australia and also the second Indian batsman to score a 150 as a number 3 batsman in Australia (Dravid scored 233 at Adelaide, 2003). Read full story here.
06:37 hrs IST
The Pujara Show
In Tests since 2000, only three players have scored more runs than Cheteshwar Pujara, at a higher average, and with a higher dismissal rate: Jacques Kallis, Rahul Dravid, and Shivnarine Chanderpaul. #AUSvIND

— The Cricket Prof. (@CricProf) January 4, 2019
06:29 hrs IST
Pant on song
Rishabh Pant has started the innings on a positive note with few good shots and he is probably the best partner Pujara could have asked for right now. Pant's shot play has taken the pressure away from the more experienced batsman and he can concentrate on playing his natural game. India 363/5
06:18 hrs IST
No Reviews Left
Australia have used up their second review as Tim Paine was convinced that Rishabh Pant has nicked one back to his gloves. However, the DRS did not show any sign of an edge and Australia have no reviews left. India 346/5
06:10 hrs IST
Stat Attack: Hanuma Vihari
Vihari dismissed for 42 (96)
· This is his 2nd highest score in an innings in Tests for Vihari.
· 1st time Nathan Lyon has dismissed Vihari, 2nd time to an off spinner (Moeen Ali dismissed him once in England)
· All 7 dismissals for Vihari in his career have been out caught
06:04 hrs IST
Stat Attack: Cheteshwar Pujara
Pujara scores 150
· His 7th score of 150+ in Tests, third away from home, 1st in Australia
· Pujara is the 9th Indian to score 150+ runs in an innings in Australia
· Pujara becomes only the second Indian to score a 150 as a number 3 batsman in Australia (Dravid scored 233 at Adelaide, 2003)
· This is also Pujara's 3rd highest score in an innings away from home
05:57 hrs IST
Vihari out
Finally a breakthrough for Australia as Nathan Lyon dismisses Hanuma Vihari for 42, India 329 for the loss of 5 wickets. It was a faint edge off the bat and Labuschagne made no mistake in completing the catch. India 329/5
05:52 hrs IST
Pujara 150
Cheteshwar Pujara drives Nathan Lyon for a boundary and that also brings up his 150. It has been an impressive show from the batsman and he became the fifth Indian batsman ever to score a 150+ in Sydney. India 328/4
05:46 hrs IST
Double Bowling Change
Nathan Lyon and Mitchell Starc are introduced into the attack one after the other. Josh Hazlewood and Pat Cummins were not much effective in the first 45 minutes and the onus will now be on these two to provide the crucial breakthrough for Australia. India 323/4
05:38 hrs IST
Virat Kohli turns bowler
Kohli to Pant - Just helping out his mate go through the drills #TeamIndia #AUSvIND pic.twitter.com/BkCvdpqAsl

— BCCI (@BCCI) January 3, 2019
05:30 hrs IST
Pujara on a roll
Cheteshwar Pujara has been by far the best batsman from either side across the series and his ton followed a stellar 123 in the first Test in Adelaide and 106 in the third Test at Melbourne. India 314/4
05:17 hrs IST
Pujara The Wall
New day. Same Pujara. The India batsman has been quite consistent with his defensive play and he has started Day 2 in the same manner. With Pat Cummins and Josh Hazlewood bowling good length deliveries, Pujara is looking quite comfortable out in the middle. India 308/4
05:08 hrs IST
Pitch Report
Went to take a look at the pitch. Little rough developing outside the left hander's off stump at the pavilion end. Not worrisome yet but if India keep Australia's bowlers in the field longer, Jadeja will begin to get very interested

— Harsha Bhogle (@bhogleharsha) January 3, 2019
05:00 hrs IST
Start of play
Cheteshwar Pujara and Hanuma Vihari are out in the middle for India while Josh Hazlewood will be bowling the first over of the day for Australia. India are well placed in this game and they will be looking to post a big total.
04:57 hrs IST
Agarwal on Pujara
Pujara was unbeaten on 130 runs at stumps, having faced 250 balls, the fourth time he has played 200-plus deliveries in an innings on this tour. Agarwal talked about learning from his batting style and showered heady praise on the senior batsman who scored his third hundred of the series on Thursday.
"Definitely, it is great to watch him bat from the other end and also to watch him bat the way he grinds the bowlers. He has got a pattern to it and he understands his strengths and know that he is very tight with his defence. He looks to do that and waits for the bad ball to come.
"This game is for five days and there is time. It is a very long game and if you see him bat, you can learn a lot. Patience is his strength and he sticks to that," he said.
04:51 hrs IST
Phenomenal Pujara
Most runs on Day 1 of a Test by an Indian in Australia:
195 V Sehwag, MCG, 2003
144 M Vijay, Gabba, 2014
132 S Gavaskar, SCG, 1986
130 C Pujara, SCG, 2019 *
124 S Tendulkar, Adelaide, 2008
123 C Pujara, Adelaide, 2018
04:43 hrs IST
India's Record
India have never lost a test match when Kohli has won the toss -- winning 18 and drawing three -- but more importantly the tourists had the opportunity to bat the Australians out of the game as they did in Melbourne.
04:35 hrs IST
Australia Bowlers
For Australia, Hazelwood emerged as the highest wickets taker on the day with two wickets in his kitty while Starc and Lyon contributed with one wicket each on Day One of the match.
04:23 hrs IST
Agarwal Disappointed
"I am quite disappointed for missing out on a big score. With that said, it's a learning curve. If I don't make this mistake again, it will be a good learning. I was looking to dominate Nathan Lyon and it didn't work out. Really disappointed that I threw my wicket," Mayank Agarwal said on Thursday.
04:13 hrs IST
India eye history
The visitors lead the series 2-1 after winning the opening clash in Adelaide and the third one in Melbourne. Australia claimed victory in Perth. If India, the world's top-ranked nation, win or draw in Sydney they will clinch a first-ever series in Australia since they began touring Down Under in 1947-48.
04:00 hrs IST
Kohli booed in Sydney
Former Australian captain Ricky Ponting has slammed sections of the SCG crowd for booing India skipper Virat Kohli when he walked out to bat on the opening day of the fourth Test here Thursday. Kohli was given a mixed reception when he came to bat after the fall of opener Mayank Agarwal with the Indians fans chanting his name, while some of Australia's fans booing the star batsman. "If it was booing then it's absolutely disgraceful," Ponting said on Channel 7.
03:52 hrs IST
Pujara reigns supreme
At stumps, Pujara (130) and Hanuma Vihari (39) were holding fort for the visiting side, which is in pursuit of a maiden Test series triumph on Australian soil. Virat Kohli's men have already secured the Border-Gavaskar Trophy with their unassailable lead.
03:43 hrs IST
Hello and welcome
Welcome to the live coverage of Day 2 of the fourth Test match between India and Australia. Day 1 belonged completely to India as Cheteshwar Pujara contributed an unbeaten 130 to India's 303 for four. The hosts, facing a desperate scrap to avoid being the first Australia team to lose a series to India on home soil, managed to dislodge Mayank Agarwal after a bright 77, Virat Kohli for 23 and Ajinkya Rahane for 18. But Pujara took his series tally to 458 and add another century to those that helped India to wins in Adelaide and Melbourne.
Close Story
Personalise your news feed. Follow trending topics