India vs Bangladesh: Virat's pink-ball ton, and a tip to Sachin
In their second essay, the hapless tourists were reduced to 14/3 on Day 2, losing all wickets in the "twilight zone" and eventually lost by an innings and 46 runs in the first session of the third day.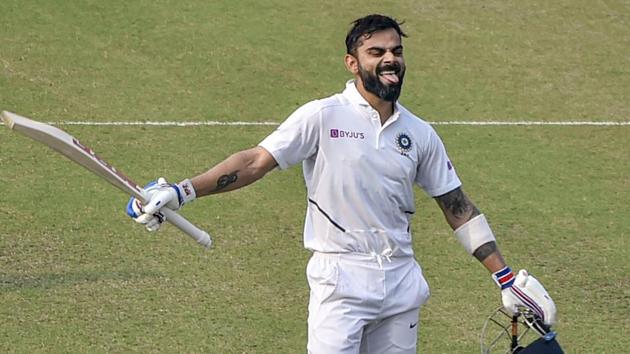 Updated on Nov 24, 2019 06:56 PM IST
"It felt like an IPL game atmosphere and you feel like smashing the first ball." With that as his first thought, Virat Kohli took guard and went on to play a Test match special at Eden Gardens, one that fetched India's only century in the match where Bangladesh were steamrollered in two days and 47 minutes.
With India's fast bowlers taking 19 wickets—Mahmudullah didn't bat on Sunday after retiring with a hamstring injury on Saturday evening—for the first time at home, Kohli's knock of 136 got partially eclipsed. To get to his 27th century in 84 Tests, Kohli said he picked the brains of a man whose batting he grew up watching, the man Kohli and teammates chaired on the night of April 2, 2011 when India won the World Cup—Sachin Tendulkar.
"I spoke to Sachin paaji on the evening of the first day (Friday) and he made a very interesting point: with the pink ball you will have to treat the second session (after lunch) like a morning session. When it is getting darker, the ball starts to swing and seam. The first session, you invariably play like you would from lunch to tea in a (day) Test. The second session will be like a morning session and the last session will be like an evening session (of a regular Test)," said Kohli, after India won by an innings and 46 runs, their fourth successive victory by an innings and more, a world record.
Also read: ICC World Test Championship: India take massive lead after win against Bangladesh
"Your planning changes, your declaration, strategy, everything changes and as a batsman, your set-up changes. Even if you are set and batting well, as soon as the lights come on, you can be in trouble very quickly. The ball was coming faster from the pitch, it swung more in the first hour of the second session and seamed through the evening. Luckily, I went in when the lights were on so I didn't have to go through that transition but I think that will be another challenge in future as well."
Grinding out a good spelling of bowling in such conditions too will be something Kohli will have to deal with in future. "Maybe when we are away from home, we will figure out what could be even more difficult playing with the pink ball…As a batsman you enjoy situations where you are challenged."
Seven successive Test wins feel good but Kohli said his team is nowhere close to being judged alongside top teams to play cricket's most arduous format ever. Let's not attach tags to any team, he said. "When we all are close to retiring, then maybe, you can ask me this question. All we can say is we are on top of our game."
Also read: India vs Bangladesh: Ravi Shastri reveals key reason for Indian bowlers' success
But what's changed is how India will approach Tests. "We are excited about the challenge ahead. We will play New Zealand (two Tests in 2020). It is not like, 'we have finished playing at home and let's see what happens abroad.' We are waiting to play Test cricket and I think that mindset has changed and now we know if we play well, we can win anywhere in the world. That is a very exciting and a nice feeling to have in the change room," said Kohli after India notched up their 12th successive series win at home.
Since England in 2012-13, no team has come to India and won a Test series.
Close Story
Personalise your news feed. Follow trending topics