India vs New Zealand 1st ODI at Hamilton Highlights: As it happened
Updated on Feb 05, 2020 05:08 PM IST
As it happened: Ross Taylor and Tom Latham combined to change the momentum of the match and Taylor stood firm to take his side over the line in the first India vs New Zealand ODI in Hamilton. The Indians had the match under control before Latham marched out and changed the complexion of this match. However, Taylor stood firm and lead his side to victory. Earlier, Shreyas Iyer scored his maiden ODI hundred and KL Rahul smashed an 88 as India posted 347 for 4 batting first at Hamilton against New Zealand in the first ODI on Wednesday. Iyer finished with 103 off 107 balls while Rahul scored 88 off 64 balls. An attractive half century from Virat Kohli too helped India take full control of the first ODI. Kohli's innings (51) was cut short by Ish Sodhi. Earlier, New Zealand got a couple of quick breakthroughs after debutants Mayank Agarwal and Prithvi Shaw brought up India's fifty inside 8 overs. Grandhomme dismissed Shaw for 20 while Southee sent back Agarwal for 31. Earlier, New Zealand won the toss and opted to field first against India in the first ODI at Hamilton. India handed debuts to Mayank Agarwal and Prithvi Shaw, while the hosts gave the ODI cap to Tom Blundell in place of injured regular captain Kane Williamson.Follow Ind vs NZ ODI match highlights here: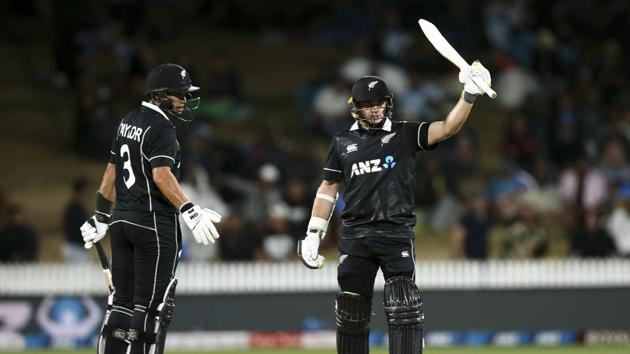 15:46 hrs IST
New Zealand win
Finally, they find a way to cross the line. New Zealand have not bottled this one up and Ross Taylor's terrific 100 has taken the hosts over the line. The partnership between Taylor and Latham changed the momentum and took this game away from India. The Indians did not respond under pressure and now, this has opened up this series.
15:33 hrs IST
de Grandhomme run out
Well, well! Surely, this cannot be happening. de Grandhomme has been run out. India are still breathing, are New Zealand breathing? Taylor is holding fort at the other end and he is now joined by Mitchell Santner.
15:29 hrs IST
Neesham departs
Neesham wanted to go all the way, but did not find the right timing. He has been caught in the deep. Surely, New Zealand cannot bottle this one up!
15:20 hrs IST
100 for Taylor
This has been a stunning innings by Ross Taylor. Attacking and very, very proactive. He has notched up his century and this innings has put New Zealand on the cusp of an easy win.
15:11 hre IST
Kuldeep strikes
The wicket India needed, but has it come too late? Latham has holed out to long on and Kuldeep has struck. Kohli is pumped but Latham has done enough for his side. New Zealand should not lose this one, but we have said that same thing a lot in the recent times!
15:01 hrs IST
Sensational batting
Last 4 overs have been plundered for 57 runs. New Zealand have come from behind and have taken the attack to the Indian bowlers and have now put them on the mat. It should be an easy run chase from here on. Sensational batting by these two.
14:53 hrs IST
50 for the skipper
Tom Latham has been absolutely brilliant. He has batted with great intensity ever since he walked out to the middle and has raced to a half-century. New Zealand are bossing proceedings right now, India need a wicket and then another one.
14:45 hrs IST
Ross Taylor has erupted
Sensational batting. Both Latham and Taylor have absolutely erupted and have raced ahead in this chase. The asking run rate is now well under control. The final 50 has come up in 23 balls. This has been a great phase for New Zealand.
14:38 hrs IST
New Zealand have found great momentum
Taylor and Latham are on the move. India have been put under the pump right now and New Zealand have found their groove. This promises to go down to the wire.
14:25 hrs IST
Taylor looking good
The seasoned campaigner has been in consistent form in this format and is looking very good here in this run chase. He has the experience to take this chase deep and then win it for New Zealand.
14:17 hrs IST
Tom Latham is in
The skipper is in and he has to shoulder the responsibility along with Ross Taylor who is batting confidently at the other end. India are keeping the pressure up and New Zealand have to find a way to figure a way out of this corner.
14:03 hrs IST
Super V strikes
Taylor taps the ball and takes off, Kohli takes off from short cover, Nicholls is running too, Kohli picks the ball up and dives, Nicholls dives too, the stumps are shattered and Nicholls has to depart. Sensational from the skipper, he is the Super V!
13:49 hrs IST
Nicholls is looking good
After his initial struggles, Henry Nicholls is looking in good groove and now holds the key for New Zealand in this run chase. Taylor is giving him good company from the other end.
13:46 hrs IST
Crucial partnership
New Zealand are currently ahead of India in the current situation but considering the visitors' late onslaught, it is still early to put them in the driver's seat. A lot will depend on the partnership between Ross Taylor and Henry Nicholls as they will be expected to provide the foundation for the run chase. NZ 148/2
13:37 hrs IST
Missed opportunity
A brilliant chance to get the third wicket but Kuldeep Yadav has made a mess of the catch! Ross Taylor top-edged the delivery from Ravindra Jadeja and the ball ballooned into the sky. Kuldeep found himself in an awkward position and ultimately, he was unable to complete the catch. NZ 125/2
13:31 hrs IST
Slow run rate
The two wickets have stifled the run rate a bit and that will be good news for India. The New Zealand openers were scoring at a brisk pace and considering the amount of runs posted by India, a lull period will be quite appreciated by the visitors. NZ 114/2
13:23 hrs IST
Blundell blunder
Kuldeep Yadav strikes. Tom Blundell missed the shot completely and KL Rahul made short work of the stumping as New Zealand lose their second wicket. The move has worked for India as the Kiwis are 109 for the loss of two wickets.
13:17 hrs IST
Fifty for Nicholls
Half century for Henry Nicholls! A good show from the left-hander as he played quite well against the India fast bowlers and with seven boundaries, it was a gritty knock from the opener. NZ 98/1
13:15 hrs IST
Kuldeep introduced
Kuldeep Yadav is introduced into the attack and India are looking to go all out with their spinners. Ravindra Jadeja is already bowling on the other end and after a brilliant opening stand, the Kiwis will be careful to lose any wicket against the spinners. NZ 93/1
13:07 hrs IST
Thakur gets Guptill
Shortish ball on off, Guptill arches back, but finds Kedar Jadhav perfectly at third man. Finally, India break the opening stand and Guptill will be gutted for getting out after doing all the hard work.
12:55 hrs IST
Steady progress
The openers have dug in and now they need to accelerate in order to keep the asking run rate under check. The Indian bowlers have been good so far, but India too would want to get a breakthrough.
12:38 hrs IST
New Zealand are steady
This has been a steady start from New Zealand, but they need to get a move on if they intend to keep the asking run rate under control. The Indian pacers have been relentless and they are applying a lot of pressure at the moment.
12:29 hrs IST
Nicholls on the move
He has been beaten often and he has been put under pressure, but Nicholls is not walking away. And now, he comes charging forward and smacks Shami through mid-wicket to collect a boundary. New Zealand will be happy with this start.
12:25 hrs IST
Watchful start
This is good bowling by the Indian pacers. Henry Nicholls and Martin Guptill are watchful and the odd stroke of luck is also going their way.
12:07 hrs IST
Bumrah's brilliance
Coming from over the wicket, Bumrah found the perfect angle to Henry Nicholls who kept hanging his bat and kept getting beaten. The class of Jasprit Bumrah!
12:04 hrs IST
Very good over by Shami
He has found his groove, he has found the perfect line and length and is getting good carry from the surface. Both the Kiwi openers are watchful at the moment.
12:01 hrs IST
Shami from the other end
Shami takes the new ball from the other end, he is going around the wicket to Henry Nicholls. He will look to get the ball back into the left-hander.
11:57 hrs IST
Good first over
Top over by Bumrah, already on the money. He is getting good lift from the surface. This will not be an easy chase for New Zealand.
11:54 hrs IST
Back for the chase
Bumrah has the ball, Martin Guptill takes strike. This will be a tricky chase for New Zealand, but it will also be fascinating to see. Henry Nicholls accompanies him.
11:20 hrs IST
India finish with 347/4
No big finish for India. A good last over from Bennett, he bowled three wides but conceded no boundaries and gave away only 7 runs in the last over. But India have managed to put on a very big total of 347 for 4 batting first.
11:12 hrs IST
14 runs from the 49th
SIX! Are you serious? What a shot from KL Rahul. He has reverse scooped Neesham for a six over thirdman and once again the ball costs New Zealand, 14 runs from it and India are 340 for 4 with 1 over to play.
11:06 hrs IST
A 20 run over
Tim Southee has been taken apart by Kedar Jadhav and KL Rahul. After Jadhav hit him for 2 fours and a six, Rahul finishes it off with another boundary, 20 runs from it. Southee finishes with 2 for 85, really expensive stuff.
11:04 hrs IST
Kedar Jadhav arrives
WOW! Where was he all this time? Kedar Jadhav has come out blazing. A one handed swat over covers for a boundary followed by a slog sweep for a huge six over deep mid-wicket. Not good from Southee either, he was guilty of bowling it in the slot.
10:58 hrs IST
India cross 300
FOUR! A superb scoop shot from Rahul.That was premeditated. He knew that fine-leg was up in the circle and also got the right ball for that shot. It brings up India's 300 with 21 balls to play.
10:55 hrs IST
Iyer falls for 103
OUT! A miscue from Shreyas Iyer and this time the fielder makes no mistake. Fourth time lucky for New Zealand, Southee strikes. But what an innings from Iyer, he departs for 103.
10:46 hrs IST
Rahul brings out the big shot
SIX! A low full toss on the pads from Neesham. Rahul walks across the stumps and whips it with his wrists to deposit it into the crowd. That six ruined what was turning out to be pretty a good over.
10:41 hrs IST
Maiden hundred for Iyer
100 for Shreyas Iyer! He gets there with a single to long-off. What a moment for the young man. He has taken another giant stride towards making the No.4 spot his own. He has had his chances today but he has made the most of it, a maiden ODI hundred for Shreyas Iyer.
10:38 hrs IST
Fifty for Rahul
KL Rahul gets to his fifty off 41 balls. He hasn't put a foot wrong in this innings. Bat him anywhere and he will get the runs for you and in quick time.
10:35 hrs IST
Iyer into the nineties
Edged and FOUR! Iyer is riding his luck. A good delivery from Neesham, Iyer gets the outside edge but as it happens so often at the death overs, no slips and the ball races away to the boundary. That takes Iyer into the nineties.
10:31 hrs IST
Iyer dropped
DROPPED! That's disaster for New Zealand. Colin de Grandhomme the fielder. He doesn't drop many but this time it just pops out of his hands and what's more it's Shreyas Iyer, the man nearing the three-figure mark. Iyer wanted to hit this one for antoher six but didn't get the desired connection, Grandhomme does all the hard running in from long off but doesn't hold on to it. This can haunt New Zealand later.
10:23 hrs IST
Iyer is not far away
Why should Rahul have all the fun? Shreyas Iyer has hit Southee for consecutive fours and superb batting this from the right-hander. The first one almost went for a six and when Southee tried the short one, Iyer brought out his ramp shot to put it over the keeper's head. India are in an overdrive, looks like they have set themselves a target in excess of 350.
10:18 hrs IST
Rahul in sublime touch
SIX! SIX! You cannot take your eyes off KL Rahul. This is the second time he has hit consecutive sixes today. The first was against Ish Sodhi and now Southee at the receiving end. The first one was a beautiful lofted shot over lng off followed by a dismissive short-arm pull shot in between the long and deep mid-wicket region. Some real problems now for New Zealand.
10:09 hrs IST
Iyer joins the party
SIX! That's a Shreyas Iyer special. Bennett roles his fingers over the ball, Iyer was waiting for it. He stands tall and lofts it over long on. The good connection takes it over the ropes easily. India are having a move on.
10:03 hrs IST
Rahul on fire
Back-to-back sixes from KL Rahul's bat. Boy is he in great touch. Full marks to Sodhi to tossing it up in search of turn but Rahul is in such good form that he covered the spin on both occasions and hit two clean sixes - one over long-off , the next one over long on.
10:00 hrs IST
Big over India
Shreyas Iyer hits a four and then ends the over with a three. It really isn't Hamish Bennett's day. 8 runs from his over and India are back in the driver's seat.
9:50 hrs IST
Fifty for Iyer
That's the fifty for Shreyas Iyer, his 7th in ODIs. It hasn't been a flawless innings, he has given a couple of chances to New Zealand, which went abegging and now he has started to make them pay.
9:39 hrs IST
Sodhi's googly ends Kohli's innings
OUT! Bowled! What a beauty from Ish Sodhi. Kohli can't believe it. He didn't pick that wrong'un at all. It pitched around off stump and spun back in but Kohli was looking to push it through the off side with an open bat face. The ball snuck through the gap between bat and pad clipped the bails off. A huge wicket for New Zealand, Kohli departs for 51.
9:34 hrs IST
Fifty for Kohli
3rd consecutive ODI fifty for Virat Kohli and his 58th one in ODIs.
FIFTY!

A composed 58th ODI half-century for @imVkohli 👏👏

Live - https://t.co/ewSrnE8I9m #NZvIND pic.twitter.com/dGM4qw8dnQ

— BCCI (@BCCI) February 5, 2020
9:25 hrs IST
Shot of the day!
FOUR! Pure class from Kohli. That was just the extension of a forward defence on the up and it raced away through the cover boundary for another four. Virat Kohli only 2 runs away from another ODI fifty.
9:14 hrs IST
Kohli's crafty wrists
FOUR! The Virat Kohli comes into play. Grandhomme pitched it full, looking for that magic delivery but it didn't swing and Kohli whipped it past long on for a boundary.
9:07 hrs IST
Iyer finds his touch
FOUR! Iyer has knocked the cover of the ball with that cut shot. The best shot he has played today. It was there to be hit, Iyer did not hold back and gave full monty. Just the type of shot Iyer needed to get going.
9:02 hrs IST
Iyer living dangerously
FOUR! But it once again could's resulted in a wicket. Iyer presses out, looks to loft his slap over mid-off, and Southee has to deal with fingertips only.
8:56 hrs IST
Iyer gets a life
In an out! Almost a wicket for Neesham and New Zealand. A fuller length delivery outside off, it just shapes away to get the outside edge of Iyer's flashing blade. Taylor at point jumps to his right, gets one hand to it but pops out. Those are the ones that stick, reprieve nevertheless for Iyer at 8.
8:48 hrs IST
Pure class from Kohli
FOUR! MARVELLOUS! Half volley outside off, Kohli leans and drives it through the covers. Short extra cover dives to his left but the ball whizzes past him. The stand moves to 33 in 45 balls. The skipper moves to 22 from 30 deliveries.
8:35 hrs IST
Kohli makes full use of the free hit
FOUR! A full toss, outside off from Neesham and Kohli is not one of those to miss out, especially when it's a free hit. He drives this down the ground. Mid off dives to his right but the ball is past him in a flash.
8:28 hrs IST
Iyer off the mark
First runs for Shreyas Iyer. It took him 10 deliveries to get off the mark. A full and wide delivery from Southee and Iyer drives it through covers for a single.
8:20 hrs IST
Kohli off the mark
BRUTAL! A short ball, outside off, Virat Kohli, not the one to miss out on any scoring opportunity. Pulls it with disdain over mid-wicket.
8:14 hrs IST
Southee sends back Agarwal
OUT! New Zealand go bang bang after India's breezy start. Not the best of deliveries from Southee. It was short and wide, there to be hit, Agarwal did get a good piece of it but unfortunately hit it straight to the point fielder, who takes a sharp catch.
8:09 hrs IST
Grandhomme gets Shaw
OUT! The bowling change has done the trick for New Zealand. Just a little wobble off the seam from Colin de Grandhomme, Shaw pokes at it without any feet movement and gets the outside edge.
8:06 hrs IST
Fifty up for India
India have raced to their fifty inside 8 overs, a very good start provided by Prithvi Shaw and Mayank Agarwal.
7:58 hrs IST
Bennett bearing the brunt
Bennett has strayed on both sides of the wicket but on this over he drifted down the leg side thrice with two of them punished for four. Some early problems for Tom Latham with Bennett really struggling for his line and length. India have gone off to a flying start.
7:55 hrs IST
Agarwal responds
FOUR! Super shot from Mayank Agarwal. That's why he's regarded as one of the best Indian openers. Yes, Southee troubled him in the over but that doesn't deter him from cover driving him through the gap to collect his second boundary.
7:53 hrs IST
Southee troubling Agarwal
Umpire's call on wickets hitting. Oh! tell you what, Agarwal would have had his heart on his mouth there. Southee sold him a dummy, after bowling two beautiful outswingers, he brought a 7-2 field and decided to bowl the big in-swinger to catch the India opener off-guard.
7:50 hrs IST
Prithvi Shaw shows his class
Back-to-back boundaries from Prithvi Shaw's bat. Well, just when it appeared he was struggling a bit for timing, the youngster hits two beautiful shots - one through the leg side, another one through the off side square of the wicket. Hamish Bennett is already proving to be expensive.
7:44 hrs IST
Agarwal is away
FOUR! LOVELY! Overpitched, outside off, Agarwal comes forward, gets to the pitch of the ball and drives this through mid off! First boundary of the day and comes from Mayank Agarwal's bat.
7:40 hrs IST
Agarwal follows
Mayank Agarwal gets off the mark in identical fashion. Another delivery short and wide from Bennett, much better timing from Agarwal and large square boundary allowed the Indian openers to take 3 runs. India 6 for no loss after 2 overs.
7:38 hrs IST
Shaw off the mark
First runs in ODI cricket for Prithvi Shaw, a backfoot punch for a couple. The youngster took 9 deliveries to get of the mark.
7:35 hrs IST
Maiden to start
Brilliant from Tim Southee, a maiden to start the proceedings. He started off with a wide one but then brought his line back close to Shaw, who got a couple of inside edges.
7:29 hrs IST
The players out in the middle
India openers Prithvi Shaw and Mayank Agarwal have walked out to the centre. It will be Tim Southee with the new ball for New Zealand. Here we go!
7:25 hrs IST
A doze of stats before the first ball
240: Average 1st innings score over last 5 completed matches. (all out /50 overs played)
30%: India has won 3/10 ODI matches played at Seddon Park, Hamilton
7: India and NZ both have lost 7 matches each at this venue, whoever loses this match will have most loses at this venue in ODIs.
1: India will become the team to play 2nd most ODIs against NZ. Currently India and Pakistan have played 107 matches against NZ in ODIs. Also, India will need 127 runs to have 2nd most runs against NZ in ODIs
7:20 hrs IST
Hamilton pitch report
There's only a 55 metre boundary on one side with the breeze. It looks a good batting surface with the sun out. It's dry with no grass cover. As the match progresses, spinners will come into play, reckons VVS Laxman. With one shorter boundary there will be plenty of runs scored. It's also a kind of soil that also offers a bit of bounce.
7:14 hrs IST
Playing XIs of India and New Zealand
New Zealand (Playing XI): Martin Guptill, Henry Nicholls, Tom Latham(w/c), Tom Blundell, Ross Taylor, James Neesham, Colin de Grandhomme, Mitchell Santner, Tim Southee, Ish Sodhi, Hamish Bennett
India (Playing XI): Prithvi Shaw, Mayank Agarwal, Virat Kohli(c), Shreyas Iyer, Lokesh Rahul(w), Kedar Jadhav, Ravindra Jadeja, Shardul Thakur, Mohammed Shami, Kuldeep Yadav, Jasprit Bumrah
7:09 hrs IST
'Wanted to bowl first too'
Virat Kohli: Probably we would have bowled first as well. Short boundary is a big factor as it's hard to defend on this ground. The wicket plays a bit better in the second half under lights. It's a good track, going to be a challenge for us to post a score on the board batting first. Two debutants, both at the top, Prithvi Shaw and Mayank Agarwal make their ODI debuts, pretty exciting times for them," said India captain Virat Kohli.
7:04 hrs IST
'Chasing good option'
"Chasing here's a good option, with one short boundary it's going to be hard to defend. Mitch Santner and Ish Sodhi are playing. Things haven't been going well for us," said New Zealand skipper Tom Latham.
7:01 hrs IST
The toss
New Zealand win the toss and opt to bowl first against India in the first ODI.
It is time for the 1st ODI and New Zealand have won the toss and opted to bowl first. #NZvIND pic.twitter.com/Bzov9lb5hD

— BCCI (@BCCI) February 5, 2020
6:51 hrs IST
Double debutants for India
Mayank Agarwal and Prithvi Shaw will make their ODI debuts for India at Hamilton.
Mayank Agarwal and Prithvi Shaw all set to make their ODI debut for #TeamIndia.

Proud moment for this duo 🤝🤝#NZvIND pic.twitter.com/mXCKsURRIk

— BCCI (@BCCI) February 5, 2020
6:45 hrs IST
Hamilton weather
As reported earlier, there is no chance of rain today. It is bright and sunny at Hamilton and it is likely to remain the same way throught the afternoon. The temperature is likely to be between 18-23 degrees Celcuis. (Click here for full report)
6:40 hrs IST
Jimmy Neesham boost for New Zealand
Jimmy Neesham's 2019 form is a big boost for NZ. Jimmy Neesham was undoubtedly one of the best ODI all-rounder in 2019 as the record itself depicts that.
If we look at the players' record in ODIs who scored a minimum of 200 runs and taken atleast 15 wickets since 2019, we find: Jimmy Neesham has both, the best batting as well as bowling average.
6:34 hrs IST
No Kane Williamson, Latham to lead
New Zealand captain Kane Williamson will not be available in the first two matches of the three-match ODI series. He has replaced by Mark Chapman in the side and he is likely to make his debut in the first ODI against India. Tom Latham will lead New Zealand in Williamson's absence.
6:25 hrs IST
No Rohit Sharma
Rohit Sharma's injury came as a heavy blow to India. The India limited overs vice captain has been ruled out of the remainder of the New Zealand tour with a calf injury he suffered during the 5th T20I. Rohit has been replaced by Mayank Agarwal in India's ODI squad and captain Virat Kohli confirmed that he will be making his debut along with Prithvi Shaw in the first ODI.
6:20 hrs IST
The last encounter
The last T20I between India and New Zealand at the same venue was decided by a Super Over, which Rohit Sharma winning it with a six. But the last ODI between the two sides at the same venue was completely one-sided. Coming in with a 3-0 lead, India were bowled out for 92 as Trent Boult breathed fire. A similar outcome on Wednesday is unlikely as surface is likely to be on the slower side.
6:15 hrs IST
Bright and sunny afternoon
1st ODI time ✔✔#NZvIND pic.twitter.com/XgJlkdISVE

— BCCI (@BCCI) February 5, 2020
6:10 hrs IST
India vs New Zealand 1st ODI live score
Hello and welcome to the live coverage of the India vs New Zealand 1st ODI at Seddon Park in Hamilton. After whitewashing New Zealand 5-0 in the T20I series, Virat Kohli and Co. will be looking to showcase another dominant performance in the three-match ODI series.