Jason Gillespie interview: An ideal opportunity for Australia to win
Jan 26, 2023 10:56 PM IST
The former Aussie pacer talks about what the Australians did right in 2004, the importance of Australia skipper Pat Cummins and why reverse swing could be a big factor
For visiting teams, Test series victories in India are incredibly hard to come by. Australia will be aware of this fact as they embark on one of the toughest assignments in world cricket — a four-Test series starting in Nagpur on February 9. The last team to beat India in India was England in 2012 while the last Australian team that conquered the 'final frontier' did so in 2004. Former Australia pacer Jason Gillespie was one of the stars of that series victory, claiming 20 scalps at an average of 16.15 to finish on top of their wicket-taking charts.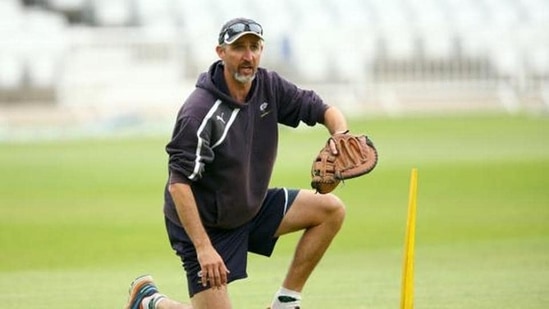 In an interview with HT, he talks about what the Australians did right on that tour, the importance of Australia skipper Pat Cummins and why India will miss wicketkeeper Rishabh Pant's belligerent presence. Excerpts:
It's been 19 years since Australia won in India. What do you think Australia were able to do right on that tour and what can the current Australian team learn from that?
Obviously, you have got to adapt to the different conditions that are presented in India. As a bowling group, we learned a lot from what happened in 2001. We had to change our game plan. Because Indian players are so strong hitting through the leg side, Australian bowlers in the past tended to avoid bowling at the stumps. In 2004, we changed our thinking. We gave ourselves extra protection on the leg side and decided to really attack the stumps. We had to be patient and back our fitness. We went on the theory that if the Indian batters miss the ball, we either hit them on the pad or bowl them. Obviously, our batting group performed wonderfully, which was absolutely key. We surprised India with our tactics and how we went about it.
You, Glenn McGrath and Michael Kasprowicz took 43 wickets between yourselves. Is that line of attack something that this Australian pace bowling unit can look to target?
Most teams look to target the stumps in India now because the surfaces don't really favour fast bowling. You have got to keep the odds in your favour. If you are bowling straight, you can set attacking and defensive fields.
Australia have five pacers and four spinners in their 18-member squad. What sort of balance do you think they should go in with?
Having Cameron Green fit and available (as an all-rounder) gives Australia options, whether they want to play an extra seamer or an extra spinner. I suspect Australia will look to pick their four best bowlers, whether it is two seamers and two spinners or three seamers and a spinner. It genuinely will come down to the conditions. The advantage Australia have is the part-time spinners. (Marnus) Labuschagne and (Steve) Smith bowl leg-spin while (Travis) Head bowls off-spin. They can support (Nathan) Lyon, who is a fine bowler and can do a really good job. They may think of playing to their strengths, which is fast bowling.
Australia won on a square turner in Pune in 2017 with left-arm spinner Steve O'Keefe taking 12 wickets before going on to lose the series on more placid pitches. What sort of surfaces would Australia be expecting this time?
They will want surfaces that offer a little bit of bounce initially with the new ball. Australia will anticipate very good batting surfaces that offer some assistance for spinners. That is the best way for India to go about trying to win the series. The Indian batters will back themselves to play well against Lyon. The Indian spinners will also believe they will be able to have an impact against Australia's batters.
For Cummins, the tour of India is probably his biggest test as captain so far. Going into the last tour of India, he had played just one Test. What have you made of how he has handled everything so far?
His bowling is very important. He is obviously the leader of the attack. The biggest challenge for Pat is how much he bowls himself. Traditionally, fast-bowling captains can under bowl themselves at times. That is a danger for Australia. Cummins is one of Australia's best seam bowlers, if not our best. He needs to be doing his fair share of work. Hopefully, he doesn't under bowl himself from an Australian point of view. His bowling really suits Indian conditions. He can have a massive impact.
How difficult is it to be a fast bowler in India?
If you bowl well, there is enough there. You can get reverse swing. Sometimes, there is a little bit of movement off the surface when you bowl a good line and length if they leave a little bit of grass on, which is not very often. Personally, I loved bowling in India. It was one of my favourite places. It was hard work and it was a challenge, but it was a great challenge. I really enjoyed it. I know the Australian seamers will be relishing this opportunity to have a real impact in the Test series.
Which bowler in the Australian set-up is best-suited to exploiting reverse swing?
Starc is obviously a left-armer and does get it to reverse very late. But Hazlewood and Cummins are equally good. They can all have a real impact with the old ball. Watch out for Green too. He can be a really awkward customer for the Indian batsmen. I think we will see the ball reverse swinging in this series.
What is the one match-up that you think will have a big say on the outcome of the series?
I am really looking forward to seeing (Virat) Kohli vs Cummins. That's a fantastic match-up. It will be interesting to see how they go. When Virat comes out to bat, I would love to see Cummins take the ball and go at him straightaway. That will be great theatre, two wonderful cricketers at the top of their game.
Pant is not available for this series due to a car accident. Given what he did for India in Australia a couple of years ago, how big a miss is he for the hosts?
He is going to be a huge loss. First and foremost, all our thoughts with him and his family. I wish him a very speedy recovery. I do think it is a real blow to the Indian team. He is a wonderful young cricketer. What he did in Australia a couple of years ago was nothing short of incredible. He will certainly be missed because he is a genuine match-winner for India.
Series prediction?
This is an ideal opportunity for Australia to win. I am predicting a 2-1 scoreline, which was the same as it was in 2004. I certainly think Australia can win. It is going to be hard work. India is an incredible team at home. You need a lot of discipline and patience and a little bit of luck as a visiting team to win in India. This is the series that I have been looking forward to for a very long time. A lot of cricket fans in Australia are genuinely excited about the series. I am sure it is the same in India. The team that plays the most consistent cricket will come out on top.
Enjoy unlimited digital access with HT Premium
Subscribe Now to continue reading