Kuldeep Yadav is confident ahead of the Sri Lanka series: Bhuvneshwar Kumar
India vs Sri Lanka: For Kuldeep Yadav, the stakes are much higher – he has to prove his form if he has to retain his place in the limited overs side when everyone is available.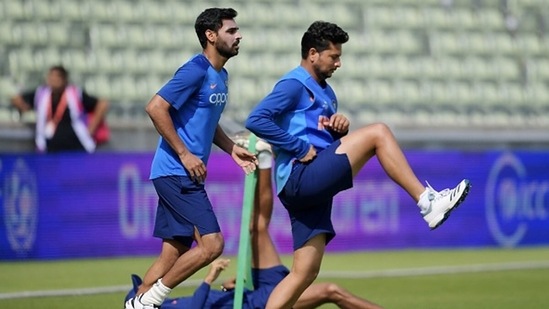 Published on Jul 17, 2021 08:56 PM IST
These are difficult times for cricketers if you are not part of the main squad; you may be left with no cricket action for months together because of the pandemic. The Indian Test players are touring England, and for those who missed the bus, it could have been no activity till the Indian Premier League re-started.
Hence, for the likes of pacer Bhuvneshwar Kumar, all-rounder Hardik Pandya and spinner Kuldeep Yadav, the option of playing a limited overs series in Sri Lanka has come as a relief.
There is no real explanation for why Kumar is not in England because he is one of the best exponents of swing bowling in the country and would have thrived in English conditions (though he is prone to injuries). Pandya missed out because the team wants him to contribute as a bowler as well, but he can't yet because of an injury – he is an automatic choice in the Test playing XI as an all-rounder; and Yadav is struggling with form.
Also Read | India newcomers aim to use IPL lessons in Sri Lanka series
Of the three on the Sri Lanka tour, this will be another opportunity for Kumar to prove that his body can hold up for the entire series and Pandya has to only show his ability to take an increased bowling workload. For Yadav, the stakes are much higher – he has to prove his form if he has to retain his place in the limited overs side when everyone is available.
His current record his abysmal but a look at his overall record in all three formats shows the kind of force he can be when at his best. He has 105 wickets in 63 ODIs at an average of 27.90 and strike rate of 32; in T20s it is 39 wickets in 21 matches, at an impressive average of 13.76 and strike rate of 11.60. He has 26 wickets in seven Tests at an average of 23.84 and strike rate of 40.80.
A good wrist spinner is always any captain's dream and for two seasons after making an impactful international debut, in the fourth Test against Australia in 2017, Yadav was that bowler for India.
Post the 2019 World Cup, he started fading, averaging 58.41 in 12 ODIs.
Since then, the India team management has tried to bring him in for occasional games, to check his form, but it hasn't worked out. In the last game he played, the second one-day game against England at Pune, he was smashed for eight sixes for figures of none for 84. It is not easy to make a comeback after such a mauling, and the importance of the Sri Lanka series will not be lost on the 26-year-old spinner.
Kumar, vice-captain of the India team who is also Yadav's teammate at Uttar Pradesh, knows quite well what works for the spinner. On the eve of the series opener, he sounded confident about Yadav's form.
"What I always look at is his confidence. You could be in form or out of form but when you are confident, you can get through those phases very quickly. What I can see of him is he is very confident the way he is bowling in the nets, so I am sure he will do well in this series," said Kumar.
Yadav's long-term coach, Kapil Pandey, the former Services Ranji Trophy player, said Yadav and Kumar can consider themselves lucky to get this Sri Lanka tour. "Kuldeep and Bhuvneshwar are very lucky that they have got this Sri Lanka tour, otherwise in my lifetime I have never seen that two India teams are playing at the same time in different parts of the world. It has removed the chance of them getting demoralised or depressed. They can show their performance now," said Pandey.
The spinner had called up his coach from Sri Lanka after a good showing in the intra-squad matches. "He had taken two and three wickets respectively in the two warm-up games and is feeling confident. Yes, he is feeling confident and for a confident player, form doesn't matter. I will like to say that his form hasn't been bad, the surfaces he has been hit have been batting surfaces. The main thing is he should get a good run of matches, it is difficult to prove yourself in one or two matches," said Pandey.
For the coach this is also an opportunity for his player as well as others to impress the selectors and get a chance to join the Test squad in England.
"Yes, this series has become very important for him because he has to prove himself. The players here have to prove their form, fitness, have to find their rhythm and get into the main team. They have to show that we will come into the main team again. Kuldeep has to show he can take wickets and stop runs as well."
A wrist spinner is also known as a captain's bowler. It is being hoped that playing under a new combination of coach Rahul Dravid and captain Shikhar Dhawan will make a difference in Yadav's fortunes and form.
Close Story