Bangladesh vs Sri Lanka, Asia Cup 2018, 1st match, as it happened: Bangladesh win by 137 runs
Chasing a target of 262 in their allotted 50 overs Sri Lanka were bowled out for 124, losing the first match of the Asia Cup 2018 by 137 runs . The Islanders were never in the game and lost wickets at regular intervals. Dilruwan Perera was the top scorer for Sri Lanka with 29 while Mustafizur was the best bowler with figures of 2/20. Earlier batting first, Bangladesh were bowled out for 261. Winning the toss and opting to Bat Mushfiqur was the star with the bat scoring a brilliant 144. He was ably supported by Mohammad Mithun who made 63. Lasith Malinga took four wickets on his return to the Sri Lanka national side. Live score and updates -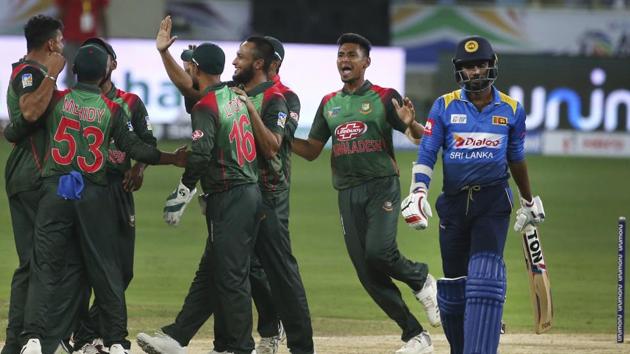 Updated on Sep 16, 2018 03:14 PM IST
00:11 hrs IST
That's It, Thanks for joining us
That's it from us, do join us as the action continues in the Asia Cup.
00:06 hrs IST
All Over!! Bangladesh win by 137 runs
OUT!!!! Finally something good for Shakib al Hasan. Amila Aponso is caught at mid-on for 4 and Sri Lanka are all out for 124. Losing the match by 137 runs.
23:58 IST
Dilruwan goes for 29
OUT!!!! Mosaddek has Dilruwan Perera stumped for 29 and the last batsman is in. partnership of 24 comes to an end.
23:55 hrs IST
Tailenders delaying the inevitable
Dilruwan Perera and Amila Aponso are doing a good job of frustrating the Bangladesh team.
23:41 hrs IST
100 up for Sri Lanka
100 up for Sri Lanka and it has been painstakingly slow. Wickets have fallen at regular intervals and they have never been in the chase. They need to improve fast to have any chance in the tournament.
23:29 hrs IST
Lakmal goes, SL eight down
BOWLED!!!! Mustafizur gets Suranga Lakmal for 20 and his brief resistance is over! SL are eight down and it's almost curtains.
23:21 hrs IST
Going through the motions
The fate of the game was sealed a long time ago and both teams know that. The game is going through the motions. batsman are trying to go for big shots but connecting rarely.
23:12 hrs IST
Some late resistance
There is some late resistance from Sri Lanka, but that will be all to no avail as this match is done and dusted. A poor approach from the Islanders has lead them to this.
23:01 hrs IST
Bangladesh get another wicket
Thisara becomes the seventh Sri Lankan batsman to walk back to the pavilion. A poor shot in the circumstances and SL for all intents and purposes have lost this. Mehidy with the wicket.
22:51 hrs IST
Mathews falls, SL almost down and out
Sri Lanka have lost their last hope of a miraculous win with Angelo Mathews departing. The captain is gone for 16, LBW to Rubel Hossain. SL 63/6
22:47 hrs IST
Lanka 5 down
Sri Lanka have lost half their side, Dasun Shanaka is run out for seven, SL are 60/5 and are facing a mountain of a target.
22:43 hrs IST
Action continues tomorrow
Pakistan take on Hong Kong in the first match of Group A on Sunday.
22:35 hrs IST
Chance squandered
A presentable chance missed by Bangladesh. Shanaka tries to go for a big hit, miscues and two fielders just watch it go down. Either of them could have taken it. Will this prove crucial?
22:30 hrs IST
Spin from both ends
Shakib is introduced into the attack and it's now spin from both ends. Mehidy has been bowling magnificently and both spinners can really drive the run rate up.
22:18 hrs IST
Kusal Perera goes
Mehidy Hasan has Kusal Perera LBW for 11 and Sri Lanka are in big...big trouble. He wanted to review the decision but that had been wasted by Dhananjaya de Silva.
22:14 hrs IST
Bangladesh on top
The bright start that Sri Lanka made has fizzled right out. The scoring has stopped all together and both batsmen are in survival mode.
22:04 hrs IST
Big responsibility on Angelo Mathews
Time for captain to stand up and lead Sri Lanka to chase down this target, he needs support from other players too. Right now Bangladesh are well on top.
21:56 hrs IST
De Silva goes, SL three down
Sri Lanka have now lost De Silva, a waste of a review. Mashrafe gets him and Sri Lanka are staring down a barrel. SL 32/3
21:49 hrs IST
Tharanga bowled
Another one goes for Sri Lanka and it's Upul Tharanga this time who is clean bowled by Mashrafe. Sri Lanka are in trouble now. SL 28/2
21:39 hrs IST
Lanka lose Mendis
After making a bright start, Sri Lanka have been rocked with the wicket of Kusal Mendis. Initially given not out, the decision is overturned on review. Mustafizur with the wicket.
21:31 hrs IST
Sri Lanka's chase is underway
Sri Lanka's chase of 262 is underway, now will Bangladesh carry momentum with them or Sri Lanka make a good start.
21:01 hrs IST
Bangladesh 261 all out
Finally Bangladesh have been bowled out for 261, Mushfiqur was the real star with 144, he added 32 runs with Tamim for the last wicket to put in a decent position.
20:54 hrs IST
Mushfiqur batting brilliantly
Mushfiqur has gone into another gear, he has almost taken Bangladesh to 250 and that will be a competitive score. No small credit to Tamim.
20:47 hrs IST
BAN lose Mustafizur, Tamim comes in
Mustazifur is run out and everyone thinks the innings is over but to everybody's surprise Tamim walks in to bat and he is batting with one hand.
20:42 hrs IST
Last wicket frustrates Sri Lanka
Last wicket partnership between Mustafizur and Mushfiqur is frustrating Sri Lanka. These runs could prove crucial.
20:32 hrs IST
Rahim scores ton
Mushfiqur Rahim gets his century and what a marvelous knock this has been. He has been the hero for his country today.
20:26 hrs IST
Rubel goes now
OUT!!! Dhananjaya de Silva gets Rubel for 2, initially it's given not out but upon review the decision is overturned. Bangladesh 8 down for 203.
20:17 IST
Rubel survives scare
Rubel Hossain has survived a big LBW shout. He was initially given out but then the decision is overturned on review.
20:14 pm IST
200 up for Bangladesh
Bangladesh have brought up their 200, unfortunately they have lost 7 wickets in getting there. How many more can they get?
20:12 hrs IST
Bumrah praise for Malinga, teammates at IPL
20:05 hrs IST
Mashrafe goes now, BAN 7 down
Bad shot by Mashrafe, he had Mushfiqur at the other hand with him and all he had to do was to support him. he is gone for 11 and Bangladesh are 195/7
19:53 hrs IST
Rahim the key for Bangladesh
As everything tumbles around him, Mushfiqur remains key for Bangladesh. He is on 85 and needs to bat full 50 overs for Bangladesh to have a fighting total.
19:46 hrs IST
OUT!!! What a Catch!!!
What a catch by Suranga Lakmal, Mehidy Hasan has to go back for a gritty 15. These are the toughest catches in the game of cricket and Lakmal took that with ease.
19:35 hrs IST
Nice little partnership
After losing three wickets in the space of 8 runs Rahim and Mehidy have steadied the ship somewhat and added useful runs. Bangladesh will need every single run.
19:26 hrs IST
Lanka into the tail
With Tamim Iqbal retired hurt, Sri Lanka are effectively into the tail, If things go their way they could soon end the innings.
19:18 hrs IST
OUT!!! Malinga again
Class is permanent, Malinga on his return now has four, Mosaddek is the next one to go for 1. Caught behind by Kusal Perera. Bangladesh undoing all the good work. BAN 142/5 (28)
19:09 hrs IST
Another one goes
Sri Lanka get another one, This time it's Mahmudullah, he goes for 1 and Sri Lanka have a chance to make further inroads now.
19:06 hrs IST
Malinga strikes.... again
He does what he does best. Runs up, delivers the ball, changes the pace and befuddles the batsmen, who looks to flick it away, top edges it and the keeper runs in rings under the ball but pouches it safely in the end.
Malinga, the man!
19:02 hrs IST
Sri Lanka looking out of sorts
After the initial burst, it has been a rather flat phase for Sri Lanka. Their sloppiness in the field hasn't helped either.
And Lasith is back.
18:49 hrs IST
Mushfiqur notches up his 50
He was prepared to weather the storm when he walked out to bat, he was prepared to soak in the pressure and then as the pressure eased off, Mushfiqur opened his shoulders and played his strokes. A very assured innings and he has put Bangladesh back on track.
18:39 hrs IST
50 for Mithun
After a slightly iffy start, Mithun has settled down well. He has looked secure at the crease and has taken a liking for the spinners. A deft touch to third man gets him a boundary and gets him a 50. He needs to put his head down and bat on and on...
18:36 hrs IST
Not allowing the spinners to settle
They are dinking the singles and then stepping out to clobber them anywhere they feel like. Angelo Mathews looks worried and he has all the reasons to be so. Good passage of play from Bangladesh, low risk options and options which are yielding results at the moment.
18:26 hrs IST
Partnership cruising along
After seeing off Lasith Malinga, these two have looked to attack the spinners and have put them under pressure. The partnership is now ticking along at a fair clip.
Sri Lanka need to separate them rather quickly.
18:16 hrs IST
Test for the spinners
Dilruwan Perera has been in good form in the recent past. He spun a web around South Africa in the Test matches, but this will be a test for him as Bangladesh will go after him. 14 runs came off his first over, Mithun now looks in the groove
17:59 hrs IST
Opening their shoulders
First Mushfiqur and then Mithun. A boundary and a six in that over from Aponso as Bangladesh look to shift the pressure. The conditions are hot and can be taxing for the bowlers
17:53 hrs IST
Sloppy Sri Lanka
Another catch grassed by Sri Lanka. Length ball angled in, Mushfiqur clips it carelessly, the ball is uppish and it goes straight to Dilruwan at square leg who tumbles and shells the catch. Not very good fielding from Sri Lanka.
17:46 hrs IST
Some sense of calm for Bangladesh
Steady pace to the game. Mushfiqur is looking to dig in and see off the new ball. The pitch is bone dry and the ball will wear out easily as the innings goes along.
Pressure a little less for Bangladesh
17:33 hrs IST
Mathews drops Mithun
Malinga is delivering grenades at the moment. It was a length ball, it was shaping away even as Mithun tried to flick it away through the on side.
Leading edge taken and Mathews dives but shells the catch at mid on. Malinga looks away and then walks back to his mark. He is in some rhythm at the moment.
Oh the drama, it was a slower ball, it was a full bunger, but it was above the waist, Mithun flicked it and the man at deep fine leg has dropped it, but all about nothing. And then the freehit, Mushfiqur tries to slog the short ball away, Mathews takes the catch at long on. So muc happened, so little on the scorecard.
17:17 hrs IST
Tamim is injured and is walking off
Short ball from Lakmal rises up as Tamim wants to pull but the ball has hit his finger and that means he has to walk out.
Bangladesh in a real hole right now.
17:09 hrs IST
Bang... swinging in and uproots the stumps
Vintage Malinga, full ball swinging back in, late movement, Shakib has no hope, the ball sneaks between bat and pad and smashes the stumps.
Dream start for Malinga
17:07 hrs IST
Malinga strikes
What a smashing comeback. Length ball on off, slight shape away from the bat, Liton hangs his bat out, gets a thick outside edge and the ball carries comfortably to Kusal Mendis at first slip.
Lovely over!
17:00 hrs IST
We are about to roll
Out come Tamim Iqbal and Liton Das for Bangladesh on a sweltering heat. Lasith Malinga, yes Malinga, will take the new ball for Sri Lanka. There is a decent crowd in the stands, and they are making themselves heard and some.
Let's roll...
16:45 hrs IST
Playing XI
Bangladesh (Playing XI): Tamim Iqbal, Liton Das, Shakib Al Hasan, Mushfiqur Rahim(w), Mahmudullah, Mohammad Mithun, Mosaddek Hossain, Mehidy Hasan, Mashrafe Mortaza(c), Rubel Hossain, Mustafizur Rahman
Sri Lanka (Playing XI): Upul Tharanga, Dhananjaya de Silva, Kusal Perera(w), Kusal Mendis, Angelo Mathews(c), Thisara Perera, Dasun Shanaka, Lasith Malinga, Suranga Lakmal, Amila Aponso, Dilruwan Perera
16:32 hrs IST
Captains speak
Mashrafe: Looks like a good wicket to bat on. Later on we should get some help from the bowlers. There should be a bit of turn later on, so we think it's better to bat first and get a good total. The guys are in form, especially Tamim and the bowlers.
Angelo: I was going to have a bat first, looks like a belter. There will be some dew, but you can't control these things. Malinga coming back is great for us. You can always hand the ball to him at crunch moments. The heat is terrible, but you can't think of these things.
16:31 hrs IST
Toss update
Bangladesh win the toss and will bat first.
16:24 hrs IST
It is all building up
The first match of any tournament promises to be an interesting watch and this Asia Cup should be no different.
'Pitch looks a beauty, no assistance to the bowlers. A dream wicket for the batsmen. A few cracks here and there, but they aren't likely to be too significant,' says Ramiz Raza.
16:07 hrs IST
Lanka's X-factor player
With 301 ODI wickets to his name and a phenomenal economy rate of just 5.31, Lasith Malinga will look to play his part for Sri Lanka at the tournament. Sri Lanka head coach Chandika Hathurusingha said on the eve of the clash: "I believe that Malinga fits into our equation for this tournament. He is one of the best death bowlers in the world. In the last few matches, he has performed well and his fitness is up to the mark."
15:55 hrs IST
Captain's corner
This is what Bangladesh skipper Mashrafe Mortaza had to say on the eve of the tournament: "It is an essential affair for us to start the tournament on a positive note. If we get it right against Sri Lanka, the rest of the event can be easy for us."
15:45 hrs IST
Sri Lanka team news
Angelo Mathews has tremendous experience and class, qualities that aren't lacking in the core of Upul Tharanga, Kusal Mendis, Kusal Perera, Suranga Lakmal or the returning Lasith Malinga either. The return of Malinga, indeed, has been one of the stories in the lead-up to the event, with the paceman not having played any international cricket since September last year.
15:30 hrs IST
Recent head to head record
If recent bilateral history is anything to go by, the team currently coached by Chandika Hathurusingha beat the team formerly coached by the same man twice in a row to win the triangular series in Dhaka – with Zimbabwe as the third team – in January. However, the Bangladesh boys had their revenge in the Nidahas Trophy against the hosts, and come into this tournament as the higher-ranked of the two teams.
15:20 hrs IST
Bangladesh team news
talismanic all-rounder Shakib Al Hasan needs a surgery on his left little finger, but has pushed it back till after the Asia Cup. Tamim Iqbal, the senior opener, has a swollen right ring finger; Nazmul Hossain, the off-spinner, also has an injury in his bowling hand. One will hope that the two teams put their injury concerns behind and put on a good show for the fans.
15:10 hrs IST
Lankan injury crisis
The Islanders are struggling with injuries as Danushka Gunathilaka has returned home even before the start of the tournament with a lower back problem, and has been replaced by Shehan Jayasuriya, the off-spinning all-rounder. Before the Gunathilaka-Jayasuriya swap, came the news that Dinesh Chandimal is out with a finger injury – Niroshan Dickwella, the wicket-keeper batsman, has since replaced him.
14:55 hrs IST
Hello and welcome!
A very warm welcome to all the readers. Today we will get you all the live scores and updates from the first match of the Asia Cup 2018, which will be played between Bangladesh and Sri Lanka at the Dubai International Stadium. The other four teams in the competition are India, Pakistan, Hong Kong and Afghanistan and we will get you the scores of all the matches as and when they take place in the competition.
Close Story