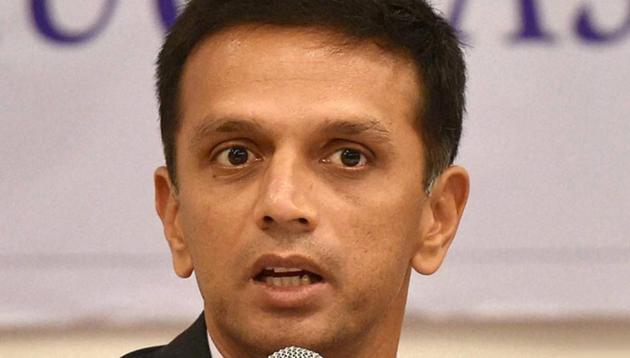 IPL is ready for expansion, says NCA head Rahul Dravid
Former India captain Rahul Dravid, now the National Cricket Academy (NCA) director, and Rajasthan Royals co-owner Manoj Badale feel an expansion of the IPL would serve the tournament well.
UPDATED ON NOV 13, 2020 08:50 PM IST
IPL 2020 is done and the talk has now moved on to the 2021 edition, which is expected to start in less than five months. While hosting the tournament on Indian soil is a matter of interest, another important point of discussion is the possibility of a new franchise joining the eight-team league. Former India captain Rahul Dravid, now the National Cricket Academy (NCA) director, and Rajasthan Royals co-owner Manoj Badale feel an expansion of the IPL would serve the tournament well.
"For my position, seeing a lot of Indian talents coming through, I think we are ready (for expansion of the IPL). I don't know about the financials of it but purely from a talent perspective we are ready. There are so many Indians talents who are not getting an opportunity. They are really good talent to not play in the XI," Dravid said.
"Being involved in the past with the U19 India team as a coach, it's pleasing to see so many U19 boys establishing themselves," he added. "There are some incredible talents waiting for an opportunity."
Dravid was speaking on the sidelines of the launch of a "A New Innings", a book on the IPL and its business model, authored by Badale and Simon Hughes.
The IPL has experimented with expansion before, but with limited success. In the 13 editions so far, there were two seasons (2012, 13) that saw nine teams and one season (2011) that had ten.
"It's a hot topic right now. IPL was envisaged to be expanded from eight to at least 10 teams. It's not a new topic. We had 10 franchises in the past," Badale said. "IPL getting addition of franchises is inevitable. There might be questions about timing, questions about pressure that we came under because of coronavirus.
"That's a decision that BCCI needs to take. It's definitely possible. But as a consequence, you will have to have more afternoon games and maintain quality of the competition."
Less dependence on state associations
Dravid cited the example of T Natarajan and Rahul Tewatia as players who shine at the IPL and get noticed nationally despite not getting regular opportunities with their state teams.
"In the past the only opportunity that the players got was with their state associations. Now a player from Karnataka can play for Mumbai in the IPL. It's no longer limited to the state associations. A good example will be Haryana which has a lot of good spinners like Yuzvendra Chahal, Amit Mishra, Jayant Yadav. A player like Rahul Tewatia may not even get that much opportunity in the state T20 teams. In the past it would have limited him but now that is not stopping him from getting noticed. You have eight extra pair of eyes from the IPL teams who are there to see your talent," Dravid said. "One of the reasons behind the success of Mumbai Indians is that they have maintained a core of experienced senior players, who are world class T20 players. But the critical thing is that they have balanced it out with young exciting Indian talent. It's due to the fact that there is a good scouting structure in place."
The other important aspect is that all players are now getting access to high-end data. "When the IPL started there was no specialized data like these days. Nowadays a young player can have data like his strike-rate in the power-plays and how it reduces by 20 per cent when the spinner comes on. They can work on specific areas depending on that reading. Someone like T Natarajan, he must have noticed how the yorker is such an effective delivery in T20s and must have practiced that way. He has now made it into the Indian team because of that," Dravid, who saw the rise of youngsters like Sanju Samson during his tenure as RR captain, said.
"As coaches, we can help the young players in their journeys but what helps them grow is experience. Look at a Devdutt Padikkal who is batting alongside Virat Kohli or can learn from AB de Villiers."
Topics
Close