Murali-Sri Lanka tiff shows home turf can still ignite a war
It is just as well that Sri Lanka's chinaman bowler, Lakshan Sandakan, grabbed the attention in the ongoing first Test at Pallekele. The 25-year-old's 4/58 are the best figures on Test debut for a left-arm wrist spinner.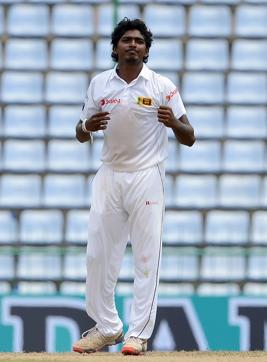 Published on Jul 28, 2016 12:51 PM IST
It is just as well that Sri Lanka's chinaman bowler, Lakshan Sandakan, grabbed the attention in the ongoing first Test at Pallekele. The 25-year-old's 4/58 are the best figures on Test debut for a left-arm wrist spinner.
It diverted focus from the war of words between Sri Lanka spin great Muttiah Muralitharan and the Sri Lanka Cricket, which showed that even in this era of professional coaches, teams get prickly trying to preserve home advantage.
Muralitharan is not just Sri Lanka's great cricketing treasure. The severest attacks on his controversial bowling action came in Australia in the mid 1990s. Thus the Aussies are enemy No 1 in the island.
UNTHINKABLE IN THE PAST
In a previous era, the man who knows every blade of grass on Sri Lankan pitches and every trick the home captain and groundsmen could employ, may have refused to take up the Australia job. After all, Muralitharan's action was even described as 'diabolical' in Australia.
But this is a new dawn in cricket, and freelance coaches have a role to play. It may be the IPL effect, but Australia and England have begun the trend of hiring specialists short term, to tackle the biggest challenge they expect on a tour.
Australia had hired Sridharan Sriram, a former India one-day all-rounder, to guide an inexperienced side on their Bangladesh tour last September and for the World Twenty20 in India. It didn't cause a ripple because Sriram was not a big name as player, and the Aussies didn't dominate the WT20.
TOPPLING THEIR OWN
But SLC wasn't thrilled when former skipper Mahela Jayawardene was hired as consultant by England. This time, England have found success with former Pakistan off-spinner Saqlain Mushtaq against his national team. Mushtaq is helping Moeen Ali and Adil Rashid.
But Pakistan may have a grouse after leg-spinner Yasir Shah, the 10-wicket hero in the Lord's Test win, was blunted in the second Test the hosts won with ease to level the series.
For Murali, the mentor with IPL champions, Sunrisers Hyderabad, it was a perfect job. He was at home with little travel required while expanding his coaching horizons. Besides, the Sri Lanka board didn't seek his services.
But the struggling home team is looking to clutch at whatever advantage it can. The last thing it would want is Murali arm-twisting the groundsmen to get Aussies centre-wicket practice at Pallekele before the Test, as is being alleged.
SHRINKING HOME ADVANTAGE
Ironically, SLC lodged a complaint with Cricket Australia. The Sri Lankan camp was already uneasy as it felt Muralitharan used his influence to help Australia get a turning track for their practice game at Colombo's P Sara Oval, his home turf. Murali, upset with the accusations, has lashed out at the board for essentially calling him a traitor.
But home advantage remains a sensitive issue. It is shrinking rapidly as players criss-cross continents the globe to play, so the key is to deny them practice to retain any mystery that is left. Sri Lanka were annoyed their plan to give Australia a seaming track for the warm-up and then hit them on turners were unsettled.
But the Muralitharan episode didn't get out of hand because players are very close in Sri Lanka and understand the economics of cricket.
There has been a tradition of players seeking out former greats in the country they are playing to help with their game. But that is not always appreciated, especially if the hosts are at the receiving end.
After Pakistan's narrow win in the Bengaluru Test on the 1986-7 tour to clinch the series, their spinners thanked former India skipper Bishan Singh Bedi for his inputs. It didn't go down well with Indian fans or players.
Bedi is always happy to walk into the rival team's nets to talk about the finer aspects of spin. India skipper Sourav Ganguly acknowledged Australia great Greg Chappell's inputs after his century secured a draw in the first Test in Brisbane on the 2003-4 tour.
This is the era of monetisation. Still, it is obvious they are some no-go areas. An Indian batting stalwart taking up a position with Pakistan or a Pakistan pace great accepting an India job is one of them.
Clubs are fine, but the 'open door' can still shut when it comes to the country.
Close Story