Tale of two BCCI chiefs: N. Srinivasan in soup again; reprieve for Anurag Thakur
Jul 14, 2017 11:41 PM IST
N. Srinivasan of Tamil Nadu Cricket Association was earlier forced to step down from the BCCI for conflict of interest. The Supreme Court has slapped a notice on the former cricket strongman while dropping charges against Anurag Thakur
N. Srinivasan has once again been booked by the Supreme Court for blocking reforms made by the RM Lodha panel to change the governance structure in the Board of Control for Cricket in India. Srinivasan has also offended the court for attending two BCCI meetings on May 7 and June 26.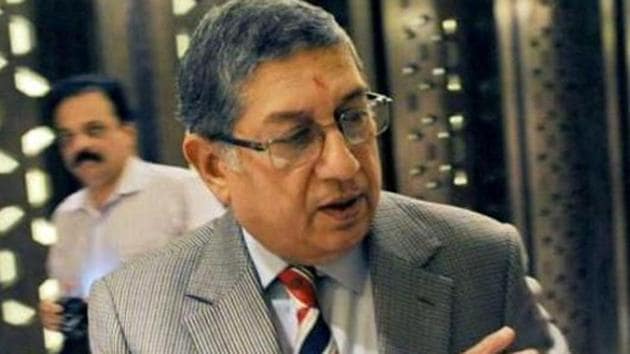 Alongwith N. Srinivasan, former BCCI secretary Niranjan Shah of Saurashtra Cricket Association has also been sent a notice for attending BCCI meetings flouting age and tenure guidelines issues by the RM Lodha panel. Both Srinivasan and Niranjan Shah are above 70 years old and are thus ineligible to represent their associations at BCCI.
"How can a person disqualified by virtue of apex court order be nominated as nominee of state cricket associations and attend the meeting of BCCI," a bench headed by Justice Dipak Misra said.
While Srinivasan and Niranjan Shah have been hauled up by the Supreme Court, there is good news for former president Anurag Thakur. Perjury charges against the Himachal Pradesh cricket official and BJP MP have been dropped after Thakur tendered an unconditional apology to the apex court.
The Supreme Court has come down hard on N. Srinivasan, who was earlier asked to step down as BCCI chief for conflict of interest in the wake of the 2013 IPL spot-fixing scandal that involved his son-in-law Gurunath Meiyappan.
The Committee of Administrators, headed by ex-CAG Vinod Rai, in their fourth status report to the Supreme Court, complained against "disruptive and subversive conduct" of officials for blocking the Lodha reforms.
Hijack SGM
"From an audio recording of the SGM, it appears that such disqualified persons were able to effectively hijack proceedings at the SGM by prevailing upon other attendees (who may have been otherwise willing to facilitate the reform process) to either support the cause of such disqualified person or remain silent," the CoA said.
N. Srinivasan and Niranjan Shah have to reply to the notice when the BCCI case comes up for hearing next on July 24. Kapil Sibal appearing for TNCA accepted the court's notice on behalf of Srinivasan and said the veteran cricket administrator has no conflict of interest as of now and he can very much become a nominee of an association by virtue of being its member.
The Supreme Court has relieved Ramachandra Guha and Vikram Limaye from the four-member CoA that was appointed to oversee the implementation of Lodha panel reforms on the BCCI. The court has asked for fresh names in a sealed envelope to replace Guha and Limaye, who has been appointed as Managing Director and CEO of National Stock Exchange.
Senior advocate Gopal Subramanium, who is assisting the court as amicus curiae in the matter, suggested six names for filling up the post of administrators fallen vacant after these resignations but the apex court sought suggestions from senior counsels like Solicitor General Ranjit Kumar, Kapil Sibal and others appearing for various parties in the matter in 10 days in a sealed cover, to be considered on September 5.