Asia Cup row: Pakistan wants its ODI World Cup matches too taken out of India
Feb 05, 2023 10:48 PM IST
A final decision on Asia Cup venue will be taken in March when Asian Cricket Council reconvenes in Dubai
Pakistan will not travel to India for the ODI World Cup scheduled in October-November if the Indian cricket team does not go to Pakistan for the Asia Cup scheduled in September. This was the position Pakistan Cricket Board (PCB) took at Saturday's Asian Cricket Council (ACC) board meeting, an official present in the meeting said.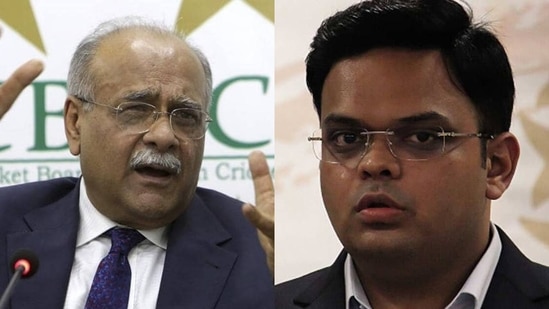 BCCI officials are dismissive and do not see this bringing any change in their own position on the matter. The BCCI-PCB stand-off will now be taken up when the ACC reconvenes in Dubai in March a day or so before the International Cricket Council's (ICC) quarterly board meeting there.
The ACC, whose chairman is BCCI secretary Jay Shah, issued a statement on Saturday of there being "a constructive dialogue" on the Asia Cup. But it is learnt that there was no consensus on the proposal to relocate the tournament to a neutral venue. "If that is how one wants to proceed, even Pakistan's matches during the ODI World Cup in India should be moved to neutral venues. Both are multi-nation events," a PCB official said.
While this is how PCB is looking to contest its case at the ACC and ICC meetings, Indian board officials see this as mere public posturing and say moving the event to a neutral venue, with the UAE as the most likely hosts, is on the cards. "It's not for the BCCI to take a decision but for our government to decide. The PCB needs to understand that," a BCCI official said.
"Even when Asia Cup hosting rights were awarded to Pakistan, it was with the prior knowledge both cricket boards have always had, that any travel to the other nation will require a government nod, something we do not have at this point in time," another BCCI official said.
As far as PCB's threat not to come to India for the World Cup goes, BCCI officials argue that "it is a matter for the ICC to look at" as India is just the host nation.
While the decision on the matter has been pushed back by a month, BCCI is not losing sleep with an ICC event's success – in terms of media rights and sponsorships – being contingent on the Indian cricket market.
The ICC did not immediately respond to queries on the matter.
On security in Pakistan as cricket hosts, PCB issued a statement on Sunday which said, "Sri Lanka has recently visited Pakistan in 2017 and 2019, while Bangladesh has toured Pakistan in 2020. In the 2023-2027 Future Tours Programme (FTP), which has been agreed and announced by all ICC Members, Afghanistan, Bangladesh and Sri Lanka have confirmed their tours to Pakistan."
India last visited Pakistan in 2008 for the 50-overs Asia Cup, losing the final to Sri Lanka in Karachi. Bilateral cricket between the neighbours has not taken place since the 2012-13 white-ball series played in India. Pakistan has since travelled for the 2016 T20 World Cup, the last ICC event hosted by India.