Pakistan vs Afghanistan Highlights, World Cup 2019: Pakistan edge Afghanistan by 3 wickets in last-over thriller
Updated on Jun 29, 2019 10:54 PM IST
As it happened: Imad Wasim helped Pakistan snatch victory from the jaws of defeat as his 54-ball 49 helped them beat Afghanistan by three wickets. Mujeeb Ur Rahman and Mohammed Nabi scalped two wickets each for Afghanistan but skipper Gulbadin Naib's 46th over cost them the game as the pacer went for 18 runs in the over. Earlier, Shaheen Afridi claimed four wickets to restrict minnows Afghanistan to a modest 227 for nine from 50 overs. Asghar Afghan and Ikram Ali khil built a 64-run stand before Afghan was cleaned up by leg-spinner Shadab Khan for 42. Wicketkeeper-batsman Alikhil (24) holed out to left-arm spinner Imad Wasim but Najibullah Zadran's scored a patient 54-ball 42 to take the Afghans past the 200-mark. Afridi returned to remove Zadran and Rashid Khan to finish as pick of the Pakistan bowlers with 4-47. Follow PAK vs AFG highlights here: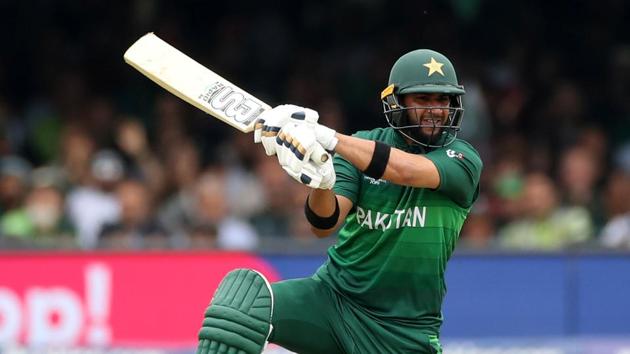 22:30 hrs IST
Pakistan alive in the competition
Before this contest, Pakistan needed to win against both Afghanistan and Bangladesh to stand any chance of progressing into the next round. They have taken the first step and the ball is in England's court tomorrow. Pakistan have jumped tow the fourth spot courtesy of this win, above England but Pakistan have played one game more.
22:24 hrs IST
Pakistan win
Imad Wasim hits a boundary on the fourth ball of the last over towards extra cover and with that Pakistan have won the match by three wickets and two balls to spare. Gulbadin Naib hangs in heads in shame as he knows it was his 46th over that cost them the game.
22:20 hrs IST
6 runs needed of the last over
Wahab Riaz hits a six off Rashid Khan as the spinner concedes 10 runs off the 49th over. This means Pakistan now need just 6 runs off the last over.
22:15 hrs IST
16 off 12 needed
Pakistan need 16 runs off the final two overs as Mujeeb concedes just 2 runs off his last over of the innings. Rashid Khan to bowl the penultimate over of the innings.
22:10 hrs IST
Shadab departs
Against the run of play, Pakistan have lost their seventh wicket as a suicidal piece of running costs Shadab Khan his wicket. The duo had revived the Pakistan chase with their fifty-run stand but a bad piece of running means Pakistan will have to do it all over again. Wahab Riaz joins Imad Wasim in the middle.
22:06 hrs IST
Horror over from Naib
Gulbadin Naib concedes 18 runs from his over and Pakistan are right back in the chase. Imad Wasim struck three boundaries in the over as Pakistan reach the 200-run mark. 28 required off 24 deliveries now
22:00 hrs IST
2-run over from Shinwari
Samiullah Shinwari bowls a dream over for Pakistan as he concedes just two runs from the over. Imad Wasim and Shadab Khan aren't able to hit boundaries at the moment and that is really hurting Pakistan.
21:56 hrs IST
Pakistan need boundaries
Imad Wasim and Shadab Khan are dealing in singles at the moment but that won't be enough for them to win the match. 6 runs were conceded by Rashid in the over as six overs left in the Pakistan chase as they need 48 runs.
21:52 hrs IST
Tidy from Mujeeb
Mujeeb ur Rahman concedes just five runs from the over as Pakistan now need 54 runs off 42 deliveries. The spinners are doing the job for Afghanistan at the moment.
21:48 hrs IST
Welcome boundary for Pakistan
Gulbadin Naib concedes 8 runs in the over as Imad Wasim hits him for a boundary down the ground. Timely boundary for Pakistan but they need more of such shots to get closer to the target. The match is heading for a thrilling finish.
21:43 hrs IST
Good over from Shinwari
Samiullah Shinwari gives away just four runs as Afghanistan spinners continue to dominate in the chase. With every passing over, the job keeps on becoming more difficult for Pakistan.
21:38 hrs IST
Sarfaraz departs
Najibullah and Ikram Ali Khil combine to run out Pakistan skipper Sarfaraz Ahmed for 18. Pakistan have now lost six wickets and they are in dire straits as far as the chase is concerned. They now need 71 runs off 60 deliveries and Shadab Khan has joined Imad Wasim in the middle.
21:32 hrs IST
First boundary for 10 overs
Sarfaraz Ahmed hits Gulbadin Naib for a boundary towards backward square leg and this was the first boundary in 10 overs for Pakistan. 8 runs came from that over as Pakistan look to move on in the contest.
21:26 hrs IST
Required rate soaring
Pakistan's current rate reads 3.9 and their required rate is 6.3. Sarfaraz and Imad will have to build a match saving partnership here as the Afghan spinners are turning on the style here in Leeds.
21:20 hrs IST
Pakistan lose half their side
Rashid Khan has struck just at the right time for Afghanistan as he gets rid of Haris Sohail for 27. The southpaw is adjudged LBW by the umpire and Pakistan have lost five wickets now. Imad Wasim joins skipper Sarfaraz in the middle.
21:14 hrs IST
Partnership building
Sarfaraz Ahmed and Haris Sohail have added 19 runs off 29 deliveries so far and duo have steadied the Pakistan ship after the loss of four wickets. Afghanistan spinners have turned on the style in this match and would like to continue the same in the final 16 overs.
21:08 hrs IST
Dropped!
Samiullah Shinwari almost picked his first wicker of the day as Sarfaraz Ahmed hits a full toss straight at the bowler but he could not catch it. Sarfaraz survives on 2 and live to see the team home. That blow would have certainly put a lot of pressure on the team.
21:00 hrs IST
Hafeez departs
Mujeeb Ur Rahman strikes for Afghanistan as Mohammad Hafeez is dismissed for 19, Pakistan 121/4. A soft dismissal as Hafeez misjudged the shot and ended up giving an easy catch to Hashmatullah Shahidi.
20:52 hrs IST
Slow but steady
Harris Sohail (17 off 33 balls) and Mohammad Hafeez (17 off 29 balls) have been really cautious in their approach but the boundaries are coming every second over and if Pakistan can play their full quota, it will not be a problem for them to complete this chase. Afghanistan need a wicket (or two) fast! PAK 118/3
20:38 hrs IST
100 up for Pakistan
Mohammad Hafeez slammed Samiullah Shinwari for a boundary through mid-wicket and 100 comes up for Pakistan in the 25th over. It has a slow batting performance by them but keeping wickets in hand is the most important job right now.
20:26 hrs IST
Stat Attack: Babar Azam
Babar Azam departs for 45
M Nabi was wicketless against Pakistan in 156 legitimate balls
After that Nabi takes 2 wickets in 3 balls against Pakistan.
20:19 hrs IST
Stat Attack: Imam Ul Haq
Imam-ul-Haq departs for 36
This is the 2nd time has been stumped in 35 innings that he has played in ODI
Last time against Afghanistan he was run out.
This is also Mohammad Nabi's first wicket against Pakistan in ODIs
20:16 hrs IST
Nabi strikes again
A wild sweep attempt by Babar Azam and Mohammad Nabi castled him for 45. The ball spun quite a bit and then crashed into the leg stumps. Two quick wickets for Afghanistan and Pakistan are 81 for the loss of three wickets.
20:11 hrs IST
Imam throws his wicket
Imam ul Haq came dancing down the track but missed a Mohammad Nabi delivery and he was comprehensively stumped by the wicket-keeper. The southpaw departs for 36 as Pakistan lose their second wicket in the chase.
20:06 hrs IST
Babar on the attack
Babar Azam takes the attack Rashid Khan and hits him for a glorious boundary towards the cow corner. Short delivery from Rashid and the right-hander pulled it for a boundary. 7 runs came from that over from Rashid.
20:01 hrs IST
Imam, Babar steady
14 overs gone, Pakistan are 64 for the loss of one wicket. Mohammad Nabi has been the pick of the bowlers for Afghanistan till now with brilliant variations and a nagging line. However, Imam Ul Haq and Babar Azam are in hurry to score runs and they are treating every ball on merit.
19:51 hrs IST
Stat Attack: Partnership
50 runs partnership comes up between Babar Azam and Imam-ul-Haq
8th 50 runs partnership between this duo in ODIs
2nd 50 runs partnership between this duo in World Cup 2019.(1st was against Aus)
5th 50+ runs partnership between this duo in 2019
19:44 hrs IST
Imam dealing in boundaries
Two boundaries for Imam Ul Haq now as Pakistan are scoring at a brisk rate. This has been a good recovery for Pakistan after the loss of Fakhar Zaman and after 9 overs, PAK are 45 for the loss of one wicket.
19:35 hrs IST
Review Wasted
A strong LBW appeal against Babar Azam but the review showed that the point of contact was outside the off-stump. Review wasted for Afghanistan and this can prove costly for them. Pakistan 32/1 after 7 overs.
19:26 hrs IST
Two boundaries for Babar
An outside edge through thirdman and a flick of the wrists through mid wicket - Both shots from Babar Azam and both rushed to the boundary. Runs are coming quite easily for Pakistan as they are 26/1 after 4 overs.
19:20 hrs IST
Stat Attack: Fakhar Zaman
Fakhar Zaman departs for 0
This is his 5th duck in ODIs
2nd duck against Afghanistan in ODIs
Both times he has been dismissed by Mujeeb-ur-Rahman LBW on duck.
His 2nd duck in WC 2019 (last was against Australia in WC 2019)
19:10 hrs IST
Fakhar departs
Early breakthrough for Afghanistan! It was a tough call for the third umpire but it went in Mujeeb Ur Rahman's favour and Fakhar Zaman was ruled LBW for a duck. Pakistan 4/1
18:45 hrs IST
Stat Attack: Afghanistan
Afghanistan end their innings on 227/9 in 50 overs.
This is now their 2nd highest total batting first in World Cups.
This is now their highest total batting 1st in WC 2019.
18:41 hrs IST
Afghanistan 227/9
An eventful last over from Mohammad Amir yields six runs as Afghanistan finish their innings on 227/9. A good show by Pakistan bowlers with Shaheen Afridi being the pick of them with four wickets.
18:32 hrs IST
Wahab strikes
A perfect yorker from Wahab Riaz and that's it for Hamid Hassan as he was castled for 1. This is good bowling by Pakistan as Afghanistan are 220 for the loss of 9 wickets after 48.5 overs
18:23 hrs IST
Four for Afridi
Rashid Khan impressed everyone with his helicopter shot that went for a boundary but Shaheen Afridi got his revenge as Khan top edged the next delivery to Fakhar Zaman. Afghanistan 210/8
18:10 hrs IST
200 Up for Afghanistan
A brilliant boundary for Najibullah Zadran but Shaheen Afridi struck with the very next ball as he castled him for 42. He went for a wild shot but ended up chopping it onto his stumps. After 44.2 overs, Afghanistan are 202 for the loss of seven wickets
17:57 hrs IST
Onus on Zadran
41 overs gone. Afghanistan are 185 for the loss of six wickets. With the run rate reading 4.51 at the moment, Afghanistan will be looking to accelerate from this point. Najibullah Zadran is the set batsman at the crease and he will have to take responsibility now.
17:46 hrs IST
Najibullah not bothered
Six wickets down by Najibullah Zadran is still playing his natural game. He slammed Imad Wasim for two boundaries in the over as Afghanistan are 178 for the loss of six wickets.
17:40 hrs IST
Nabi out
Wahab Riaz strikes for Pakistan as Mohammad Nabi is caught for 16, Afghanistan 167/6. This is a big wicket for Pakistan as Nabi was capable of playing a big innings. However, he went for an extravagant shot and was caught in the deep by Mohammad Amir.
17:29 hrs IST
Welcome Boundaries
Two boundaries for Afghanistan in two overs as Mohammad Nabi and Najibullah Zadran are looking to steady the innings. A confident stroke from Zadran went through the cover region for four and in the next over, Nabi edged one past Sarfaraz Ahmed for a boundary. AFG 159/5
17:17 hrs IST
Amir continues to impress
Mohammed Amir has been outstanding today. He hasn't picked up a wicket but he has threatened in every over, a bit of luck and he could've already ended with a couple of wickets on any other day.
17:05 hrs IST
Slow Progress
Pakistan have managed a stranglehold on Afghanistan here. Regular wickets have halted the Afghans progress and the Pakistan spinners have been brilliant, full marks to Sarfaraz Ahmed's captaincy too.
16:54 hrs IST
Imad Wasim picks up his second
OUT! Loose shot from Ikram, he had done all the hardwork, got through the difficult period only to throw it away when it mattered the most. A flighted delivery from Imad, Ikram comes down the track and goes for a wild heave, only manages to top edge to long-on, Afghanistan five down.
16:44 hrs IST
Shadab removes Afghan
BOWLED! Shadab dishes out a leg spinner around off, at 87 kph, Afghan shimmies down the track for a big shot but fails to make any contact. The ball doesn't turn much after landing and tickles the off stump. The attacking field set probably prompted Afghan to have a real go at it. But he is undone here due to his own aggression. The 64-run stand has been broken
16:30 hrs IST
Fifty partnership
Theres' the fifty-run partnership between Asghar Afghan and Ikram Ali and it has come at a good time too, largely due to the onslaught by the former Afghanistan captain Asghar Afghan.
This is the 2nd time this duo are batting together in ODIs. This is now the highest partnership by runs between this duo. This is now the 2nd highest partnership by runs for the 4th wicket by Afghanistan in WC 2019 (highest is 94 between A Afghan & H Shahidi)
16:19 hrs IST
SIX
Brilliant shot from Asghar Afghan. Once again lovely use of the feet and this time the connection is good. The ball lands over the mid wicket boundary, second six for Afghan, 13 runs from Shadab Khan's over.
16:17 hrs IST
Goot shot
FOUR! Nice stroke from Asghar Afghan, a little shimmy to get to the pitch pf the ball and drills it over extra cover. It looks like Afghan has decided not to let the spinners settle in.
16:01 hrs IST
Asghar Afghan on the charge
Asghar Afghan has come out with intent. He has decided to take Imad Wasim on and has got the first six of the match too.
15:55 hrs IST
Imad strikes
OUT! Soft dismissal for Shah! He is distraught and is staring down the pitch. Imad Wasim has outfoxed the batsman here. He darted a few arm balls before bowling a delivery that straightens a bit from middle and off. Rahmat tries to flick thinking it's coming into him but it doesn't and takes the leading half of his blade. The ball lobs up to short cover where Babar Azam takes the simplest of catches. A good little knock comes to an end
15:49 hrs IST
Fifty up for Afghanistan
That's fifty for Afghanistan in the 11th over. Rahmat Shah is playing a good hand. He needs to carry on if Afghanistan have to put up a good total.
15:38 hrs IST
Amir holds one end up
Almost his second maiden of the day but for that single off the last ball. Another very good over from Amir, he is holding one end up nicely, while Shaheen has been erratic but has given the breakthroughs.
15:29 hrs IST
DRS saves Ikram
Huge inside edge. He knocked the cover off the ball from the edge of his bat. How on earth did the umpire give that out? Thank heavens for DRS, Ikram survives. Amir brought that one to jag back in from the length area, Ikram gets an inside edge onto his pads.
15:23 hrs IST
Two-in-two
OUT! Cricket, you beauty. What a leveller! 10 runs conceded off the first three balls and now two wickets in two balls. What a great fightback from the young man. Shaheen spears in a very full ball around middle and leg at 137 kph, Shahidi tries flicking but closes the face of the bat early. It pops out of the leading edge towards mid off where Imad Wasim moves across to his left to take the catch safely. Shaheen on a hat-trick now.
15:20 hrs IST
Shaheen has the last laugh
OUT! Yes, there was an edge, the UltraEdge confirms. Good review from Pakistan, Gulbadin has to go. Shaheen Shah Afridi has the last laugh, he was hit for two fours in the over by Gulbadin and now comes back to find outside edge. Credit to the youngster for keep pitching it up despite going for runs. Gulbadin just gets a faint nick and Sarfaraz makes no mistake.
15:17 hrs IST
Gulbadin joins he party
Identical boundaries from Gulbadin's bat. Shaheen pitches it up, gives room and Gulbadin helps it over mid-off to collect two fours. What a start this is for Afghanistan.
15:14 hrs IST
Rahmat Shah on the charge
Brilliant from Rahmat Shah, collects two fours off Mohammed Amir. One off the front foot, through the covers and when Amir pitched it short, he rocked back and pulled it confidently over mid-wicket for another four. 8 runs from Amir's 2nd over.
15:10 hrs IST
Classy from Gulbadin
FOUR! Class written all over that cover drive from Gulbadin Naib, slightly overpitched from Imad, that was enough for Gulbadin to get a stride in and drive it through the gap between mid-off and cover to collect a boundary. Not a bad over from Imad though, he had bowled five dot balls before this.
15:07 hrs IST
Maiden from Amir
Great start by Mohammed Amir, bowls a maiden in his first over. Not a single delivery in the hitting zone, he has been in super form in the World Cup.
15:04 hrs IST
Pakistan start with spin
Imad Wasim starts the proceedings for Pakistan and has given away 5 runs in the first over. Interesting choice to start with a left-arm spinner, the slowness of the pitch could be a reason.
14:49 hrs IST
What the captains said
Gulbadin Naib, Afghanistan captain: The wicket looks good. It's a sunny day and weather is warm, it'll help spinners in the second innings. Pakistan is a good side but we beat them in the warm-up game. We'll try to give our 100% today.
Sarfaraz Ahmed, Pakistancaptain: We wanted to bat first as well but toss is not in our hands. Our bowlers are doing well, so we'll try to restrict them and chase the target. We are focusing on this match, not focusing on the next game. Wahab is fine, he's playing today, hence we are playing with the same team.
14:40 hrs IST
Playing XIs
Afghanistan (Playing XI): Gulbadin Naib(c), Rahmat Shah, Hashmatullah Shahidi, Asghar Afghan, Mohammad Nabi, Samiullah Shinwari, Najibullah Zadran, Ikram Ali Khil(w), Rashid Khan, Hamid Hassan, Mujeeb Ur Rahman
Pakistan (Playing XI): Imam-ul-Haq, Fakhar Zaman, Babar Azam, Mohammad Hafeez, Haris Sohail, Sarfaraz Ahmed(w/c), Imad Wasim, Shadab Khan, Wahab Riaz, Mohammad Amir, Shaheen Afridi
14:38 hrs IST
Team news
Afghanistan have made one change. Right-arm fast bowlers Aftab Alam, who has been sent back home due to disciplinary issues has been replaced by Hamid Hassan.
Pakistan are playing with an unchanged side.
14:33 hrs IST
Toss
Afghanistan win the toss and opt to bat first against Pakistan
14:16 hrs IST
Gulbadin Naib vs Shaeen Afridi
Shaheen Afridi completely dismantled New Zealand's top order with a tremendous first-over in the previous match. His opening spell against the Kiwis has increased his reputation in the tournament, as the opposition teams have realised what the bowler can do in overcast conditions on a swinging surface. Skipper Gulbadin Naib's decision to promote himself up the top has worked and Afghanistan have been able to get off to good starts in the tournament. Afridi can change the trend.
14:06 hrs IST
Babar Azam vs Rashid Khan
Babar Azam has been the best batsman for Pakistan in the World Cup. The batsman has scored 333 runs in 6 matches at an average of 66.60 at a strike rate of 85.17. His match-winning ton against the Kiwis further has raised his stature as a threatening opposition to deal with. But, Azam's weakness has always been spin bowling and Rashid Khan can be a perfect bowler to set up his dismissal. Azam has faced 11 deliveries from Khan in the ODIs last year and he was dismissed once in them, scoring just 7 runs. This will be the key battle in the match.
13:40 hrs IST
Afghan pacers more successful than spinners
Afghan spinners were considered more of a threat to the opposition before the beginning of WC 2019. Their spinners were their strengths coming into this tournament, but the picture seems a bit opposite.
Their pacers have taken more wickets than spinners in WC 2019.
Afghan pace bowlers average is 20% better than spinners in WC 2019
Their pacers have 31% better strike rate then their spinners in WC 2019
Only difference is the bowling economy, their spinners have been economical compared to pacers in WC 2019
13:20 hrs IST
Babar sher
Babar Azam who became the 2nd fastest to complete 3000 runs in his ODI career has now taken the responsibility for leading the Pakistan batting on his shoulders.
He scored a century in last match and took Pakistan over the line.
Babar has best batting average for Pakistan in WC 2019.
He has scored back to back 50+ scores in last 2 matches that he has played.
He has decent strike rate of 85.16 in WC 19.
13:05 hrs IST
Head to Head
Here's the overall head to head of Pakistan vs Afghanistan

12:50 hrs IST
Venue insights
Highest team total: 351/9 by England against Pakistan in 2019
Lowest team total: 93 by England vs Australia in 1975
Highest individual score: 152 by Sanath Jayasuriya (SL) vs England in 2006
Best bowling figures: 7/36 by Waqar Younis (PAK) vs England in 2001
Biggest partnership: 286 between Upul Tharanga and S Jayasuriya for the 1st wicket against
England in 2006
12:30 hrs IST
In the news
Aftab Alam: The Afghanistan speedster has been sent back home due to disciplinary issues and has been replaced by Sayed Ahmad Shirzad
12:15 hrs IST
Political touch
It is a complicated relationship. Many Afghanistan players learned the game growing up as refugees in Pakistan but lots of Afghans also accuse their powerful neighbour of supporting Taliban militants.
With years of distrust and blame between the two countries, a high-stakes victory over Pakistan in the sport it loves best on Saturday would taste especially sweet to Afghans.
12:00 hrs IST
Player battles
Babar Azam vs Rashid Khan
Fakhar Zaman vs Mujeeb ur Rahman
Haris Sohail vs Mohammad Nabi
Gulbadin Naib vs Shaeen Afridi
Asghar Afghan vs Mohammad Amir (Read full story here)
11:45 hrs IST
Who said what
Haris Sohail, Pakistan batsman: We've kept it very simple. We're going from match to match. They have quality spinners and we've seen a lot of videos and we've worked from them. And hopefully we'll see a good match.
Gulbadin Naib, Afghanistan captain: Pakistan are a strong team and played spin very well in their last two games. But Rashid is a different spinner, he's very different to other leg-spinners. It's very difficult to pick him.
11:30 hrs IST
Pitch conditions
The pitch is expected to be slow, but recent games here have had fast bowlers achieve success, which should play into Pakistan's hands. The leggies from both sides - Shadab Khan and Rashid Khan - should enjoy bowling here.
11:15 hrs IST
How's the weather?
First thing, no rain on the cards. In fact, it is slated to be the hottest of the year with chances of temperatures even touching 30 degrees. One thing is for certain, that both Pakistan and Afghanistan won't mind the soaring temperatures for a change.
11:00 hrs IST
What the points table says
Right Varun, no one is underestimating Afghanistan but even you would admit that Pakistan are the stronger side. Speaking of that, let's take a look at the points table scenario. Pakistan have a huge opportunity to enter the top four for the first time in the tournament. If they beat Afghanistan, they will have 9 points and jump over England and Bangladesh, big incentive for the Men in Green.
10:40 hrs IST
Don't take the Afghans lightly
Hello everyone, Varun this side. Samar is making the mistake of taking the Afghans too lightly, I hope Pakistan and all the viewers won't think the same way. Remember how they almost beat India a few days ago? Afghanistan have enough fire power to unsettle the Pakistan batting line-up and even spoil their party.
10:30 hrs IST
Hello and welcome
Hello everyone and welcome to the live coverage of the Pakistan vs Afghanistan World cup encounter at Headingley, Leeds.I'm Samar and with me is Varun. We'll bring you all the updates from what looks like another important fixture in the World Cup but Pakistan should have it easy, in fact they should eye improving their run rate.