Sachin Tendulkar visits school in Mumbai, sanctions funds for upgradation of classrooms
Sachin Tendulkar interacted with school children in Sewri, Mumbai and sanctioned funds for construction and upgradation of classrooms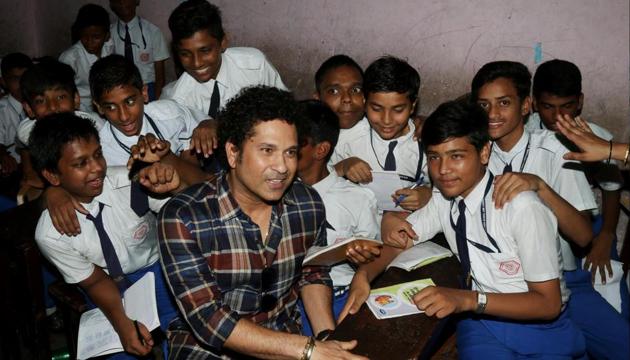 Updated on Mar 28, 2018 08:38 PM IST
PTI, Mumbai |
Press Trust of India
It was a dream come true for the students of Guru Govind Singh Tegbahadur High School here when they met and interacted with cricket icon Sachin Tendulkar.
Tendulkar, as a member of Rajya Sabha, had sanctioned funds for construction and upgradation of classrooms of the school, located in Sewri, south Mumbai.
He interacted with children and also posed for photographs, after distributing them goodies like bats, balls and footballs.
Recently he also sanctioned over Rs 40 lakh from the MP Local Area Development funds for construction of a school building in Drugmulla area of Kupwara district in Kashmir, which will be the first school in the locality, sources close to the cricket legend said.
Speaking to reporters after visit to the Sewri school, Tendulkar noted that he was a teacher's son.
"This is an unbelievable experience and I was sharing my thoughts with teachers here...I come from a family where my father (late Ramesh Tendulkar) taught in Kirti college, he was a professor, so I exactly know how passionate they are," he said.
"So eventually you look back and your school days were the best days of your life because that kind of moulded your career, gave direction to your life. Those memories stay with you forever. And also a number of things which my father shared with me from his college, which stayed with me," he said.
The master-blaster advised children to forge a strong partnership of studies and playing.
"I told them that it is necessary to have fun ("masti"), but when the time comes for studies, focus on it, when the time comes to play, play with full strength. It is important that there is a strong partnership between studies and playing," he said.
Sources said that Tendulkar has funded various school-related projects worth 7.4 crore through the MPLAD scheme.
Close Story