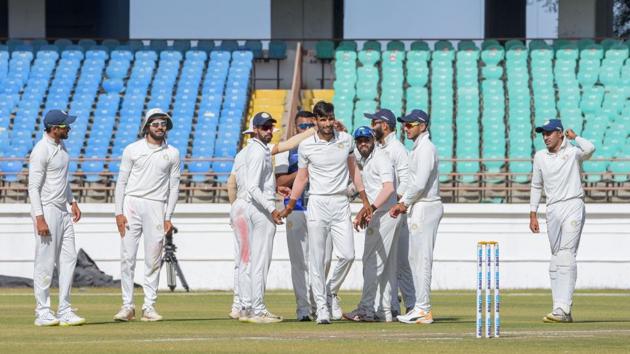 Saurashtra vs Bengal Highlights, Ranji Trophy Final Day 5: Saurashtra win maiden title on first innings lead
Saurashtra vs Bengal Highlights: Follow SAU vs BEN final of Ranji Trophy at the Saurashtra Cricket Association Stadium in Rajkot
UPDATED ON MAR 13, 2020 03:47 PM IST
Saurashtra vs Bengal Highlights: Saurashtra won their maiden Ranji Trophy title after edging out Bengal by virtue of first innings lead on Day 5 of the final at the Saurashtra Cricket Association Stadium in Rajkot on Friday. With Saurashtra leading by 149 runs and six wickets in hand, the captains of both the sides decided to shake hands at Tea. A double-wicket over from Jaydev Unadkat turned the match in Saurashtra's favour early on Day 5 as the hosts bowled out Bengal for 381 to take the all important first innings lead. Overnight batsman Anustup Majumdar was dismissed for 63 with an in-dipper from Unadkat and a ball later, Akash Deep lost his wicket due to a run out. Mukesh Kumar was dismissed a couple of overs later by Jadeja and finally Jaydev Unadkat got Ishan Porel LBW. Bengal, resuming the day 354 for 6, lost their last 4 wickets for 27 runs.
Saurashtra vs Bengal Highlights, Ranji Trophy final, Day 5:
14:53 hrs: "I still remember my words (last year) and I remember telling you that the brand of cricket we are playing will continue for a few more years and we will win the title sooner than later. We've won the trophy for the first time in 73 years and I couldn't be happier," Saurashtra captain Jaydev Unadkat.
14:50 hrs: "It's a tough one to swallow. The way we've played our cricket, it's been unbelievable to see guys helping us claw back from difficult positions. I'm really proud of the team, especially those who made their debuts this season," Bengal captain Abhimanyu Easwaran.
14:43 hrs: "It's a great feeling and we are in a different world altogether. At the start of the season, we believed that we could win. Last season, we lost in the final, we had a chat after that and credit goes to the boys. The best thing about this team is most of them have played cricket together for a long time," Cheteshwar Pujara, Saurashtra
14:38 hrs: "I could not have asked for a better gift (birthday) than this one. This is one of those proud moments and a historical moment for Saurashtra cricket, I am on cloud nine," Saurashtra coach Karsan Ghavri.
14:29 hrs: The Saurahstra players run into the ground. It's a hitoric moment for them. They have been fourth time lucky in 8 years. Jaydev Unadkat has been at the forefront of the success, leading the way with the ball. There have been brilliant ciontrobutions from Arpit Vasavda in the semi-final and in the final. The smiling faces say it all.
14:26 hrs: OUT! A full toss get Bengal the wicket of Ravi Barot. But that will be it. SAURASHTRA WIN THEIR MAIDEN RANJI TROPHY TITLE by virtue of the 1st innings lead as both captains decided to shake hands at Tea on Day 5. Saurashtra were 105 for 4 in their second innings, leading Bengal by 149 runs when play bioth teams decided that was enough.
14:20 hrs: The Saurashtra players have gathered on the sidelines sensing the end. Looks like the captain's will decide to shake hands well before stumps.
14:15 hrs: DRS goes abegging! No conclusive evidence to turn the on-field decision of not out and bengal will have to wait for their 4th wicket.
13:55 hrs: Looks like there is a discussion going on about calling off play and declare Saurashtra as the winner based on first innings lead. Jaydev Unadkat is asking Bengal captain Easwaran from the dressing room. They are leading by 140 runs and there is no way that Bengal is going to pick up 7 more wickets and then chase down the runs required with only 45 overs remaining... But Bengal have decided to play on.
13:18 hrs: OUT! A soft dismissal there. Arpit Vasvda, the centurion of the first innings for Saurashtra has been removed by Shahbaz Ahmed. He pitched it just outside off and turned back to get the inside edge of Vasavda's bat and ballons up to short leg, who makes no mistake.
13:08 hrs: FOUR! Barot brings out the sweep shot and connects it well to get another boundary. Shahbaz can only watch with his hands on his waist.
12:55 hrs: OUT! A good catch from Wriddhiman Saha behind the stumps and something to cheer for Bengal. Akash Deep has struck on his first ball. he has removed Visvaraj Jadeja for 17.
12:45 hrs: FOUR byes and Saurashtra's lead crosses 100. A waste of a delivery from Shahbaz. He hurled it down leg, nothing much that Saha could have done to collect it.
12:30 hrs: FOUR! Barot comes to the party. A fuller length and miles outside off from Mukesh, Barot throws his bat and crunches it over extra cover that's gone to the boundary. 50 up for Saurashtra.
11:50 hrs: LUNCH DAY 5, Saurashtra 38 for 1, lead Bengal by 82 runs in the Ranji Trophy final
11:45 hrs: OUT! The umpire raises his finger. But Desai reviews. This delivery jumped up on him from the rough and, according to him, went off the arm to silly point. But it looks really close to the wrist band of the glove. Don't think the third umpire can overturn the on-field call. He, actually, has spotted movement on the wrist band upon impact, thereby ratifying the original decision. That'll also be lunch.
11:32 hrs: NO BALL! And Bengal won't get their first wicket. This is not Bengal's day at all. A very good delivery by Mukesh Kumar that struck Barot in front, the on-field umpire raised his finger. Barot opted for the DRS and the replays showed Mukesh had overstepped.
11:25 hrs: Barot in discomfort! The opener was in some pain after being hit on the hand by a Mukesh Kumar delivery that bounced more than he expected.
11:00 hrs: Harvik Desai on the front foot! Saurashtra opener Harvik Desai has come out with positive intent. All they have to do is bat out till tea to take the match out of Bengal's grasp. And Desai has moved to 12 off just 14 balls while Barot is yet to get off the mark.
10:35 hrs: OUT! The DRS was more in hope than anything else. Ishan Porel has been dismissed by Jaydev Unadkat and Bengal have been bowled out for 381, Saurashtra take the first innings lead.
10:30 hrs: FOUR! Nandi on the charge, with only one wicket in the bank, Nandi has decided to take matters in his hands. He charges down the track to Jadeja and gets good connection. Bengal now trail by 45 runs.
10:16 hrs: OUT! A brilliant review by Saurashtra. The third umpire says the ball has touched the bat after hitting the pads. So the on-field decision is reversed. Mukesh Kumar has to go, Jadeja gets his first wicket of the morning and Saurashtra is just one wicket away from taking the first innings lead now.
10:13 hrs: FOUR! Lucky, extremely lucky Mukesh Kumar there. The entire Bengal dressing room must have had their harts in their mouth. He tried to take on the left-arm spinner Jadeja but managed to get outside edge. The ball just flew over the point fielder's outstretched hands and bounced away to the boundary.
10:00 hrs: A maiden! Unadkat has been brilliant this morning. Saurashtra is all over Bengal now and it will be up to Arnab Nandi to score majority of the remaining runs to take the first innings lead.
9:48 hrs: RUN OUT! What was Akash Deep thinking? That is not even a school boy error. He got beaten by Unadkat but forgot the basic rule of getting his backfoot behind the line. He stood on the line for the internity. The keeper first took aim, missed but credit to the bowler Unadkat, who had the presence of mind to throw at the stumps and knock it down. Two wickets in the over and all of a sudden Surashtra are just 2 wickets away from taking the lead and dare we say, the title too. Bengal still need 64 runs away from Saurashtra's first innings total.
9:42 hrs: OUT! It's that man Jaydev Unadkat with the ball. Anustup Majumdar opts for the review but it looks dead. Yes, it is pitching in line, the impact is also straight and the umpire stays with his decision. What a big wicket for Saurashtra, Majumdar goes for 63.
9:30 hrs: Hello and welcome to the live coverage of Day 5 of the Ranji Trophy final between Saurashtra and Bengal at Rajkot. Bengal resume their day at 354 for 6, trailing Saurashtra by 71 runs.
Close