Shastri defends Team India, asks for extra bowlers on tough tours
India team director Ravi Shastri thinks an extra squad member in the form of a bowler can help the team on difficult tours like Australia.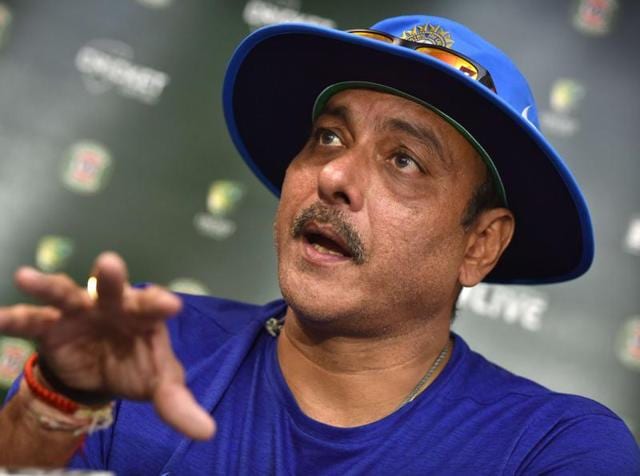 Updated on Jan 19, 2016 01:15 PM IST
India team director Ravi Shastri thinks an extra squad member in the form of a bowler can help the team on difficult tours like Australia.
Speaking at the Manuka Oval in Canberra before the fourth ODI, Shastri said BCCI should look at sending one extra bowler.
"We need bench strength. If you look at the last six days we have been in three time zones. It's not often you go through that. If you consider all that I think the boys have done extremely well. What I would suggest to the BCCI is some extra players. Instead of 15 on a tour like this, probably 16 would be advisable.
Somewhere in the subcontinent or middle-east 15 is fine. But here when you travel that far and suddenly you get injuries. At least seven or eight bowlers have to be there, with the amount of cricket being played," said Shastri.
Asked if the team needs a psychologist to help them deal well with the pressure, Shastri said, "No no I'm the shrink. So don't worry about that." But he demanded more discipline from his bowlers in the next two ODIs.
"MS (Dhoni) mentioned there were too many easy boundaries. It's not earned by the batsmen, it's given. That should be eliminated. If you cut that by 60% it will be a tighter game," said Shastri.
"What we want to see is the bowlers learning from what happened in the first three games. If that happens that will be the biggest plus, irrespective of the result," he said.
He however refused to put the blame on senior pacers like Ishant Sharma or Umesh Yadav.
"To win a game, one or two bowlers can't do the job. You need to bowl as a unit. Reason why we did well in the World Cup we had all five bowlers firing. When that happens then you have a chance of beating the best side of the world. But there are no excuses for wides. They obviously will be disappointed and have to put their best foot forward," he said.
This Australian bowling attack is one of the most inexperienced they have ever fielded. But Shastri said that isn't a reason to expect more from India's batsmen. "If you look at these bowlers, there is skill. You might say there is inexperience but they played a lot of cricket, lot of domestic T20, lot of one-day cricket," he said.
On batsman-friendly pitches like in the last three venues, Shastri feels there are more chances of a 300 score being chased down.
"It will happen in good batting conditions. With the amount of T20 cricket that's being played, the number of chances players take a lot earlier, you will see big scores being chased down. In good conditions there could be a time when you could say the bar is 330-340," he said.
Shastri said R Ashwin might have sat out the third ODI but there's every chance he could play again in this series.
"If there's experience in this bowling department, it's in spin. So we went with experience in the first two games. And then realised we need more bases covered. We need that extra option of a bowler and hence we played Rishi (Dhawan) as well as Gurkeerat (Mann) because it gave you an extra option.
"He (Ashwin) is a seasoned campaigner. He has done fabulously well for us. There have been conditions where we had to look for other options. Ashwin's absolutely fine. For all you know he might play tomorrow," said Shastri.
Overall, Shastri termed the last one week as a learning curve.
"There's absolutely no shame in the way they played in spite of the results. Because I know there's only one way to go after this tour of Australia --- it's going up. I know what happened 12 months ago after a Test series. And I know where we stand today as far as a Test match team. I'm sure the bowlers will learn and we can go places. I'm disappointed yes at the result. Because let's be fair we could have pulled one back, especially in Melbourne. But it didn't happen. Australia played well," he said.
Close Story