Fierce competitor and gutsy fighter, Harbhajan Singh calls time on 23-year career
Updated on Dec 24, 2021 02:40 PM IST
Off-spinner finishes his distinguished career with 711 international wickets across formats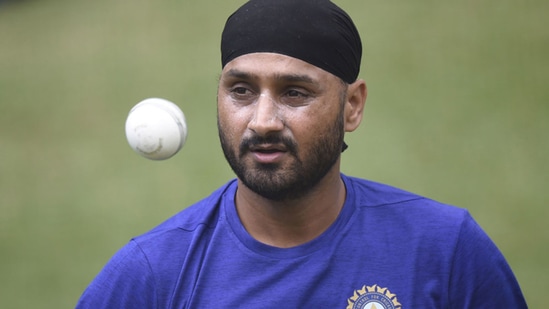 Dressed in his India blazer, his black patka almost merging into the background, a solemn soundtrack floating in backdrop, Harbhajan Singh sat in front of a camera for a grand total of five minutes and 54 seconds. That's all it took for memories to come flooding back — of mesmerising spin and devilish bounce, of gifted drop and subtle drift, of showmanship and showdowns, of days when he ran through batting orders as well as of those when he laboured in futility. Twenty three years of being a professional cricketer summed up in a soft monologue of gratitude and pathos.
"I have been thinking to announce this for a few years, but I was waiting for the right moment. Today, I am retiring from all forms of cricket," he said.
And so it ended, a career of dizzying highs and depressing lows, spanning three decades, and worth infinitely more than the 711 international wickets that record books show.
Harbhajan made his international debut under Mohammad Azharuddin in the Bengaluru Test against Australia in 1998, and promptly found himself out of the side. He famously contemplated migrating to Canada to drive trucks before being called back for the 2001 series against the seemingly invincible Australians.
A comeback for the ages followed. Harbhajan performed a stellar role in one of India's most memorable series wins as Sourav Ganguly's men not only stopped Australia's 16-Test winning streak but took the series 2-1 with Harbhajan bagging 32 wickets, still a record for a three-Test rubber.
The second Test of that series, played in Kolkata and immortalised by the Dravid-Laxman show, was shaped no less by Harbhajan's 13-wicket haul, including a second innings hat-trick, India's first in Tests. He also hit the winning runs for India in the series decider in Chennai while registering his best figures in an innings as well as in a single Test. During that series, a telecom major came up with a clever tagline: Har Australian ko Bhajan sunao. Witty wordplay no doubt, it perfectly captured the way Harbhajan had the Aussies dancing to his tune. The Australian press called him 'Turbanator', and the title stuck.
In the company of the seasoned Anil Kumble, Harbhajan formed a lethal combination, particularly in sub-continent conditions. The duo played 54 Tests together (1998-2008) and picked 501 wickets.
Among Harbhajan's greatest strengths as an off-spinner was his ability to deceive batters in the air, thanks to his loop and dip, something that bowlers refer to as 'having the ball on a string'. It is a measure of his sublime skills that not only did he dominate the best Test team of his era but also castled their best batters on a number of occasions.
Harbhajan picked 95 Test wickets against Australia — his most against a single opposition — and had a wood over Ricky Ponting (10 dismissals), Matthew Hayden (9 dismissals), and Adam Gilchrist (7 dismissals).
It was ironic then that Harbhajan's deepest low arrived in Australia when he was accused of racially abusing Andrew Symonds in the ill-fated 2007-08 series. The initial three-Test ban was overturned for want of evidence in courtroom (reduced to 50 percent fine), but it left a horrible aftertaste.
The temperamental nature of Harbhajan surfaced once again the same year when he slapped S Sreesanth after an IPL match. Most recently, a Twitter spat with retired Pakistani pacer Mohammed Amir after India's loss to Pakistan at the T20 World Cup was another avoidable episode in an otherwise glittering career.
More than his cricketing feats, India's fourth highest wicket-taker in Tests (417) will be remembered for his fighting spirit. From being called for suspect action twice to hitting Shoaib Akhtar for a six in an ODI to win a game, the 41-year-old was always up for a scrap. Indian cricket will miss one of its most passionate flag-bearers.
Topics
Close Story
Personalise your news feed. Follow trending topics