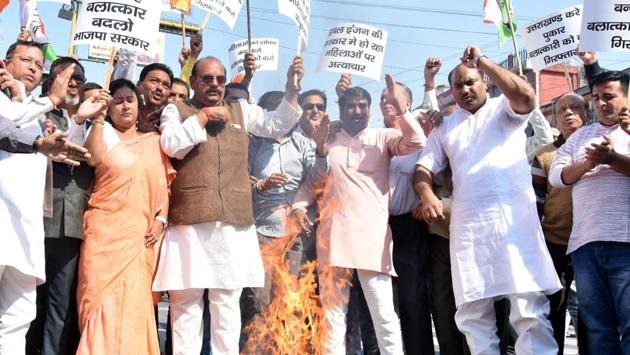 BJP accepts resignation of Uttarakhand general secretary accused of sexual harassment by party worker
A BJP worker from Dehradun had accused Sanjay Kumar, general secretary of the party in Uttarakhand, of sexually harassing her for past several years. The party has accepted Kumar's resignation.
PUBLISHED ON NOV 09, 2018 03:35 PM IST
The Uttarakhand Bharatiya Janata Party (BJP) said on Thursday the central leadership has "accepted" the resignation of its state general secretary Sanjay Kumar, whom a party worker from Dehradun has accused of sexually harassing her for past several years.
Party's state president Ajay Bhatt told reporters in Delhi that Kumar had written a letter to the central leadership, which "has accepted his resignation".
On Monday, a day after the accusation had surfaced in the media, Bhatt had told news agency PTI that the leadership had taken "cognisance of the entire issue and appropriate action will be taken as per the set procedure" amid speculations that Kumar had been removed after he was called to Delhi for a meeting.
The woman had also alleged that Kumar would sexually harass her by sending lewd and derogatory messages.
Kumar, a former Rashtriya Swayamsevak Sangh (RSS) pracharak, had held the post of general secretary (organisation) in the BJP for the last seven years.
The Opposition Congress Thursday took out a protest rally in all 13 districts. "We are not satisfied with his resignation. Like any other citizen of the country, he should face investigation. We are demanding a probe by a special investigation team into the matter," senior party leader Suryakant Dhasmana said.
The Congress also questioned the BJP's "silence" on journalist-turned-politician MJ Akbar, who had to step down as a Union minister of state for external affairs on October 17 after as many as 20 women came out with separate accounts of either being molested or sexually harassed by him over the course of his journalistic career. "Why isn't the BJP mentioning MJ Akbar against whom charges of sexual misconduct have been made? We will continue to stage protest unless the government orders probe into the matter (involving Kumar)," Dhasmana added.
Kishore Upadhyay, former state president and senior Congress leader, said, "Even a BJP leader went on record stating that he had apprised the senior leaders of the matter two months ago. Why did the party not take cognisance of it then? Our chief minister has not taken any action against Kumar, either."
Bhatt accused the Congress of "doing politics" over the issue as the party was "scared of defeat in the urban local body elections" scheduled for November 18. "Why hasn't the Congress removed its leaders involved in the Jessica Lal murder case and others?" Bhatt asked.
Close