Dehradun presents a dirty picture
Updated on Mar 24, 2015 09:33 PM IST
Dehradun presents a dirty picture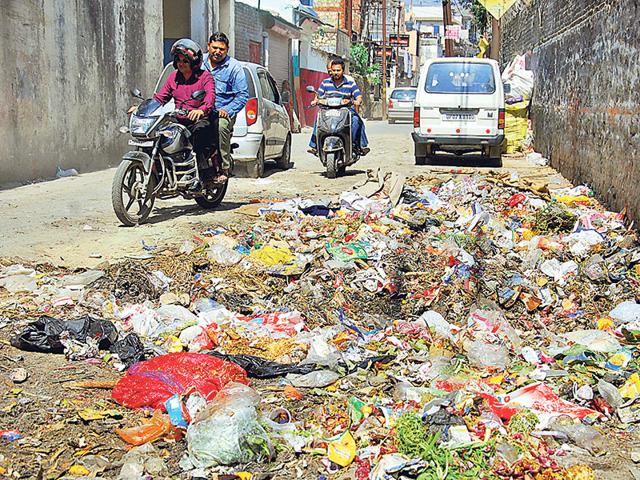 It is something that is everywhere.
Don't look up, look down for the answer— garbage.
Dehradun, the biggest municipal corporation of Uttarakhand, generates around 250 to 300 tonnes of solid waste daily, of which around 40 to 60 tonnes fall through the cracks, and get kicked around the city.
Dirt, it is said, is matter in the wrong place. And in Dehradun, it is always so.
Dirty picture
For a population of 5.74 lakh, there are only 222 dustbins across the 60 wards of the city. It means there is just one dustbin per 2,585 persons.
Lack of dustbins coupled with erratic garbage collection has turned the roads, which take tourists to the city and hill stations, into dumpyards. And it is also where the strays party. Though the conservancy workers strive to scoop up uncollected garbage, staff crunch has hamstrung their work.
Breakdown-prone dumpster trucks, too, add to the eyesore by leaving overflowing trash bin unattended for days.
"Not only does it add to civic woes but also blemishes the beauty of the capital city which is currently vying to be a smart city," said Bhupendra Singh Kathait, corporator of ward Hathibarkala.
Fly-tippers on prowl
Faced with weak garbage collection system, residents are perfecting the art of dumping kitchen waste on the sly in open land. Over a period, vacant plots turn into dumpyards where mosquitoes breed and rats feed.
The onus is on plot owners to wall their land to stop fly-tipping in their land. The corporation is tasked with penalising owners of the plot where garbage piles up. From April 2014 to January this year, the corporation has penalised 279 people for throwing garbage on roads, drains or open plots.
Rakesh Manjkhola, the corporator of Dalanwala (South) ward, said: "Because of irregular door-to-door collection of waste, people are forced to dump domestic waste in nearby vacant plots. The DMC should not only take stringent action against errant plot owners but also intensify its garbage collection initiative in city wards."
And when the trash piles up and none comes to claim it, people make a bonfire of it. Open burning of waste, though illegal under the Municipal Solid Wastes (Management and Handling) Rules, is a common practice across the city.
"Garbage is often burnt in our locality. It exposes residents not only to foul smell but also to the toxic fumes emanating from the flames," said Amit Ahuja, a resident of Ballupur area.