Eye on revenue, Uttarakhand govt to open 20 more quarrying sites in Nainital
Hindustan Times, Dehradun |
Abhinav Madhwal &Sandeep Rawat
Feb 28, 2018 10:22 PM IST
Prior to this, there were 23 quarrying lease in the Nainital district on the various rivers
The Gola river of Haldwani, located in the Nainital district, is the place for biggest quarrying activity in the state, worth more than Rs 400 crore per annum. The mining department is now expanding the scope of quarrying in the rivers of Nainital by opening 20 more sites which would be given on lease to the quarrying license holders. These 20 spots would be opened through E tendering.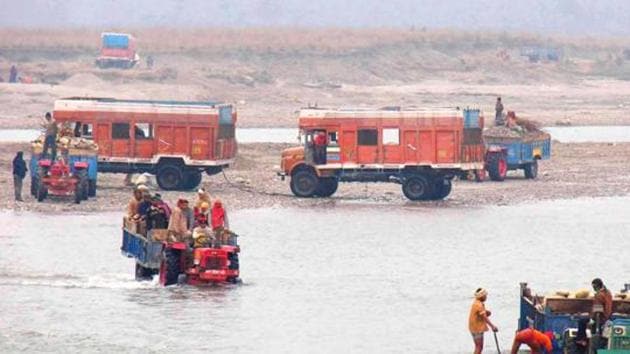 Prior to this, there were 23 quarrying lease in the Nainital district on the various rivers. With these 20 new quarrying lots, the number would increase to 43 in Nainital, which is known for widespread quarrying activities and stone crushers.
Raju Bisht, secretary of Gola Shramik Sangharsh Samiti, said that it is good that the scope of quarrying is being expanded in the district. "The Gola river is already providing employment to around 30,000 people and the opening of more spots would lead to more employment opportunities in the district," said Bisht.
Rajpal Legha, deputy director mining, Kumaon said that quarrying would be made a major source of revenue. "We support scientific mining that does not harm the environment and is a source of livelihood for the people." He added that the department would keep an eye on illegal quarrying at these places.
He also pointed out that the process of allotment of the quarrying lots is more transparent now.
"We are now giving the lease through the process of E tendering in which the online procedure has to be followed. This is being done to usher in transparency and also to move forward on the objective of E governance", said the deputy director.
Meanwhile, the pro quarrying lobby has demanded separate quarrying policy in the state, particularly for Haridwar, where Ganga river bed has abundant quarrying raw materials.
Citing thousands of people involved in quarrying, Swaraj Sewa Dal a forum founded by quarrying supporters, has demanded lifting of total prohibition on quarrying in the state.
"Even handmade quarrying known as 'chugan' is not being allowed, which only cleans the river bed. Due to this, thousands of people directly involved in this trade have lost their employment. Subsequently, exorbitant rise in construction raw material is affecting real estate as well as those involved in construction," said Ramesh Joshi, conveyor of the Swaraj Dal.
On the other side, anti quarrying crusader Matri Sadan spiritual ideologue Swami Shivanand Saraswati has alleged violation of directives of NGT over total prohibition on quarrying in the district.
He said that despite NGT directives, the administration has not adhered to it and mass scale illegal quarrying is still going on.
"NGT has clearly prohibited quarrying in Ganga, which the administration has failed to implement. It is our responsibility to ensure that we don't pollute the river," said Shivanand.