In poll season, 15 leopard skins seized in Uttarakhand
Feb 20, 2017 08:02 PM IST
Fifteen leopard skins were seized in 50 days in Uttarakhand this year, showing a spike in smuggling of animal body parts during the election period when, forest officers said, the focus was on seizure of cash, liquor and weapons
Fifteen leopard skins were seized in 50 days in Uttarakhand this year, showing a spike in smuggling of animal body parts during the election period when, forest officers said, the focus was on seizure of cash, liquor and weapons.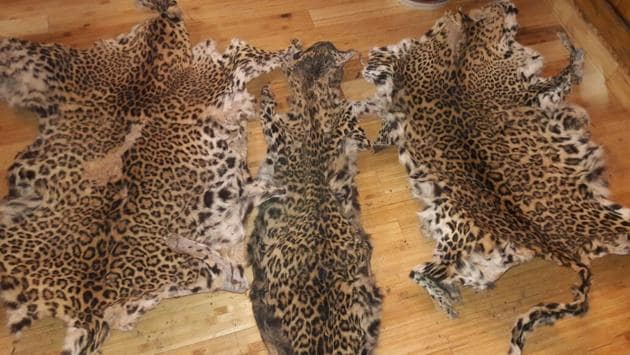 "Wildlife criminals are smart. They knew that during elections, police and other security agencies would be looking for cash, liquor and weapons. So, it would be easier to smuggle skins and animal body parts," Parag Madhukar Dhakate, conservator of Terai West forest division, told Hindustan Times on Monday.
Champawat forest division staff with police seized three leopard skins late on February 19 night.
After the model code of conduct was enforced on January 4, skins were seized from Chamoli, Pithoragarh, Tehri, Nainital and Rudrprayag districts. Three skins were seized and two people arrested on February 8 in Haldwani forest division. The state went to polls on February 15.
The data of the Wildlife Protection Society of India (WPSI), a Delhi-based NGO, says the hill state reported 103 leopard mortality incidents, of which 28 skins were seized in 2016 – the highest in the country. Odisha reported 16 seizures, Himachal Pradesh 8, and Chhattisgarh and UP 7 each. Skins of nearly 23% of leopards reported dead are seized.
In 2015, Uttarakhand reported 63 leopard mortality incidents -- highest in the country -- of which 9 skins were seized. Punjab topped the chart with 11 seizures, followed by Chhattisgarh (10).
The Special Task Force (STF) of the police in association with non-government organisations and the forest department seized the skins this year.
Department sources claimed that seizures in Haldwani and Badrinath (January 13) exposed an international smuggling nexus. Chamoli shares boundary with Nepal and China. Haldwani acts as a major transit hub for smuggling wildlife parts via Uttar Pradesh.
"Inter-state and international borders make wildlife smuggling a sprawling business. In both the seizures, we got information about involvement of international groups and are working on it," a forest officer said requesting anonymity.
Digvijay Singh Khati, chief wildlife warden, said, "We are taking precautions. It's practically impossible to man each leopard. But, in association with police and NGOs, we are keeping tabs on wildlife criminals."