Matri Sadan cries vendetta as Haridwar admin probes if ashram is built illegally
Hindustan Times |
, Haridwar
Sandeep Rawat
Dec 31, 2017 05:20 PM IST
Matri Sadan ashram, fighting to stop quarrying on the Ganga riverbed, has cried vendetta after the Haridwar district administration launched a probe to find if the ashram was built illegally
Matri Sadan ashram, fighting to stop quarrying on the Ganga riverbed, has cried vendetta after the Haridwar district administration launched a probe to find if the ashram was built illegally.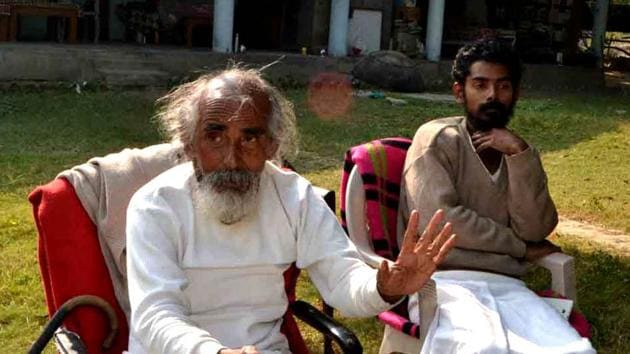 The probe was launched days after the ashram alleged police manhandling of its seer Brahamchari Atmabodhanand.
Atmabodhanand was arrested on Monday when he objected to district magistrate Deepak Rawat's felicitation at a function organised by Mahamana Sewa Sansthan on Pt Madan Mohan Malviya birth anniversary.
The seer had alleged that the district magistrate was taking side of mining lobby.
Authorities have launched a drive to measure the ashram land acting on complaints, sources in the administration said on Sunday.
Tehsildar Sunaina Rana said as per revenue records, the survey (of the ashram) is being carried out and a report will be submitted before the district magistrate.
Rana, however, refused to divulge any other information about the survey.
Notably, ashram founder Swami Shivanand Saraswati is into his second week of sit-in fast demanding ban on quarrying and one of its seers Nigamanand died in 2011 while fasting for the same cause.
Matri Sadan founder Swami Shivanand is on "Tapasya" (penance) while his followers are questioning timings of the survey. They said the administration even didn't bother to serve a notice.
"We object to the land revenue personnel action but as we have done nothing wrong. What if the land records prove that ashram is made legally? Will the DM and administration will then apologise," asked Brahamchari Dayanand.
Meanwhile, the district administration has served a notice to Swami Shivanand asking him to give up this agitation in wake of his deteriorating health condition.
ADM (administration) BK Mishra said the administration would forcefully shift the seer to a hospital "as he has been on agitation since December 16 and medical experts have suggested instant intake of food and medical observation".
During a press briefing last month, Matra Sadan spiritual ideologue Shivanand had said DM Rawat needed to be sent the IAS academy for retraining. He alleged that the DM was not adhering to the apex court, high court and National Green Tribunal directives prohibiting quarrying on Ganga riverbed.