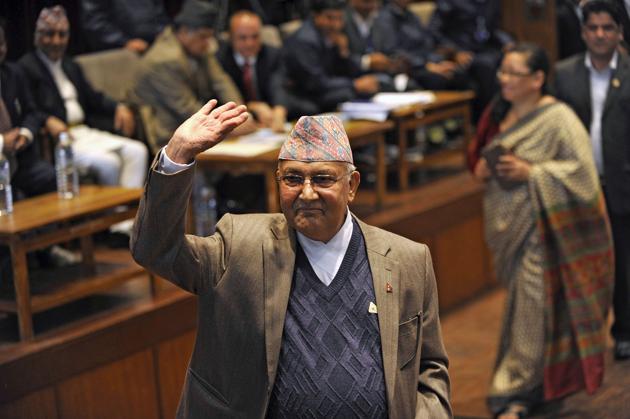 PM Oli's visit may restore warmth in India-Nepal ties
Nepalese Prime Minister KP Sharma Oli's visit to the GB Pant University of Agriculture Technology in Pantnagar, Uttarakhand, on April 8 is likely to remove irritants in Kathmandu-New Delhi relations over developments in Pithoragarh district, analysts said
Hindustan Times | By Abhinav Madhwal
, Haldwani
UPDATED ON APR 01, 2018 09:37 PM IST
Nepalese Prime Minister KP Sharma Oli's visit to the GB Pant University of Agriculture Technology in Pantnagar, Uttarakhand, on April 8 is likely to remove irritants in Kathmandu-New Delhi relations over developments in Pithoragarh district, analysts said.
Oli will visit India from April 6-8 during which the two sides will review the wide-ranging cooperative partnership, a ministry of external affairs (MEA) statement had said.
High-altitude areas of Pithoragarh district have witnessed tension between India and Nepal since the leftist government assumed charge of the Himalayan nation.
This month, passage of Indian vehicles to Nepal was stopped at Banbasa for a day due to a bandh call given by a Maoist faction. Residents of Nepal broke a temporary bridge on the other side of the border due to which the people of Lakhanpur are not able to cross over to Nepal. The breaking of the bridge led to problems for local people who have trade and social ties across the border.
SS Pangti, who was a principal secretary in Uttarakhand, said India has boundary disputes with China, but almost no major problems with Nepal.
"China uses Nepal to its advantage in the region, and does not want that the relations between the two countries to be amicable. China does not need the natural resources of Nepal; it only wants to create enmity and hard feelings between the two neighbours," Pangti said.
"Nepalese politicians know about the importance of India to their country as they share common culture and a large number of Nepalese are working in India." Pangti said Oli's visit "should be used for solving small border rifts with Nepal to restore brotherhood."
Oli's visit comes in the backdrop of the preparations for building the Pancheswar hydro-electric project, an India-Nepal venture, which has seen protests from local people and opposition parties over displacement and environmental hazards.
Three districts — Champawat, Pithoragargh and Almora — of Uttarakhand are in danger of being submerged due to the dam's construction.
On Saturday, people of Kanchanpur in Nepal chased away a team of officials from Nepal and India that had come to survey the area for setting up a dry port.
"Maoist groups in Nepal always try to incite people by saying that India has imperialistic attitude and tries to treat them as its colony," said Dharmendra Chand of Tanakpur, who has been following India-Nepal relations. "Minor border rifts and tensions are used to their advantage in creating an atmosphere of hatred."
Purushottam Sharma, a left leader, called for more cooperation and synergy between India and Nepal. "The Nepalese PM's visit must end tensions in Pithoragarh district so that the warmth of the ties between the people on both sides remains intact," he said.
Close