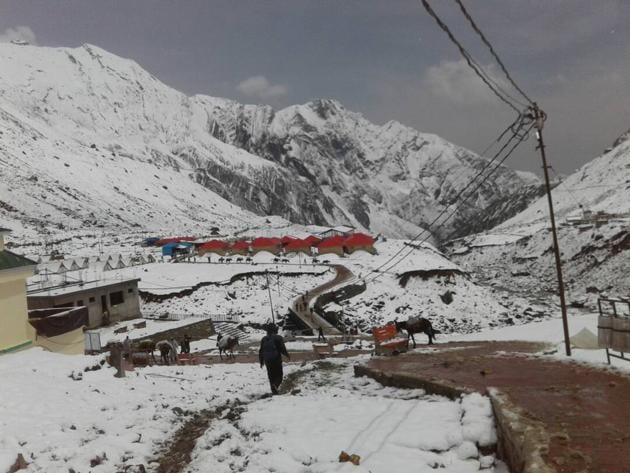 Rain, snowfall may spoil Modi's Kedarnath visit
Rain and snowfall may play spoilsport for Prime Minister Narendra Modi's visit to the Himalayan shrine of Kedarnath on May 3
PUBLISHED ON MAY 01, 2017 08:23 PM IST
Rain and snowfall may play spoilsport for Prime Minister Narendra Modi's visit to the Himalayan shrine of Kedarnath on May 3.
Modi is scheduled to visit the famed Lord Shiva shrine located on the Garhwal Himalayan range at over 3,500 meters above sea level during opening of its portals.
The MeT department on Monday forecast rain and snowfall in some parts of Uttarakhand over the next few days. In its 'Special Forecast for Char Dham' for Kedarnath, the department said, "Very light to light rainfall/thundershower/snow is likely to occur in some areas" on May 3.
According to the India Meteorological Department norms, the probability of occurrence for a "likely" forecast is 26 to 50%.
Located in the central Himalayas in the Mandakini River Valley, Kedarnath has already received fresh snowfall this week.
Last year, over 3 lakh pilgrims visited the shrine - the epicentre of the 2013 disaster that killed over 5,000 people.
The MeT also predicted likelihood of "very light to light rain/thunder shower/snow at isolated places" especially in Uttarkashi, Rudraprayag, Chamoli and Pithoragarh districts of Uttarakhand and snowfall at places with height 3,500 meters and above on May 3, 4 and 5.
The first three districts form the epicentre of the Char Dham Yatra.
"Mainly clear to partly cloudy sky is expected to prevail (during the PM's visit) on May 3. There is a possibility of light rain/snow activity post noon but the weather should remain fine in Kedarnath during the morning hours (when the PM is expected to visit)," said Bikram Singh, the director of the Dehradun Meteorological Centre.
Notably, two of the proposed visits of President Pranab Mukherjee to the Himalayan shrine had to be shelved in the past due to bad weather, until he turned the third time lucky in September last year.
Mukherjee, too, is scheduled to visit the Badrinath shrine in Chamoli district on May 6 when its portals are thrown open.
Meanwhile, the Rudraprayag district administration is busy making arrangements for the high-profile visit while keeping a close eye on weather-related developments.
"Our officials are on the field and detailed arrangements are being made for the VIP visit," district magistrate Ranjana, who goes only by her first name, told HT on Monday.
Close