Rake of proposed Haldwani-Doon train reaches Lalkuan station
The rake of the proposed day train between Haldwani and Dehradun has reached the Lalkuan railway station where it will remain stationed till its launch around mid-August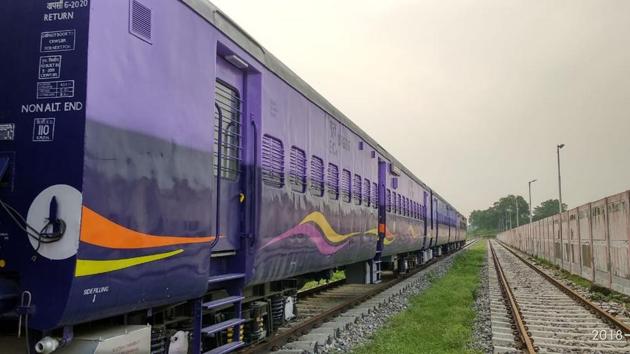 Updated on Aug 04, 2018 10:20 PM IST
Hindustan Times, Haldwani |
Abhinav Madhwal
The rake of the proposed day train between Haldwani and Dehradun has reached the Lalkuan railway station where it will remain stationed till its launch around mid-August. However, it is still not clear if the train would start from the Lalkuan station or Kathgodam station in Haldwani district.
"I don't know anything about the destination or schedule of the train, as the matter is being followed at the highest level," said Neeraj Kumar, the station master of Lalkuan. "We are just supervising the train rake while it is stationed here and would comply with the instructions," he added.
There has been a long-standing demand from locals to run a day train between Haldwani and Dehradun. Uttarakhand BJP and former chief minister Bhagat Singh Koshyari had been trying hard for the project. However, Anil Baluni, the Rajya sabha MP from Uttarakhand, took special interest in the project and persuaded the railway minister to run a day train to provide connectivity to the people of Kumaon and Garhwal regions.
The railways have said that the new train would be modelled on the Jan Shatabdi train and would be in addition to the night train already running between the two cities.The existing night train starts at 7.45pm from Kathgodam and reaches Doon at 4.20am.The rail route from Kathgodam to Dehradun is around 280 kilometres.
Baluni said the BJP government has a people-centric approach and is committed to providing safe and quick travelling to people. "The people of the Kumaon and Garhwal region had been demanding for this day train that would link Haldwani with Dehradun and we have now shown our commitment to providing the amenities to the people," he added.
He said the train would start around mid-August. "There are some route related issues which are being resolved and the stoppages are being worked out," he added.
He said the train would provide value for money to the commuters. "Business class, common people and those going to Dehradun for official work would be benefitted," he added.
Earlier, sources in the railways had said the train would likely to start at 7am from Haldwani and reach Dehradun at 1 pm. It may resume its return journey two hours later.
Locals in Haldwani, however, said it would be a great help to them if the train reaches Dehradun by 10 am so those who have work at the secretariat in Dehradun get ample time to get it done before returning in the evening. "The ideal time for the train's departure from Kathgodam would be 5.30 am and arrival at Dehradun would be 10:30am," said Hemant Gauniya, a social activist.
However, there are some technical difficulties in running the train from Kathgodam at 7am. "There is no slot for running a train on this track after 7 am," Kathgodam railway station superintendent Chayan Roy had said.
Close Story