Villagers in Nainital demand land rights
Hindustan Times, Dehradun |
Abhinav Madhwal
Jan 25, 2018 08:59 PM IST
Residents of Bindukhatta village in Uttarakhand's Nainital district have been holding demonstrations demanding land ownership rights and declaration of their settlement as a revenue village
Residents of Bindukhatta village in Uttarakhand's Nainital district have been holding demonstrations demanding land ownership rights and declaration of their settlement as a revenue village.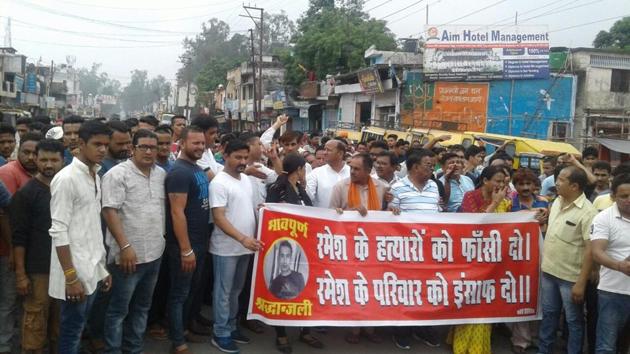 "Villagers have been pressing for a revenue village status for Bindukhatta and the government must acknowledge the rights of the people," said Purushottam Sharma, a farmer leader from Lalkuan.
Stay tuned with breaking news on HT Channel on Facebook.
Join Now
Bindukhatta is now a forest village, which enjoys only community rights over land carved out of a reserved forest; government may cancel such rights. During the British rule, villages were set up after clearing jungles to promote cattle rearing and animal husbandry.
A revenue village is considered a small administrative unit with a definite surveyed boundary, and residents enjoy individual land ownership rights.
People began to settle in Bindukhatta in the 1980s; they do not have land ownership rights, which means that they do not have registry papers. People of Galjwadi village in Dehradun have also been demanding land ownership rights.
Congress leader Sumit Hridyesh said, "Bindukhatta issue is quite serious as people are devoid of the basic right of land ownership."
The state government had promised land rights to Bindukhatta villagers in 2014, but no order was given. Bindukhatta was to be a made a nagar palika -- an local body that administers an urban area with a population 100,000 or more -- around two years ago, but the government withdrew the decision after protests by residents.
Naveen Dumka, BJP MLA from Lalkuan, said, "Bindukhatta is now spread over an area of 24 square km and has a population close to 1 lakh." Dumka had earlier promised revenue village status to Bindukhatta, which comes under Lalkuan constituency.
"It is a long pending demand of the people and there are many such areas in the country that are similar to Bindukhatta. This is a constitutional issue and I am making efforts to find a solution," said Dumka. "The main problem is that Bindukhatta is listed as a forest land and the procedure for deforesting the area is a big exercise."