Allen keys give away passenger with $60,000 hidden in power banks, biscuits at Delhi airport
Jun 05, 2017 12:32 PM IST
Several Allen keys hidden in the baggage of a passenger set the CISF on the trail of his associate who was caught with US currency hidden in power banks and mobile charges.
It started with a curious discovery of several Allen keys in a passenger's hand bag and ended with the seizure of $60,000 hidden in power banks, mobile chargers and biscuit packets at the Delhi airport on Saturday.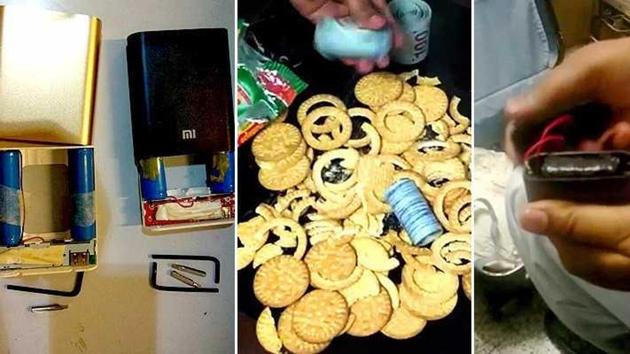 Allen keys are simple tools used to open bolts and screws, but what got the attention of the Central Industrial Security Force (CISF) personnel at the Delhi airport was that scores of these keys were hidden inside the handbag of a passenger. It led them to the passenger's associate who was carrying $60,000 and had reached the boarding gate. Officials later revealed that the keys, hidden in power banks and baggage handle, were meant to open the cases in which the smuggled currency had been concealed.
"The passenger, who was travelling to Bangkok, was detained on Saturday evening. He had concealed a few Allen keys that were sewn to his hand baggage. Further checking lead to recovery of some more Allen keys concealed in the zip of trousers," said a CISF official.
Since passenger did not reveal much during questioning, the officials checked the CCTV footage to track his movement at the airport. In the footage, he was seen interacting with another passenger travelling in the same flight. The security agencies swung into action and the second passenger, who had sneaked in unnoticed, was brought back from the boarding gate and questioned.
"Both the passengers confessed that they were carrying foreign currency in US dollars, which was concealed in hand and registered baggage of the second passenger. The Allen keys were to be used for opening of the concealment later. They were handed over to the Customs," said the CISF official.
Cash seizures at the Delhi airport have jumped over the last two months. Over Rs 4 crore has been seized at the airport in this period. There had been a lull in cash seizures since the demonetisation drive in November last year. Customs officials suspect that the seized cash is hawala money and have stepped up security and screening at the airport.