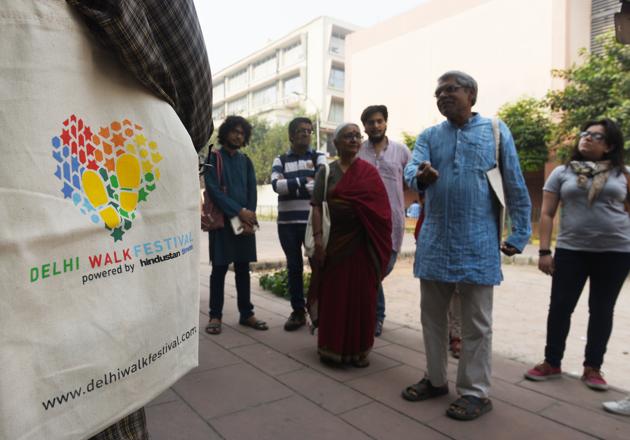 Delhi by foot - the well-known, unknown and the offbeat
Special walks by historians, activists, artistes
UPDATED ON NOV 04, 2017 08:51 AM IST
How about setting out on foot to explore Delhi's heritage, music, food and ecology? Or imagine a blindfolded walk through the lanes of the Qutub complex exploring the monument through your senses – sound, smell and touch?
All this and more is a possibility at the ongoing Delhi Walk Festival – an initiative by a group of cultural enthusiasts – offering Delhiwallahs an opportunity to experience a fast-transforming city through the expertise of historians, ecologists, anthropologists, musicians, gastronomes, and seasoned flâneurs.
"You don't love Delhi in the wider discourse of pollution. You love it in the nuances and the stories that it is made up of," says Aastha Chauhan, the festival director.
From 85 walks in February last year to 170 in the third edition this year, the festival has come a long way in terms of its grandeur and the number of people associated with it. The idea was conceptualised in 2016 when the group of cultural enthusiasts joined hands to form Delhi I Love You – a non-profit organisation, and the organiser of the festival. Before the first event, different people used to lead individual walks – some did it for free, others sometimes charged as much as ~2,500 per walk.
"It was then that we decided to bring all the organisers on one platform and make it bigger, better and more organised," Chauhan adds. "Last year In December 2016, 2,700 people participated and we are expecting a bigger turnout this time."
This year the 11-day festival (November 2-12) was promoted not just by word of mouth but also through an extensive social media campaign, particularly on Facebook.
"I came to know about the event last year through a Facebook page. I attended a few walks in the Old City in the last festival. This year, it is different in the sense that there is much more on the platter," says Reema Ahmed, a history walk enthusiast from Agra and a regular participant.
Along with other parts of Delhi, the festival explores three major hubs, Town Hall at Chandni Chowk, 1AQ Gallery at Mehrauli where ideas in contemporary art are often discussed and India Post head office at Lodhi Road, because of the grandeur of the building. Among the celebrities conducting the walks this year are activist Aruna Roy, historian William Dalrymple, musician Iqbal Ahmad Khan, urban planning expert Gautam Bhan, theatre director, MK Raina, chef Joe Baath, to name a few.
The high point is that the walks cater to different tastes of different people. For example, someone who is interested in art can attend the 'Ladies Only: Representation of Women in Modern India' walk at the National Gallery of Modern Art by Flow India facilitators on November 5. Similarly, nature lovers can attend the 'Jamali Kamali Tree Walk' by Kavita Prakash, a graduate from Lady Shriram College, on November 12. Those interested in science can attend the 'Science Fiction Walk' at The National Science Centre on November 10. Foodie Anubhav Sapra will take meat lovers to old Delhi to open up a delicious world of kebabs, biryanis and kormas on November 5.
"At times people feel disconnected from science. The walk is a light-hearted and playful way to pass on information to people," says Poornima Sardana, museum educator and founder of Mazzedaar Laboratory who will head the Science Fiction Walk.
Historian William Dalrymple, who will head the walk in Mehrauli, finds the initiative "terrific" as it provides an occasion for connecting people of Delhi with the city.
"Delhi used to be a neglected city. Bengalis swear by Bengal, Mumbaikars swear by Mumbai but people in Delhi have no such connection," says Dalrymple. "I think it is changing now. The city is extraordinary in itself and that is why I chose to live here. Exploring Delhi through walks is an enriching and rewarding experience."
His walk will explore the ruins of Dilkusha, the tomb house of the British agent, Sir Thomas Metcalfe, the summer palaces of the last three Mughal emperors, and Zafar Mahal completed by Emperor Bahadur Shah Zafar just before the great uprising of 1857.
The walking culture is not new to Delhi though. As historian Sohail Hashmi says, it was started by Prof Thomas George Percival Spear when he taught at St Stephen's College (1924-48). "Spear used to take his students for a walk or on a bicycle from the college to Hauz Khas. That culture is catching up fast and we have seen an increase in the number of walks happening in the city," says Hashmi, who will conduct five walks during the festival.
Visually impaired entrepreneur Baldev Gulati will take blindfolded visitors to experience the Qutub on November 5. "The idea is to develop empathy among the masses about the challenges of the differently-abled in everyday urban space. It will be a walk with a difference, where you get into the shoes of those who feel and sense their surroundings differently" says Gulati.
Details
• 11 day festival. Till November 12, 2017
• Festival to include over 170 walks led by more than 70 organisations/individuals
• Special walks by the likes of historian William Dalrymple, restaurateur Riyaaz Amlani, RJ Sarthak, architect Pradeep Sachdeva, activist Aruna Roy
• Special walks for the disabled and dog lovers
• Walk Festival to go pan-Indian from 2018 in cities like Bangalore and Jodhpur
• How to register: www.delhiwalkfestival.com
Close