From extortion to contract killing, Delhi's 'Godmother' of crime with 113 cases held for ninth time
Hindustan Times, New Delhi |
Karn Pratap Singh
Aug 19, 2018 12:47 PM IST
The 'Godmother' of one of Delhi's largest crime families, 62-year-old Basiran, was arrested on Friday from south Delhi's Sangam Vihar
The 'Godmother' of one of Delhi's largest crime families, 62-year-old Basiran, was arrested on Friday from south Delhi's Sangam Vihar from where she allegedly ran her 'criminal empire' with her eight sons, including a juvenile, for almost two decades. She was wanted in a "contract killing" case for the last eight months.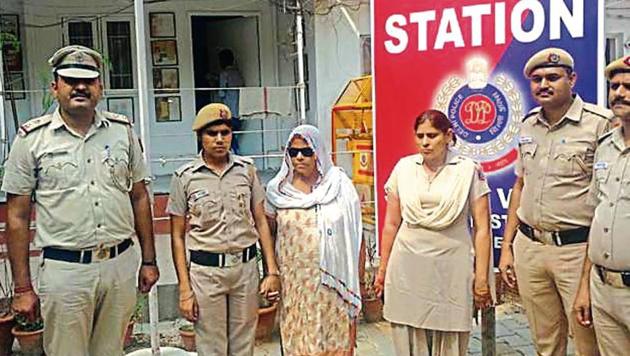 Police said a total of 113 cases, including murder, contract killing, extortion, kidnapping for ransom, bootlegging, and robbery are registered against Basiran and her family members. There are nine cases against Basiran at the Sangam Vihar police station alone.
"Basiran's latest arrest is in connection with the contract killing case of 21-year-old Miraj in 2017. Her two sons are already in jail in the contract killing case," said a police officer, who was part of the team that arrested Basiran.
Basiran, who is considered by the police to be the ringleader of a crime syndicate, had control over three government borewells in Sangam Vihar. The family was illegally extracting water from these wells and selling it to local residents, said police.
"Basiran and her gang members, mostly friends of her two jailed sons, control the three borewells and illegally sell water. They charge anywhere between Rs 600 and Rs 1,000 per month from each household," said another police officer on the condition of anonymity.
Deputy commissioner of police (South) Romil Baaniya said Basiran was evading arrest for the last eight months in Miraj's murder case in which four others, including a woman named Munni Begum were arrested. Her two sons — Rahul Khan and Shamim alias Gunga — were the mastermind behind it despite being in jail.
Miraj's semi-decomposed body with strangulation marks was found in Sangam Vihar's K-block jungle in September 2017. The case was solved in January this year when police apprehended a minor boy and he disclosed that it was a contract killing that was executed by hitmen of Basiran and her sons.
"Basiran took a contract of Rs 60,000 for Miraj's murder from his step-sister Munni Begum, who wanted him to be killed because he had been eyeing her daughter," said an investigator.
Basiran was declared a proclaimed offender as she was evading law and all her properties in Delhi were attached and seized on the court's orders. The regular police raids forced her family members and accomplices to leave the Sangam Vihar area. The objective was to weaken Basiran financially and psychologically and make her surrender, said police. "Our strategy worked and Basiran was caught on Friday when she reached Sangam Vihar to meet some people, including lawyers, to seek their help in getting her properties back," said the first officer.
DCP Baaniya said while Basiran's son Shamim has been booked under Maharashtra Control of Organised Crime Act (MCOCA), she and her other family members will also be booked under this for amassing wealth from crime proceeds.
During the interrogation, the officer said, Basiran revealed that in the last eight months she had been taking help from her relatives and hiding in their homes in Ahmedabad, Delhi, Allahabad, Mainpuri and other places in Uttar Pradesh. Born in Basai Arela village in Uttar Pradesh's Agra, Basiran was married to Malkhan Singh of Rajasthan's Dholpur around 40 years ago. The couple came to Delhi in the early 80s and shifted to Sangam Vihar after living in Govindpuri slums for almost a decade.
"With no source of income, Basiran entered the crime world and took to bootlegging in the late 90s. Thereafter, she never looked back and went further deeper into the crime world. She also motivated her sons to expand her criminal empire," said DCP Baaniya.
Police said Basiran's husband, Malkhan Singh, is the only male member in her family without a crime record.