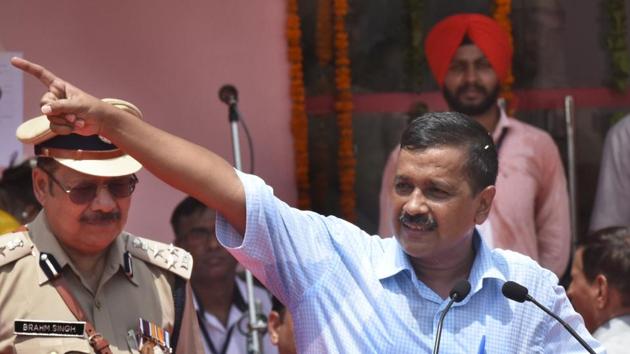 I'll continue to fight against Delhi Metro fare hike: Kejriwal in Google Hangout address
Delhi chief minister Arvind Kejriwal also said demonetisation and subsequent Goods and Services Tax (GST) had hit the economy and his government was making efforts to help the unemployed youth by providing skills training
UPDATED ON OCT 23, 2017 02:07 PM IST
Delhi chief minister and Aam Aadmi Party (AAP) national convener Arvind Kejriwal on Sunday pledged to continue his fight against the recent hike in the Delhi metro fares, saying that the hike has "angered the public".
"Why was the metro train started? To provide a comfortable and eco-friendly means of transport or to make profits? After the hike in fares, the purpose of the metro is defeated as the lower middle class, as I am told, has stopped using the services," Kejriwal said in a Google Hangout address to the public and supporters.
Amid the central and state government spar over the hike in metro fares that came into effect on October 10, the Centre recently agreed to Kejriwal's demand for an independent expert group to review all the issues concerning the Delhi Metro Rail Corporation (DMRC), including its income and expenditure. Kejriwal had demanded an audit of the DMRC accounts while opposing the hike.
"I don't know why the Centre is adamant. We gave them suggestions and wrote letters. The fight will continue. I fight for you, for the people of Delhi. The Centre says metro would be in losses if the fares were not increased. We are ready to share the losses, if any," Kejriwal said in the 15-minute speech.
Kejriwal said demonetisation and subsequent Goods and Services Tax (GST) had hit the economy and his government was making efforts to help the unemployed youth by providing skills training.
"Taxing has been complicated. Due to GST and demonetisation, people in small sectors have lost their jobs. I know people who had to shut factories. In industrial areas like Bawana and Wazirabad, 25% of the people have lost their jobs. Unemployment leads to law and order situation," he said.
Listing his government's efforts for skill training, Kejriwal said that 70 skill centres will come up in Delhi by 2018. He said that these centres would train 70,000 youth who have studied up to Class 12 and make them employable. "This year, 25 skill centres will each train 1,000 youth," he said.
Close