Jet Airways air hostess held for smuggling Rs 3.2 crore in US dollars part of hawala ring
Updated on Jan 09, 2018 11:07 PM IST
DRI officials said the initial investigation suggested the woman crew member was part of an elaborate scheme to bring back gold to the country in exchange for black money.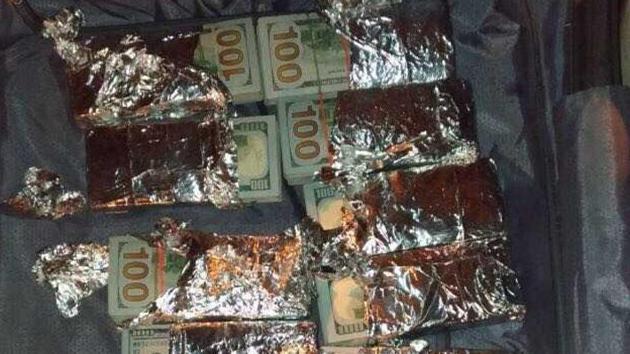 Jet Airways air hostess, who was caught smuggling $480,200 (valued at ₹3.25 crore) wrapped in aluminium foil, had reportedly smuggled foreign currency on at least seven previous occasions before she was caught on Sunday late night on board a Delhi-Hong Kong flight.
The Directorate of Revenue Intelligence (DRI), who have arrested Deveshi Kulshreshtha (25) along with her agent Amit Malhotra (39), said the duo are part of a bigger international hawala syndicate.
A city court on Tuesday sent Kulshreshtha and Malhotra to two-day judicial custody and directed the DRI to produce them before the concerned metropolitan magistrate on January 11.
Sources said that Malhotra met Kulshreshtha in August last year when he was returning from Hong Kong by a Jet Airways flights. "Malhotra had a chat with her while she was serving the meal to him. They exchanged contact details and later met to discuss the plan. She made four-five domestic trips before going to Hong Kong. Before going there, she used to meet the supplier and collect the currency from him," said a DRI official on condition of anonymity.
Investigators said she used to get 1% of the total money she laundered as commission.
"In August last year, she travelled for the first time with $50,000. Thereafter, she travelled with $1,00,000 and this was her eighth trip with the Hawala money. Another person used to come to the hotel in Hong Kong to collect the money. Malhotra, who runs a tour and travel business in east Delhi's Vivek Vihar, has also been arrested," said the DRI official.
Official said that Amit too had travelled to Hong Kong on multiple occasions on the same money laundering business. The DRI has raided Malhotra's house in east Delhi and recovered ₹3.3 lakh in Indian currency and $2,500 along with other evidence.
The DRI said that some businessmen and colleagues of the airline crew were also on their radar and will be interrogated soon.
"Malhotra knew several businessmen and promised to convert their black money into white. Now, we have to work on the leads given by them and more arrests are likely to happen soon," the officer added.
Investigators also said that crew member was well trained in hiding money and used to wrap the currency bundles in aluminum foil, which the scanner at the airport was not able to detect easily.
A Jet Airways spokesperson had confirmed the incident. "Based on the investigations and inputs from law enforcement agencies, the airline will take further action," the spokesperson said in a statement on Monday. There was no fresh statement from the airlines on Tuesday.