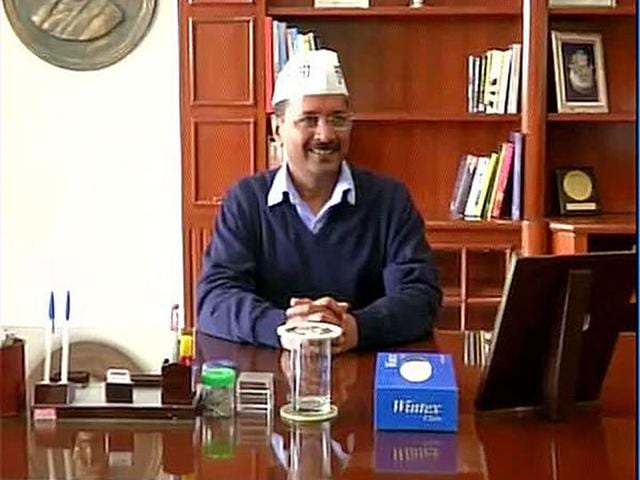 Kejriwal warns against arrogance, promises corruption-free Delhi
AAP leader Arvind Kejriwal on Saturday took oath as the eighth chief minister of Delhi at the Ramlila Ground, exactly a year after he quit from the post on the lokpal issue. After taking oath, Kejriwal addressed a massive crowd, unveiling the priorities of his government. "We will try to make Delhi the first corruption-free city in the country," he said.
UPDATED ON FEB 14, 2015 08:03 PM IST
Exactly a year after he resigned and went into near oblivion, AAP leader Arvind Kejriwal took oath as Delhi's chief minister again on Saturday at the Ramlila Maidan as tens of thousands of cheering supporters watched.
Others who took oath as ministers in Kejriwal's cabinet were Manish Sisodia, Asim Ahmed Khan, Sandeep Kumar, Satyendra Jain, Gopal Rai and Jitendra Tomar.
"I knew people loved us, but didn't know they loved us so much… 67 out of 70 seats. It felt like it was raining seats on vote-counting day. People of all religions voted for us… Poor and rich both voted for us," Kejriwal said after taking oath.
"67 out of 70 seats is god's miracle. God wants us to do something big. He has chosen us as a medium," he added.
"With such a big success, arrogance finds its way in… We all will have to be very careful. We will have to keep checking ourselves. Last year, our party got arrogant. We decided to fight Lok Sabha elections. The results taught us a lesson." "We should not become arrogant after winning 67 out of 70 sets in the assembly this time," he said. The Delhi CM also said the new government would put a stop to "VIP culture".
"This time, I will be in Delhi for five years and will work for just Delhi," the new Delhi CM insisted. "Anyone with an AAP cap who behaves like a goon should be arrested immediately."
Minutes after taking oath, Kejriwal also said the anti-corruption helpline started during the previous term of the AAP government would be resumed shortly. He directed everyone to bring it to the government's notice if anyone offered them bribes. "...we are much more confident (this time). We will make Delhi India's first corruption free state," Kejriwal said to thunderous applause.
The 46-year-old former civil servant's AAP won all but three of the 70 seats in assembly election after pledges to tackle entrenched corruption and lower utility bills won over legions of working-class voters willing to give him another chance.
His first term as chief minister lasted just 49 days and ended in chaos a year ago, sparking accusations he was fleeing the tough job of administration.
Kejriwal's confidant Manish Sisodia, the deputy chief minister in the new government, will be allotted the departments of urban development, public works and education.
Satyendra Jain, who was the health minister in the AAP's earlier 49-day innings, will head the same ministry.
Gopal Rai, one of the four new faces in the seven-member ministry, will be the transport minister. He will also have charge of the labour department.
Sandeep Kumar will be the minister for women and child development. Tomar will be the new law minister. And Asim Ahmed Khan will be food and civil supplies minister.
The Ramlila ground, in the heart of Delhi, was spruced up thoroughly for Kejriwal, 46, and his ministers to take the oath of office and secrecy. Around 30,000 chairs were placed in neat columns almost till the end of the ground, which often hosts major political rallies.
Kejriwal travelled to the swearing-in ceremony by car and invited the whole city to attend, using radio announcements and social media.
Tens of thousands packed the sprawling Ramlila Maidan Kejriwal took oath.
Cheering AAP supporters started flocking to the ground in the heart of the capital right from the morning, and excitement ran high whenever a prominent party leader was spotted.
While most AAP activists and supporters were from Delhi, large numbers also came from other states, particularly neighbouring Haryana.
Thousands of police and paramilitary personnel deployed at the venue, which had a fresh look, had a tough time as the crowds began to swell just after 9am.
Many in the gathering waved the Indian tricolour and others the AAP flag. Many held large photographs of Kejriwal, who led the AAP to a thumping win in the Delhi assembly election, sweeping 67 of the 70 seats.
While the victory is yet to sink in and celebrations will continue days after the swearing-in ceremony, the AAP needs to keep a tab on what lies ahead, how it will tackle the issues it raised and fulfill promises it made in its election campaign.

After the huge mandate that the AAP got, it will have to go much beyond merely reducing power bills and providing free water or legislating its pet jan lokpal and swaraj bills. It will have to fulfill its long list of promises before people who catapulted it to the grand success become impatient.

The AAP's earlier innings was marred by sit-ins, conflicts with public utilities and a power struggle with the Centre. This time Kejriwal and his team will have to negotiate their way around with a BJP-led government at the Centre over issues that became a source of tussle with the previous UPA government during AAP's brief 49-day stint last year.

Full statehood for Delhi and state control of police have been among the AAP's key demands, with protests by Kejriwal on the issue shutting down roads in the heart of the Capital during his previous term as chief minister.

Kejriwal seems to have started well by taking up the issue of statehood to Delhi with Prime Minister Narendra Modi as well as Union home minister Rajnath Singh and urban development minister Venkaiah Naidu. He, along with senior party leader Manish Sisodia, met with PM Modi who assured them that the Centre will think on the issue of giving full statehood to Delhi.
Close