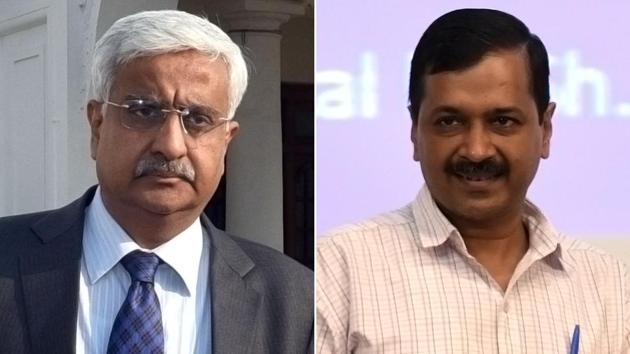 Highlights: Bureaucrats to boycott meetings until Kejriwal apologises for 'assault' on Delhi chief secy Anshu Prakash
The Bharatiya Janata Party has alleged that Aam Aadmi Party MLAs assaulted Delhi chief secretary Anshu Prakash at chief minister Arvind Kejriwal's residence after an argument.
Hindustan Times, New Delhi | By HT Correspondent
UPDATED ON FEB 20, 2018 10:16 PM IST
A row erupted on Tuesday between the AAP and the BJP over an alleged assault on Delhi chief secretary Anshu Prakash by Aam Aadmi party MLAs in the presence of chief minister Arvind Kejriwal.
The Delhi Government Employees Welfare Association (DGEWA) has demanded action against the AAP MLAs who allegedly assaulted Prakash.
The ruling AAP denied the allegation even as the IAS Association Secretary, Manisha Saxena, complained to Lt. Governor Anil Baijal, claiming that the attack on Monday night was a "planned criminal conspiracy" against the top bureaucrat.
Here are the highlights:

9:30pm: Three associations IAS, DANICS and DASS have decided not to attend any meeting called by Delhi government till apology is tendered from CM Kejriwal and action is taken against the MLAs involved
8:45pm: Delhi's Lt Governor Anil Baijal will shortly submit a preliminary report to Union home minister Rajnath Singh on an alleged assault on the chief secretary of the city government, according to PTI.
7:50pm: Another complaint has been filed by a Delhi minister in which he has said that he was assaulted while he was taking the lift in Delhi Secretariat. We have registered a case and investigation has been initiated: Deependra Pathak,Delhi Police spokesperson
7:45pm: Delhi Police spokesperson says a case has been registered over the alleged assault of chief secretary by AAP MLAs at CM Arvind Kejriwal's residence. The investigation has begun, says Deependra Pathak.
6:50pm: The IAS Association takes out candle light protest march at Rajghat against the alleged assault on Delhi chief secretary.
6:40pm: TV reports say IAS officers will participate in a candlelight march in Delhi to protest against alleged assault on Delhi chief secretary Anshu Prakash.
:35pm: A FIR has been lodged under Sections 186 (obstructing a public servant from performing the duty), 353 (assaulting a public servant), 323 (voluntarily causing hurt), 342, 504, 506(2) & 120b & 34: ANI
6:15pm: AAP questions how Delhi Police could have allowed a mob to gather at the secretariat.
5:45pm: Earlier in the day, BJP spokesperson said: "As far as situation in Delhi is concerned, it is a situation of great worry. The constitutional crisis that has come to the fore today in Delhi is because of the lawlessness created by Arvind Kejriwal and his Aam Aadmi Party."
Patra also said that the reason behind the assault was the release of funds for advertisements for the AAP government. "We have got to know through sources and media reports that genesis of this whole anarchy was not because of any issue of public interest rather it was an issue of self importance of Kejriwal."
5:30pm: BJP workers are protesting near Delhi CM Arvind Kejriwal's residence, reports ANI.
5:20pm: Deputy chief minister Manish Sisodia says in a press conference the chief secretary's allegations are "baseless".
"Ministers and staff, they have been ill-treated. The way they have been today it is clear that attempts being made to derail the work of Delhi government."
5:15pm: Former Delhi chief minister and Congress leader Sheila Dikshit reacts to the row, saying: "Sad situation that the chief secretary is being manhandled by MLAs. It is totally unacceptable and very wrong, makes it worse if the CM was present there. CM himself has been a civil servant, did he ever do this? Or what if this happened to him? Shameful (sic)."
5pm: Delhi chief secretary Anshu Prakash's writes in his complaint letter to Delhi Police: "Amanatullah Khan, MLA, and the person/ MLA on my left side, whom I can identify, without any provocation from my side, starting hitting and assaulting me and hit several blows with fists on my head and temple."
Prakash further said that his "spectacles fell on the ground" and he was in a "state of shock".
4:50pm: AAP leader Ashish Khetan says he received a call from Rajnath Singh's office, informing him that the Union home minister is very busy and won't be able to meet him.
4:25pm: AAP claims its minister Imran Hussaain was also heckled at Delhi secretariat. He has filed a complaint with the Delhi Police.
4:20pm: It was a riot like situation, a crowd had gathered who became violent and even raised slogans, we don't know who they were. Everything is on CCTV, will be clear from it. Police were mute spectators, says AAP leader Ashish Khetan.
4:15pm: We have lodged a complaint with SC/ST Commission against the casteist comments made by the Delhi chief secretary: Prakash Jarwal, AAP MLA
"We had asked him about an area where people were not getting basic facilities like medicine, the chief secy suddenly shouted 'maine Daliton ki thekedaari nahi le rakhi hai'. His temper was high. He said 'you are not fit to be MLA, I will only reply to L-G'," Jarwal tells ANI.
4:10pm: Home minister Rajnath Singh says he is deeply pained by the happenings involving the chief secretary of the Delhi government. "Civil servants should be allowed to work with dignity and without fear."
4.05pm: Delhi CM Arvind Kejriwal calls Cabinet meeting at his residence instead of secretariat; chief secretary may skip the meeting.
(With agency inputs)
Close