Stray dog menace in your locality? Here are ways to deal with the situation
Apr 26, 2018 05:20 PM IST
From holding sterilisation and vaccination drives in your residential areas to having the stray dogs guard your society along with the security personnel, here are ways to be friends and not foes with the furry ones.
Do you get chased by stray dogs in your colony each time you step out of the house? Or does their incessant barking keep you from sleeping peacefully at night? We find out what you can do to tackle the stray dog menace.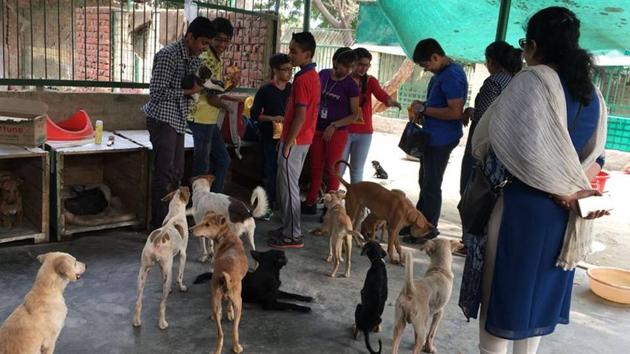 The problem
"It has been a problem for the last six months. My mother got bitten a few days ago and so did a small kid. When I come back from work at night, the strays bark at me or start chasing me. Or else, they keep fighting with each other and often scatter the garbage," says Abhinav Verma, a media professional who resides in Ashok Vihar.
Alok Aggarwal, veterinarian at the Municipal Corporation of Delhi (West Zone), says, "We get at least 35 calls daily, cases of biting or chasing people, and of over population. That's about 245 calls a week, so you can imagine kitne log pareshaan hain," he says.
You can't have the dogs removed
Most residents want such troublesome dogs out of the colony for good, but that's not possible. "No one wants them sterilised; everyone asks for them to be removed. And that, as per the rules of the Animal Birth Control (Dog), is illegal. MCD or any NGO can take the dogs away for sterilisation but then they have to be left where they were picked up from," says Aggarwal.
So, what can you do?
For starters, get them neutered to curb the stray population. "Get in touch with the MCD or MCG (Municipal Corporation, Gurgaon), who will forward the request to NGOs such as Jeev Ashram and Friendicoes for sterilisation. Just make sure to have a dog-friendly person involved to make the process easier for dogs," says Amritika Phool, co-opted member, Animal Welfare Board.
She adds, "Strays can also be trained to be guard dogs. If they befriend the colony guards and stay with them, they're an added security measure."
Canine behaviourist Aaron D'Silva advises not feeding strays anywhere near houses. He says, "Dogs start guarding territories they're fed in, and that becomes a problem. So, designate an area that's away from homes to feed them."
The Resident Welfare Associations, too, can do their bit. "Have CCTV cameras installed to monitor that strays aren't teased or driven over, as that makes them aggressive. Take NGOs' help to conduct vaccination and sterilisation drives in your locality, and designate feeding areas. And most importantly, educate yourself about the existing animal laws," adds D'Silva.