Tight security at JNU, students say 'virtual emergency' imposed
Delhi Police, CRPF personnel guard all gates to 'prevent the entry of outsiders' on the campus.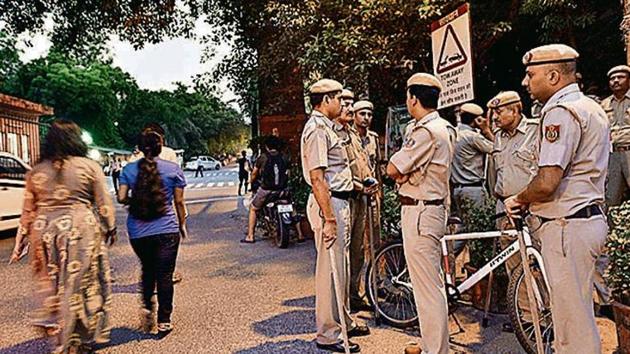 Updated on Sep 19, 2018 08:37 AM IST
A day after several clashes were reported between student groups at the Jawaharlal Nehru University (JNU) campus, heavy security was deployed at the university's three gates to prevent the entry of outsiders. Officials from the Delhi Police and the Central Reserve Police Force (CRPF) were seen manning the gates throughout the day.
The administration, which continued its ban on protests in the campus for the second day, issued a warning to students, including the newly-elected JNU Students Union (JNUSU) office bearers, to restrain from spreading "misinformation" on social networking sites. The administration warned students of "strict action" if they did not follow these instructions.
JNU registrar Pramod Kumar said in a statement, "JNU administration has noticed with anguish certain statements made on social media by the recently elected office bearers of JNUSU… Any kind of misinformation and/or rumour which causes anxiety and fear among students of JNU will be met with strict disciplinary action envisaged in the rules and statutes of JNU."
The students union alleged that the officials had imposed a "virtual emergency" on campus. Since Monday night, university students are reportedly being asked to show their identity cards in order to enter the campus.
The JNUSU said, "They have shut down the dhabas, fixed a curfew of 10pm at hostels, banned protests and the entry of media persons at the campus. Instead of taking action against those who perpetrated the violence, the administration is imposing a virtual emergency."
JNUSU president N Sai Balaji said he was denied entry to his hostel because he was not carrying his ID card. "On Tuesday when I went to my hostel, the security guards asked me to show the ID card," he said. "I told them that I am a hostel resident, but they refused to allow me inside. It took me really long to convince them before they finally let me in. If students are stopped from entering their hostels and anything happened to them outside, who will take the responsibility?"
On Monday night, wardens at almost all JNU hostels issued notices to prohibit entries of outsiders. "We have been instructed to check IDs of all students before allowing them in. We are also being asked not to allow any entry and exit from the hostel between 11pm and before 5am," said a guard deployed outside Kaveri hostel.
Some students at Brahmaputra hostel said that security guards had checked their rooms late on Monday night. "It was a raid like situation. How can they just enter in our rooms and check if we are hiding some outsider or not?" said another student.
JNU officials, however, said the measures were being taken to ensure peace and safety at the campus. "We have conducted several meetings with all stakeholders in the last two days and have decided to take these precautions," a senior official said.
Delhi Police have filed six FIRs after members of Left organisation and the Akhil Bharatiya Vidyarthi Parishad (ABVP) accused each other of indulging in violence on Monday. Police are yet to make any arrests.
Meanwhile, Union defence minister Nirmala Sitharaman said the instances of violence at the JNU campus was not agreeable. But people who are "anti-India" were seen with students union members that is now leading JNU and that makes me uneasy, she said.
Close Story